Your Ideal Guide to Cyber Security Careers in 2022:
There are many reasons to pursue a cyber security career. For example, there are numerous opportunities for substantial levels of employment security, relatively high starting salaries compared to other areas, and career development. The cybersecurity industry is growing at an alarming rate, reflecting strong demand for related skills. According to the BLS, or the U.S. Bureau of Labor Statistics, the number of information security analyst positions (general cybersecurity positions) will increase by 31% by 2029. This growth rate is four percent, more than seven times the national average employment growth rate. Its means that once you have the necessary qualifications and skills, you will have no trouble finding a cybersecurity job.
After COVID-19 spread worldwide, many organizations have been exposed to more cyber threats than ever. There are also concerns about ransomware attacks that use cloud resources as weapons to make networks even more vulnerable. As a result, those with the proper skill set have open work opportunities. Cybersecurity is still a new field despite its influential position in information technology. Organizations are beginning to strengthen their cybersecurity workforce, creating new roles and hiring specialists. Therefore, it is vital to keep the cybersecurity career path wide enough so that you can quickly adjust to the industry's evolving requirements while understanding the cybersecurity career path. Cyber ​​security is a diverse field and covers a wide range of occupations. 
4 Reasons to Think About a Cyber ​​Security Career Path for Yourself

The employment rate is very high: Workers in the cybersecurity industry are in great demand. Even in 2016, the unemployment rate for cybersecurity workers was zero percent, and the market continues to grow. You can secure growth opportunities for virtually any organization.
Rewarding work: As the Internet and technology evolved, so did cybercrime. The stronger your defense against cyber attacks, the wiser your cybercrime will be, and there is always something to learn. Technology is growing, but cybercrime is growing, and the industry is expected to grow almost unlimitedly personally. Its means that cybersecurity carriers can be highly rewarding, personally and financially.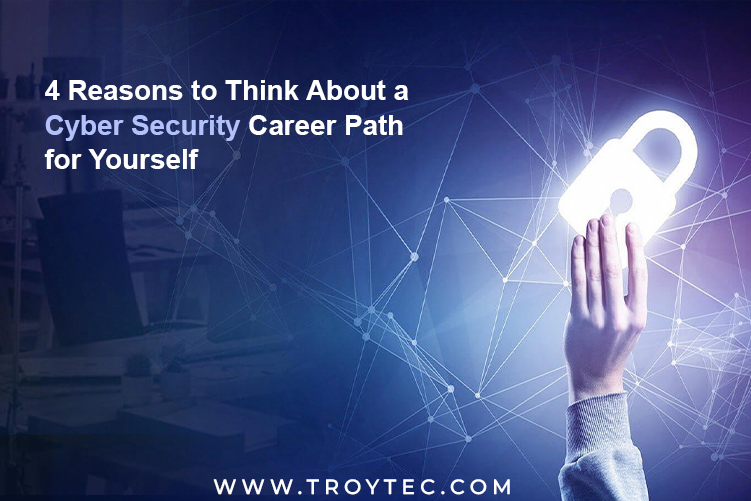 Variety: There are numerous programs, technologies, and systems that cyber security professionals have to deal with, but they are not the only ones. Cyber ​​professionals are available in various positions, including high-tech cars, machines, and websites requiring cyber protection. We can guarantee the vast array of services provided.
Real impact: The role of cybersecurity is essential to almost every organization in the world and has real-world implications. Cybercrime, such as fraud and stolen identities, are just two examples of how online crime affects real life. Cybersecurity is an essential industry for billions of people's financial and personal well-being worldwide. As such, this role can be inspiring and rewarding.
Maybe you are wondering what to do next if you want to gain a cyber security role based on the above benefits. After all, each type of cybersecurity role requires a unique set of responsibilities and skills. In line with this, we have organized the cybersecurity career roadmap into three different parts: entry level, middle level, and senior level. For entry-level work in cybersecurity, applicants must have basic educational qualifications such as a bachelor's degree or qualification but may not expect work experience. It typically monitors the system, detects anomalies, and escalates potential threats to the elderly. With years of experience and some advanced certifications, mid-level analysts, testers, or engineers play a more strategic role. 
Here, we design a security system and use methods such as ethical hacking to identify, evaluate, audit, and recommend solutions. It also addresses and resolves threats escalated by entry-level cybersecurity analysts. Senior positions such as Chief Information Security Officer (CISO) and Chief Information Officer (CIO) are leadership roles.
Here you are responsible for the security of your organization's I.T. landscape. Create a security roadmap, review and negotiate contracts, work with vendors, and manage your security team. This guide explores some of the most prevalent cybersecurity positions and explains what each contains. That will help you determine the career path best for your interests, values, and goals. 
Security analyst
Security analysts plan and implement cybersecurity procedures to protect corporate information and computer systems. These include monitoring networks for security breaches, installing and patching security software, conducting penetration testing to verify that the system is working, and others listed by the U.S. Bureau of Labor Statistics (BLS) also Include security-related tasks. According to them, security analyst roles are usually more entry-level and provide an excellent onboarding path to cybersecurity carriers. Many cybersecurity analysts study relevant areas of four-year colleges, such as computer science, information technology, and engineering. Others use transferable skills accumulated throughout their careers in areas focused on information technology, computer engineering, or other technologies. 
Working as a cybersecurity analyst is a good starting point for a cyber security career and will grant you the skills you require to advance to a higher rank. Cyber ​​security analysts gain in-depth knowledge of computer systems, security procedures, information technology, and best practices in cyber security. There are many subfields that security analysts pursue. For example, many organizations have avoided hosting their server infrastructure onsite and instead use services like Microsoft Azure and Amazon Web Services for cloud hosting or services. Organizations using AWS or Azure may need cloud-specific security analysts to secure data hosted in the cloud.
Security engineer
Cyber ​​security engineers recognize threats and vulnerabilities in computer systems and devise defenses against them. Cyber security engineers may work with other cybersecurity team members to identify and patch vulnerabilities. For example, cyber security analysts may discover problems with corporate firewalls, systems that monitor incoming and outgoing network traffic, and flag threats to prevent them. The security engineer is responsible for developing and applying the fix to the problem.
Patching a vulnerability requires a broad understanding of your computer and network system. The fix should be deployed in a way that removes the vulnerability without breaking other features. Cyber ​​security engineers often deeply understand cyber security and computer skills, including software development, network management, and information technology management. A security engineer position usually requires experience in either cyber security or software engineering, but expertise in cyber security is desirable.
Security architect
A security architect, also known as a cyber security architect, is a senior-level expert responsible for designing and implementing your organization's computer and network security infrastructure. This role usually requires professional cyber security work experience and can be a stepping stone for talented security analysts and system administrators. Security architects are typically responsible for overseeing a broader security team, including security analysts and security engineers. 
Security architects are often accountable for interacting with executive-level administrators to ensure that organizations are protected from external attacks. Security architects can plan, investigate, and design security solutions. Prepare budget and cost estimates for the Cyber ​​Security Initiative. And Provides technical oversight to your organization's security team. Security architects must stay on top of the best practices and trends in the security industry. As a result, many architects have completed ongoing training and certification to hone their skills.
Ethical hacker
After spending enough time learning about cybersecurity, you will eventually come across the terms "black hat" and "white hat" hackers. Although you can trace these terms back through history, their relevance in movies often helps people remember the difference between them. Popular old films set in the western United States often featured specific images. The "bad guy" wore a black cowboy hat, and the "good guy" wore a white cowboy hat. This image remains in today's cybersecurity space to illustrate hackers and their motives.
"Black hat" hackers are malicious and break into computer systems for personal or financial gain. We often target sensitive information such as credit card numbers, account information, and personally identifiable information. In contrast, ethical hackers are called "white hackers" and use the knowledge to hack and exploit vulnerabilities in computer systems to discover and fix security issues in your organization. White hat hackers could attempt to break into a computer system or network and expose vulnerabilities that system administrators can set.
One area where ethical hackers can work is penetration testing. Penetration testing is a simulated cyber attack to find and fix potential vulnerabilities. That can be done face-to-face or online, allowing organizations to see what a cyberattack looks like and prepare for possible attacks. Some penetration testers even complete field tests and try penetrating your organization's infrastructure using face-to-face social engineering and other black hat techniques.
Chief Information Security Officer
The Chief Information Security Officer, also known as the CISO, is a senior-level executive focused on cybersecurity efforts at the organizational level. CISOs are often the highest level cybersecurity positions in a company and set the direction for an organization's cybersecurity initiatives and programs. CISO works with other executives, such as the Chief Financial Officer (CFO) and CEO, to monitor and maintain the security of your organization's computers and information infrastructure. They are responsible for creating company-wide or company-wide security measures and policies and preparing other employees to carry out planning details.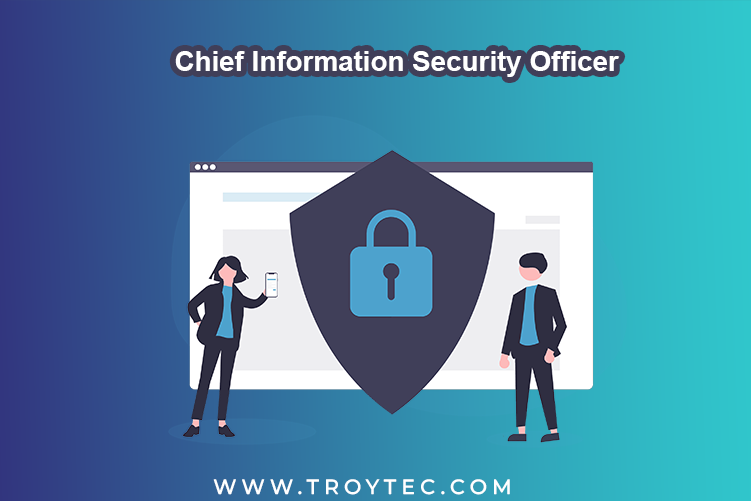 We may also create and conduct employee security awareness training, develop business practices, and purchase security software or products from external vendors. The Chief Information Security Officer has the final say on the security-related subject matter of the organization. He is responsible for advanced security measures and plans. To be successful, you must understand the current security situation and the future of cybersecurity threats. To become a CISO, you usually have extensive cybersecurity experience. If you work for a large organization, it can take up to 10 years or more.
Digital forensics and incident responders
So far, we have focused primarily on career paths to prevent cyberattacks. However, in reality, even the most potent cybersecurity measures can target cyberattacks. After a cyber-attack, there is still work to be done. Cyberattacks are where you need a digital forensics department. Digital forensics is a field of computer science that explores digital evidence. It is a component of cybercrime investigation and includes the acquisition, analysis, and storage of data that can be used as evidence in police and court. Digital forensics experts can investigate after a cybercrime occurs, obtain evidence, and attempt to link the attack to a distinct person or group of hackers. 
Digital forensics professionals work in many law enforcement agencies, including the FBI. The role of digital forensics involves working with different organizations on different cybersecurity topics. Digital forensics also play an essential role in preventing future attacks. Discoveries from the forensic process highlight vulnerabilities and help cybersecurity professionals avoid future security breaches. Collecting evidence and relaying findings to your organization can strengthen its defenses against future attacks. 
Experience in areas focused on technologies such as systems management and programming will help you get started with digital forensics. Working in this area may be intriguing, given that the two projects will never be the same, and the evidence-gathering procedure is similar to in-person detective work. Working here is ideal for tech-savvy employees interested in creating government or law enforcement agencies.
How to enter a cybersecurity career path



Cyber ​​security is a new area as the digital revolution has affected almost every industry, and the need for security specialists has increased over the last few decades. As a result, there is not enough professional cybersecurity supply to fill in all open job listings. For those unfamiliar or new to the field, now is the perfect time to pave the way for a cybersecurity expert.
The easiest way to move from the tech-related arena to cybersecurity is, but anyone with the right motivation can take advantage of other options. Some professionals start cyber security by applying related skills learned in other disciplines. Software development, information technology, or systems management gives you sufficient transferable skills to initiate an entry-level cybersecurity role. It can be used as a starting point for later higher-level positions.
If you have no previous cyber security or technology experience, there are other ways to get started in this area. One option is to complete your four-year undergraduate course. Some schools offer a degree in cybersecurity or computer science, where cybersecurity is concentrated. Completing a conventional bachelor's degree program allows you to explore many subjects over a long period, an excellent opportunity for high school graduates and anyone interested in a formal educational route to cyber security. Completing the cyber security boot camp can also acquire new cyber security skills. After conclude the boot camp, you will be able to discover new skills in a flexible online environment and study without interrupting your existing responsibilities.