AWS Security Certification Path: Your Key to Becoming a Cloud Security Guardian!
The requirement for comprehensive cloud precautions is at an all-time high in today's technologically dependent environment. As enterprises shift their infrastructure and apps to the cloud, the demand for trained people safeguarding these digital assets grows. This is where the AWS Security Certification Path can help you become a cloud security guardian.
The AWS platform, recognized for its scalability and trustworthiness, has become the choice stage for many enterprises worldwide. However, with tremendous power comes a lot of accountability, and protecting sensitive data on the cloud is challenging. AWS provides a comprehensive collection of security tools and services that must be mastered to provide a safe cloud environment.
The AWS Security Certification Path provides employees with the knowledge and competence needed to properly manage the intricacies of cloud security. This certification path consists of courses and examinations to confirm your understanding of security concepts, methodologies, and best practices within the AWS environment.
Pursuing this certification path, you will thoroughly understand fundamental security principles such as access and identity management, network privacy, information encrypting data incident handling, and compliance. With each certification, you will improve your skills and establish yourself as a cloud security professional.
Furthermore, AWS certificates are widely recognized in the industry, making them in great demand among companies. In this blog series, we'll look at the several AWS Security Certification Path certifications, delving into their specific abilities and expertise and emphasizing the benefits of each certification. Join us on this journey to being a cloud security guardian, confidently and expertly defending digital assets in the AWS cloud.
What is AWS Security Certification?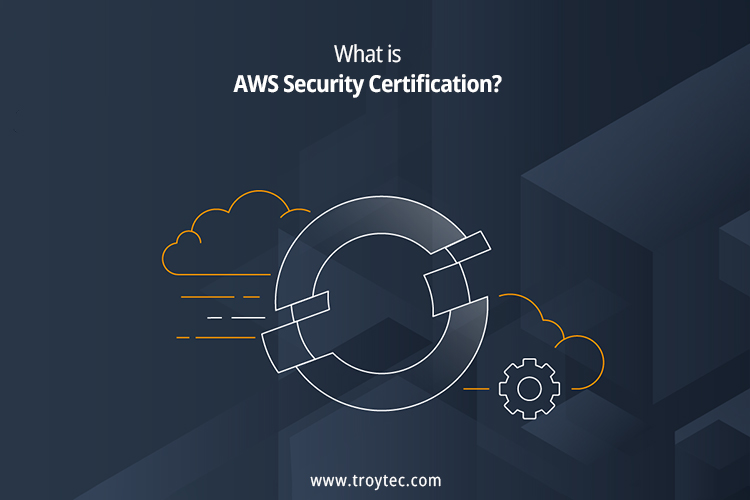 The confirmation of the person's expertise in protecting AWS settings is called AWS Security Certificate. As businesses progressively rely on infrastructure hosted in the cloud, data, and application security becomes increasingly important. AWS provides a variety of security credentials to demonstrate expertise in developing and managing safe AWS architectures.
AWS Security Certification Path offers a variety of certifications, including AWS Certified Security – Specialty, which evaluates advanced skills in safeguarding AWS workloads. This certification covers various topics, including incident response, encoding, access and identity administration, and infrastructure security. It provides professionals with the expertise they need to create and carry out security solutions that adhere to AWS best practices.
AWS Security Certification path can help professionals in a variety of ways. For starters, it boosts their credibility and verifies their AWS security knowledge. It displays a commitment to upholding the highest safety standards inside AWS environments. Furthermore, it creates new job prospects because many firms require qualified personnel to secure their infrastructure for the cloud.
Gaining practical expertise with AWS security services, understanding the joint accountability paradigm, and becoming acquainted with AWS security best practices are all part of qualifying for an AWS Security Certification path. AWS offers a variety of materials to help candidates prepare, such as training courses, practice examinations, and whitepapers.
AWS Security Certification path verifies practitioners' knowledge and skills in safeguarding Amazon Web Services environments. 
Roles and Responsibilities of an AWS Security Specialist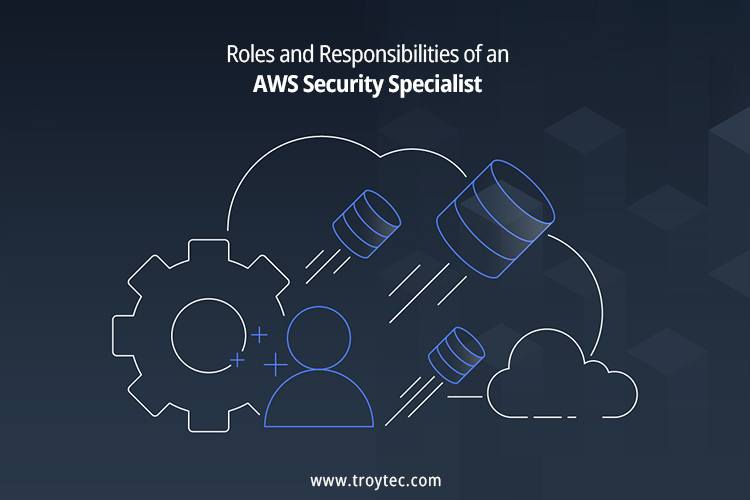 Here are AWS security specialists' significant roles and responsibilities after getting an AWS Security Specialty Certification:
The Special Initiatives, Examinations, and Response (SPEAR) Special Tester Team (STT) is in charge of gathering data and applying it to drive improvements to the security architecture of AWS amenities.

The primary responsibilities of an AWS Security Specialist include detecting, analyzing, and reporting security threats to upper management and internal consumers. They use appropriate evaluation techniques to assess security measures in addition to operational hazards to our workers, data, and physical assets.
You will be managing short deadlines, being very flexible, driving the results, being detail-driven, and identifying, analyzing, planning, and organizing operational operations related to the physical security of AWS and its internal customers.
Part of this is maintaining an outstanding level of contextual awareness in various global locales. You can be open to new challenges, good at multitasking, inventive, creative, self-directed, and an exceptional team player.
You will also be expected to closely follow the policies, practices, and team regulations of engagement (ROE). You can successfully deal with ambiguity and autonomously plan, make decisions, and manage highly fluid operational duties.

Assess and evaluate AWS cloud infrastructure thoroughly to discover security flaws and threats.
Create and implement effective security plans and best practices to protect AWS environments and data.
Create and deploy security solutions to secure AWS resources, such as access controls, encryption techniques, and intrusion detection systems.
To effectively detect and respond to security issues or breaches, track and assess security logs, alerts, and incident reports.
Keep current on the newest AWS cloud security hazards, weaknesses, and industry trends.
Collaborate with multidisciplinary groups to ensure appropriate security standards, legislation, and guidelines are followed.
Implement security training and awareness campaigns to educate AWS consumers and others on recommended practices for security.
To evaluate the efficiency of security measures, conduct periodic security evaluations and penetration testing
Conduct investigations into security incidents, analyze root causes, and implement corrective measures.
Regular security evaluations, audits, and upgrades are used to continuously monitor and improve AWS environments' security posture.
Skills Required to Become an AWS Security Specialist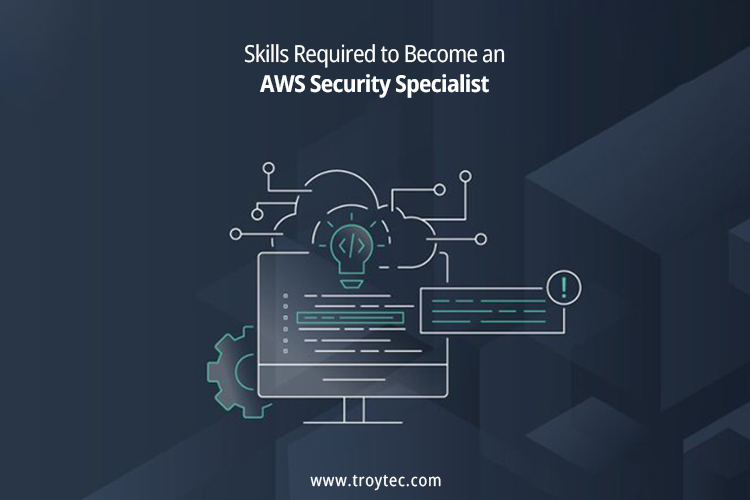 Security professionals should take the AWS Certified Security – Specialty (SCS-C01) exam. The test verifies an applicant's capacity for demonstrating AWS platform security knowledge. The exam also analyzes whether an applicant has the following characteristics:
Thorough knowledge of AWS safety measures and features:

 It isn't easy to have a good foundation in AWS security services, including AWS Identity and Access Management (IAM), the Amazon Web Services Key Management Service (KMS), AWS Cloud Trail, AWS WAF, and AWS Shield. Being familiar with their capabilities, setups, and best practices is critical. It is the first skill required in the AWS security certification path.

Understanding of networking and security concepts:

 A thorough knowledge of networking standards, firewalls, VPNs, and division of networks is required. Furthermore, understanding security fundamentals such as authentication, access control, authentication, and authorization is required.

 

Security and compliance experience:
         The ability to do security assessments, vulnerability assessments, penetration testing, and compliance inspections is required. Being                  familiar with industry guidelines and structures such as NIST, PCI DSS, HIPAA, and ISO 27001 is beneficial.
 

understanding of AWS architecture

 Services:

 A thorough understanding of AWS architecture is required, including VPCs, networks, routing tables, and security groups. It is needed to be familiar with numerous AWS services and their safety implications, such as EC2, S3, the RDS system, and Lambda.
problem-solving and intellectual abilities

:

 It is critical to detect security threats, analyze complicated security issues, and provide effective solutions. To resolve security issues and reduce possible dangers, strong problem-solving abilities, along with a focus on detail, are required.
Communication and teamwork:

 Strong communication skills are essential for working with cross-functional teams that include developers, system managers, and management. It is critical to communicate complicated security principles clearly and straightforwardly.
Adaptability and continual learning:

 Because the field of AWS security is continually growing, a love for continuous learning and staying up to current on the newest security trends, weaknesses, and solutions is essential. Adapting and being receptive to new technologies and approaches is also advantageous.
Certifications:

 Acquiring relevant awards, such as AWS Certified Security – Specialty, indicates a thorough understanding of AWS security standards and boosts credibility in the sector.
           Some of the other skills required in the AWS security certification path are as follows:
Knowledge of certain data classifications and AWS data security policies

Understanding of methods to encrypt data as well as the AWS technology required to implement them

Understanding of encrypted internet protocol and the AWS technology used to deliver them

To enable a safe production environment, in-depth knowledge of AWS security services and their features is essential.
Comprehensive AWS Security Certification Path in 2023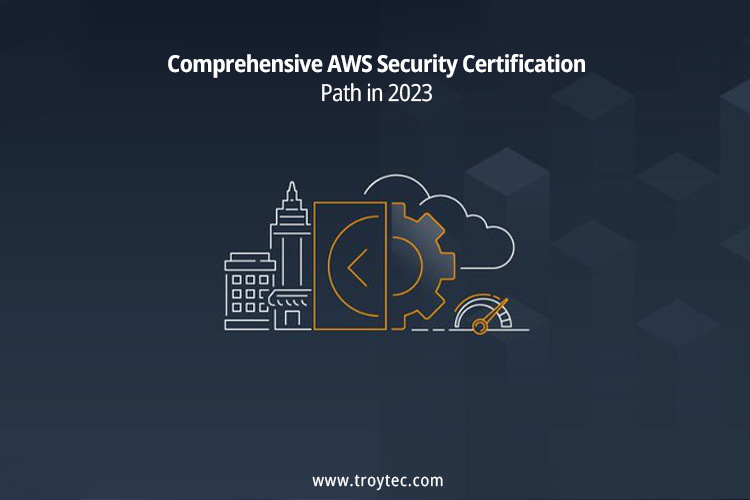 An AWS Security Specialist's significant tasks include discovering, assessing, and reporting security issues to management and internal clients. They use suitable evaluation techniques to examine safety precautions and practical threats to our workers, data, and physical assets. The most significant components of this journey will be the creation of skills and a strong comprehension of the concepts. The most critical thing is to possess the required skills and expertise. Let's begin the AWS security certification path:
Step-1: Know About Exam Details
When you plan the AWS Professional Security Specialty exam, you can expect the following:
There are 65 multiple-choice and multiple-answer questions.

The exam must be finished in 170 minutes. (Note: Following this advice, you will always have 30 minutes extra on your AWS tests.)

Costs $300

The passing score is 750 points.

The exam can be taken in the following languages: English, Japanese, Korean, and Mandarin Chinese.
IMPORTANT NOTE:
Registration for the new SCS-C02 exam will reveal on June 13, 2023, so if you are registered or plan to take the previous SCS-C01 exam before it expires on July 10, 2023, you must do so. Your authorization will be valid for three years from the day you pass the exam, regardless of your version, and we've yet to meet an employer who focuses on a particular model of an AWS certification examination. However, if your certification timeframe extends until July 10, 2023, you should be comfortable that your current efforts continue to prepare you to take the new SCS-C02 exam.
Step-2: Know About Exam Domains and Syllabus
AWS has also made minor changes to the "target candidate description" in the test guide. According to the SCS-C01 test guide, ideal candidates "should have a five-year IT security knowledge in developing and implementing security solutions" and "2 minimum years of practical experience safeguarding AWS workloads." Although the SCS-C02 exam guide claims that target candidates "should have the translation of 3-5 years of expertise in developing and carrying out security solutions," the test still requires "a minimum of 2 years of actual work in securing AWS security certification path workloads."
Domain-1: Incident Response and Threat Detection – 14%
It is the first domain in the AWS security certification path exam. This domain accounts for 14% of test content, so expect approximately nine questions addressing threat detection and handling incidents. It includes everything from understanding AWS best practices for responding to security incidents like the discovery of undermined access information, an undermined EC2 example, or a finding within the AWS Security Hub that requires further investigation to configuring computerization with managed AWS services like Event Bridge and Lambda functions to respond to and remediate privacy findings. This topic also includes ideas such as root cause data collection and analysis capture systems for obtaining forensic data during security investigations. It is an essential domain in the AWS security certification path.
Domain-2: Security Monitoring and Logging – 18%
It is the second and most important domain in the AWS security certification path. This domain accounts for 18% of the test content, so expect approximately 12 questions regarding security logging and surveillance. You must build, implement, and debug logging and log evaluation solutions that use DNS logs, VPC movement logs, Cloud Trail, and Cloud Watch Logs. It would be best if you also were close to the various insights provided by AWS service management, such as CloudWatch Logs Research, Cloud Trail Research, and Security Hub insights. It would be best if you mastered this domain to achieve the AWS security certification path. You must take the AWS security certification path practice exam.
Domain-3: Infrastructure Security – 20%
This domain accounts for 20% of the AWS security certification path exam content, so expect roughly 13 queries regarding infrastructure security, encompassing safety precautions in services like AWS WAF, Shield, & Route 53. It would be good to grasp how to create a secure connection inside an elastic load-balancing environment and protect traffic within a VPC using features and services like VPC endpoints, privacy groups, and network ACLs. Added up, it is necessary to familiarize yourself with the functionality of accessibility features within the VPC (Virtual Private Cloud) environment. Analyzer to diagnose network connectivity difficulties.
Domain-4: IAM (Identity and Access Management) – 16%
This domain accounts for 16% of the AWS security certification path test content, so expect approximately ten questions regarding managing access and identity or IAM and designing, implementing, and troubleshooting authorization and verification for your AWS workloads using services including the AWS IAM Identity Center, the Amazon Cognito login and identity pools, and the AWS Social Token Service, or STS. You must demonstrate your understanding of best practices for building and managing access and identity qualifications and your ability to define, devour, and comprehend various IAM policy fragments.
Domain-5: Data Protection – 18%
This domain accounts up 18% of AWS security certification path exam material, so expect roughly 12 questions about data protection. It will necessitate the development of solutions for protecting data integrity through the use of encryption in transport and at rest to safeguard data stored in platforms such as S3 and Dynamo Database. You can also design and deploy secure connectivity among on-premises networks and the Amazon Web Services cloud via Direct Connect and site-to-site virtual private networks and securely connect applications between and among AWS accounts and regions.
Domain-6: Security and Management Governance – 14%
Finally, this brand new domain registrations for 14% of the AWS security certification path exam content, which means anticipate approximately nine questions that focus on administration and security governance issues, such as setting up and overseeing strategies for Amazon Web Services accounts using Companies and Control Tower, as well as supplies such as the CloudFormation blueprints. You should also know how to use services like AWS Audit Director, Amazon Macie, and Amazon Web Services Config to detect, evaluate, and remedy an environment of sensitive data or incompatible assets in an AWS environment. It is the last and most noteworthy domain in the AWS security certification path.
Step-3: Take AWS Security Certification Practice Exam
To strengthen your preparation, you must take practice examinations. Taking the Amazon Web Services Security Specialist test will teach you about your weak and strong aspects. You will be able how to respond skills, saving substantial time throughout the trial. Completing as many paper samples and practice examinations as possible is the most critical component of your preparation. 
It will assist you in improving your weaknesses while also clearing up any conceptual issues. If you practice as frequently as possible, you will feel more guaranteed.
Step-4: Take the Exam as Per Expert's Guidance
A single certificate has the power to change your life. It can open up new doors. However, it depends on you to take and capitalize on such possibilities. In a DevOps environment, you can't expect somebody else to manage all the nuances you do not comprehend. Specialization and teamwork are required, but you must also be capable of running systems independently.
Given this, earning the AWS Security Specialist certification is a smart way to create a solid foundation for effectively leveraging the AWS security certification path regularly. This exam will show you how to design, construct, install, monitor, and maintain safety features based on AWS. It is the last and most crucial step in the AWS security certification path.
What is an Average Specialist AWS Security Certification Salary?
Several factors determine the typical wage for an AWS Security Specialist. However, recent industry news shows that the average yearly salary ranges between $121,000 and $150,000. This pay varies depending on a person's life location and the level of detail of their position. Factors such as firm size and industry can also influence salary levels. Because of the growing demand for qualified cloud security specialists, AWS Security Certificate has become extremely valuable in the employment market. Therefore, individuals who hold this certification can expect competitive salary packages and prospects for further career development and promotion.
Conclusion:
Finally, beginning the AWS Security Certification Path is essential to becoming a reputable Cloud Security Guardian. The course provides a comprehensive and structured way to learn the information and skills to safeguard valuable cloud resources.
You may demonstrate your experience securing cloud infrastructures and data by gaining credentials such as AWS Certified Security – Specialty & AWS Professional Advanced Networking – Specialty. These credentials authenticate your knowledge, boost your professional standing, and open the door to exciting job options.
This AWS security Certification path intensive training and practical knowledge will give you the trust and expertise to address complex security concerns in a quickly expanding digital ecosystem.
Engaging in your AWS Security Certification Path increases your capabilities and contributes to the broader security posture of cloud-based enterprises. So, benefit from this chance and begin your rewarding career as a Cloud Safety Guardian today!