Blockchain Certification: Create the New Career Opportunities in 2023!
If you're concerned about the future of money, you should learn about blockchain. Blockchain is a distributed ledger that is gaining popularity in tracking private intellectual ownership (IP). Unlike traditional databases, which are consolidated, blockchain is distributed, which means a single entity does not control it. This makes it an effective tool for tracking the mobility of products and money and guaranteeing intellectual property protection.
Having a blockchain technology certification will boost your career in 2023. Moreover, the demand for blockchain experts has increased extensively. Every employer is looking for a passionate and hardworking blockchain developer.
Acquiring a blockchain certification will give you many new opportunities and career growth. Keep exploring the article more to learn about different blockchain certification courses.
What is Blockchain Technology?
Blockchain is a research method to collect information that makes it nearly impossible or difficult to alter, hack, or tamper with the system. A blockchain is a distributed database that reproduces and distributes transfers across the blockchain's computer network.
Blockchain technology is a framework that stores public transaction data, also known as blocks, in several datasets connected by peer-to-peer nodes within a network. This type of storage is widely termed a 'digital ledger.'
Every activity in this ledger approves by the owner's electronic signatures, which authenticates the purchase and prevents it from being tampered with. As a result, the information contained in the digital ledger is exceptionally secure.
In summary, the digital ledger is similar to Google sheets distributed among multiple computers within a network, where transactional records are kept based on actual purchases. The intriguing aspect is that anyone can see the information, but they cannot corrupt it.
Doing a blockchain technology certification will teach you plenty of different things.
Skills Required to Become a Blockchain Developer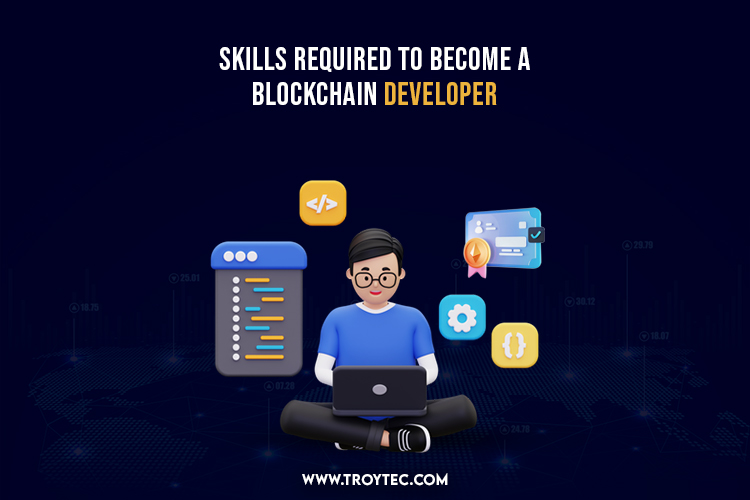 Before being a blockchain developer, one must first acquire specific technical skills, such as:
Programming Languages: To qualify as a blockchain developer, one must first gain coding experience. As we previously discussed the multiple roles of a blockchain program, there is a prerequisite for programming and developing different blockchain applications.
Data Structures: Learning Data Structures improves your ability to understand problems at a high level and provides an optimized solution within the limitations. They are often used to organize and efficiently store data. Investigate various data structures such as clusters, trees, and linked lists. Doing a Blockchain certification must require this skill.
Databases and network connectivity: A blockchain network is a dispersed peer-to-peer channel in which all nodes share data. According to the blockchain concept, database management and network administration are critical components of creating and keeping a blockchain network.
Cryptography prevents unauthorized people, risks, and attacks from accessing sensitive data. The basics of mathematics and computer science use to build cryptography procedures. Data is typically encrypted at the recipient and decoded at the receiver using various cryptographic techniques.
5 Best Blockchain Certification Courses to Boost Your Career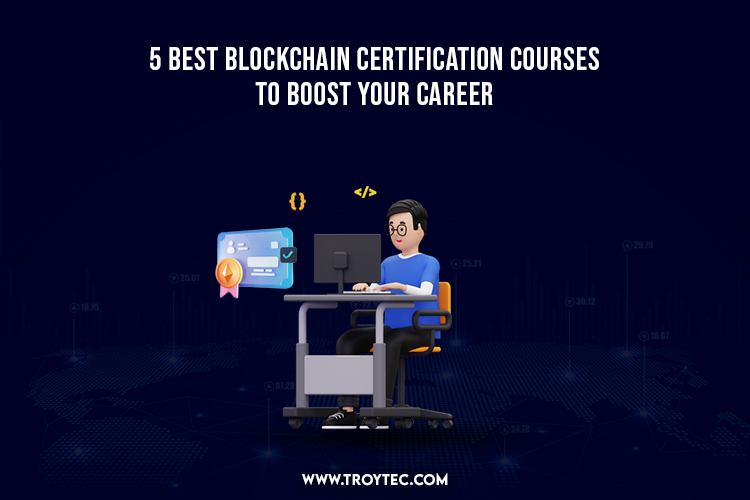 Although blockchain technology has only been in existence for about a century, it has gained widespread recognition all over the world. Blockchain has recently gained acceptance across business areas as a revolutionary innovation that aids in improving business processes. Initially discovered as a technology to keep electronic financial transactions secure and tamper-proof, the technology has advanced dramatically in the last five years to become a revolutionary technology used across various business domains.
Therefore, a blockchain technology certification is the best option for you. Here are the 5 best blockchain certification courses you must know in 2023:
Blockchain (Foundations and Use Cases) – by Coursera
It is the best blockchain certification today. The preceding blockchain technology certification program is suitable for industry contenders – developers and non-developers. Aside from walking you through the fundamentals of revolutionary innovation, the program will teach you about philosophy related to the concept of decentralization, which eventually became the USP of blockchain as it gained popularity worldwide.
The first three modules will teach you the fundamentals of the mentioned technology. The program will take you further than bitcoins in the fourth module, delving deeper into the next-generation blockchain network known as 'Ethereum' to assist you in comprehending contemporary blockchains and their industrial control. It is one of the top blockchain certifications globally.
Certified Blockchain Professional
A Certified Blockchain Professional (CBP) is a person who is knowledgeable about blockchain technology and its uses. CBP certification demonstrates a person's knowledge of blockchain concepts, design, security, and implementation. It also demonstrates proficiency in the development and implementation of blockchain services to businesses. Certified blockchain professional certification is globally recognized and offers a commercial advantage in the market.
With the increasing demands for blockchain experts, having a CBP credential can set you apart from the competition and demonstrate your dedication to professional development to potential employers. CBP certification provides passing a national examination and reflects an individual's understanding and application of blockchain technology.
Certified Blockchain Solution Architect
A Certified Blockchain Solution Architect (CBSA) is a professional with advanced knowledge of blockchain technology and its implementation. CBSA certification demonstrates expertise in designing and developing secure and scalable blockchain solutions for various industries. The certification covers multiple topics, including blockchain architecture, security, consensus mechanisms, and innovative contract development.
A certified blockchain solution architect certification is highly valued in the job market and shows potential employers that the individual has a deep understanding of blockchain technology and its applications. To obtain the CBSA certification, individuals must pass a comprehensive exam that tests their knowledge of blockchain concepts and practical applications. A CBSA certification can open up new career opportunities and increase earning potential in the rapidly growing blockchain industry. CBSA is the prevalent blockchain certification globally.
Blockchain Security Training Course (By Grey Campus)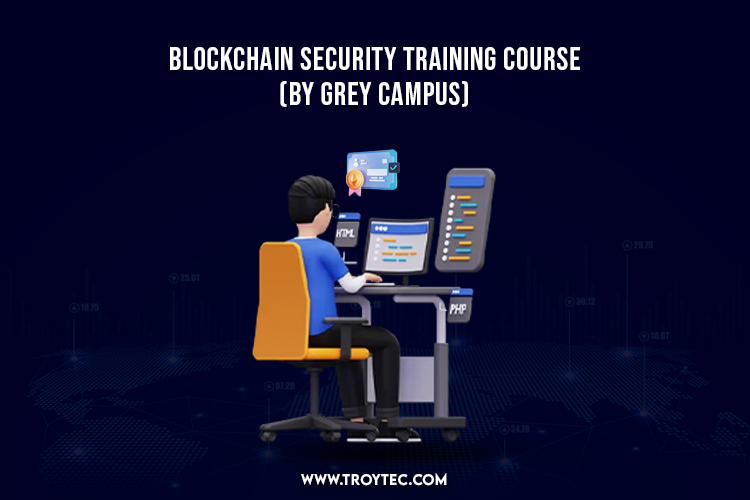 It is one of the best blockchain certification courses present today. It is a blockchain certification program that requires entrants to have sufficient knowledge in coding and programming for both back-end and front-end apps. The program will teach you how to design and check blockchain apps.
You will learn how to build Decentralized Applications and be introduced to the composer modeling language. Because this credentialing program focuses on digital currencies, you will learn much about the Distributed ledgers, Ethereum, and Bitcoin operating systems.
Certified Enterprise Blockchain Professional – CEBP
This blockchain certification program allows you to learn at your own pace and is designed to guide you through all the significant components of blockchain technology and how they affect important business processes. You will learn how to cater effectively to corporate needs related to blockchain implementation and application. The applicants will learn about the strategic approaches large corporations use in the current era of blockchain adoption.
Conclusion
In conclusion, blockchain certifications, such as Certified Blockchain Professional (CBP) and Certified Blockchain Solution Architect (CBSA), are becoming increasingly important in the job market. These certifications demonstrate an individual's knowledge and expertise in blockchain technology and its applications. Blockchain certification can provide a competitive advantage in the job market and open up new career opportunities.
A blockchain certification requires passing a comprehensive exam and demonstrating a commitment to professional growth. With the growing demand for blockchain professionals, having a blockchain certification can set you apart from others and show potential employers your expertise in the field. Comment below your queries and questions related to blockchain certification courses and get your answers accordingly!