The Importance of Information Security Management:
Data and information protection is no longer as simple as locking a storage unit. Confidential and private information may now be dispersed throughout an organization. Furthermore, an organization may be delegated employee information, medical records, financial information, proprietary information, and other assets while not owning any of them.
Data security has evolved into a system that extends further than the IT department and into the meeting room, involving all staff, managerial staff, and executive officers. It's not hard to see why. The total liabilities continue to rise, and organizations are only now realizing that it takes much more firewalls and specialized technology to keep data secure. Therefore, a proper information security management system (ISMS) is necessary to protect critical data.
Keep reading the article to learn and explore more about ISM technology and its benefits.
What is Information Security Management?
As an important asset, information is an essential resource for business operations and growth. The regulations that protect confidential, delicate, and personal information from harm, theft, or misuse define information security management (ISM).
Information occurs in many shapes, poses varying levels of damage, and necessitates various protection methods. Depending on the potential impairment from threats and vulnerabilities, you maintain data assets differently. These controls must incorporate human and cognitive elements and the new tech you've implemented to prevent attacks, infringements, and misuse.
ISMS is an essential aspect of modern business operations. It involves the implementation of security controls and processes to protect sensitive information from cyber threats and unauthorized access. Information security policy management aims to ensure data confidentiality, integrity, and availability while minimizing the risk of data breaches and cyber-attacks.
It is achieved by implementing technical, physical, and administrative measures, regularly reviewing and updating the security policy, and providing ongoing training and awareness to employees. Effective information security management helps organizations protect their valuable assets, maintain customer trust and comply with legal and regulatory requirements.
What is Information Security Policy Management?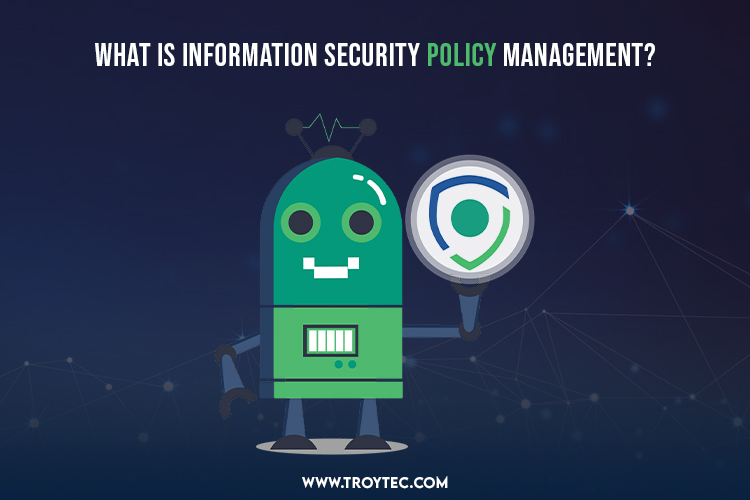 An Information Security Policy Management (ISPM) establishes procedures and regulations for workforce members, establishing a standard for the appropriate use of the group's information technology, such as networks and applications, to protect privacy protection, integrity, and availability.
Policies serve as a basis for programs, providing direction, consistency, and clarification around an organization's operations. They provide your employees with a series of steps for handling compliance management risk as a set of core standards. Recognizing what an information security program is and what it should include helps you protect sensitive knowledge more efficiently as your compliance posture matures.
Why is Information Security Management Important?
The security of information is a hot topic. Information or secretive, confidential, delicate, or intellectual data is a valuable asset that must safeguard against external and internal threats. When information violates, stolen, or mismanaged, it can cause actual harm, impede a company's ability to operate, tarnish a public image, and result in significant monetary damages, including restitution and regulatory penalties.
Organizations can use information security management to keep up with risks and vulnerabilities, minimize and mitigate risks, and strengthen the business. Security management has grown more important as cybersecurity risks have increased. Many industries have required conformance requirements for data storage, consumption, transmission, and decommissioning, which are monitored by govt and industry regulators.
Organizations can take the first step toward establishing an information security management system by improving management plans and policies. These systems must also be updated and improved regularly to meet the organizational, managerial, and technological demands of protecting information from accidental or deliberate disclosure. Proper information security threat management is necessary for every organization.
How Does Information Security Policy Management Work?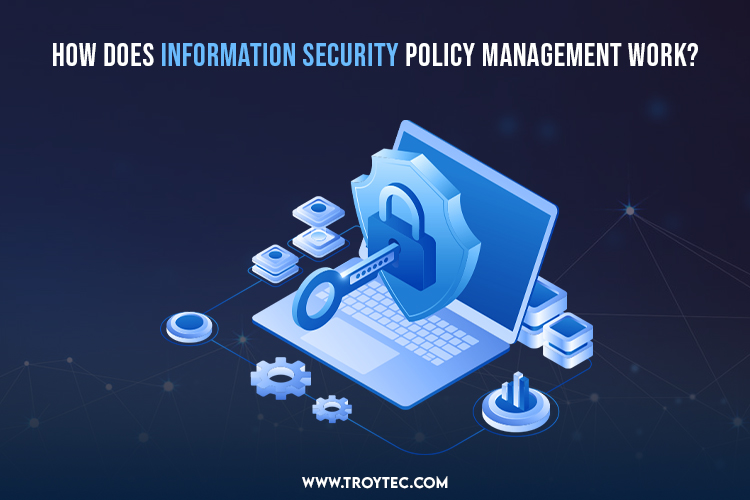 An ISMS involves a consistent approach to maintaining an institution's information security. Information security policies that handle and monitor security risk levels across an organization are called information security protocols.
The international convention for information security and the development of an ISMS is ISO/IEC 27001. The standard, published jointly by the International Standards organization and the Electrotechnical Commission, does not mandate specific actions but does include recommendations for paperwork, internal audits, continual learning, and corrective measures. To become ISO 27001 certified, a company must have an ISMS that identifies organizational assets and performs the following assessments:
The dangers that information assets face
The measures are taken to safeguard information assets;
A plan of action in the event of a security breach; and
People responsible for each stage of the data security process identifies
The goal of an ISMS is not necessarily to maximize information security but rather to achieve the desired level of data security for an organization. These levels of coordination may vary based on the industry's specific needs. Because healthcare is a highly regulated industry, for example, a healthcare organization may create a system to ensure confidential patient data is fully protected. Therefore, proper information security threat management is necessary for every business.
Different Types of Information Security Management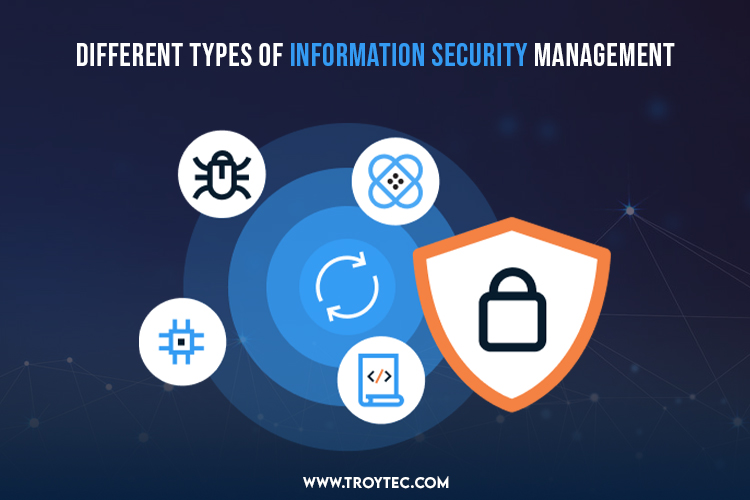 Effective information security management requires a comprehensive approach considering a security breach's various risks and potential consequences.
Here are some of the collective types of information security management:
Access Control: It regulates who can access a computer system, network, or information. It is achieved by setting up authentication and authorization methods, such as usernames and passwords, biometrics, and smart cards.
Network Security: Network security denotes the measures to protect a network from unauthorized access, interference, or damage. It includes firewalls, intrusion detection systems, and virtual private networks (VPNs).
Data Security: Data security refers to the measures taken to protect data from theft, tampering, or unauthorized access. It includes data encryption, data backup, and disaster recovery planning.
Endpoint Security: Endpoint security protects devices that access a network, such as laptops, smartphones, and tablets. It includes the implementation of antivirus software, firewalls, and the use of encryption to secure data stored on endpoints.
Application Security: Application security refers to the measures taken to secure applications from malicious attacks or unauthorized access. It includes implementing security measures such as input validation, secure coding practices, and secure socket layer (SSL) certificates.
Cloud Security refers to the measures to secure data stored in the cloud. It includes encryption, access control, and data backup and recovery measures.
Physical Security: Physical security refers to the measures taken to protect a physical location, such as a server room, from unauthorized access or damage. It includes using security cameras, access control systems, and alarm systems.
Conclusion
In conclusion, information security management requires a comprehensive approach that considers all types of risks and the potential consequences of a security breach. Organizations should implement technical, administrative, and physical controls to ensure the confidentiality, integrity, and availability of their information assets. ISM is more than necessary for protecting some organizations' sensitive, confidential memos and customer information. Based on the industry's downward, information security management may be a legal obligation to protect sensitive information. Comment below if you have any queries or need clarification (if any) about the information security management system.