What is Virtual Reality (VR)?
You have undoubtedly heard about virtual reality and "VR," but you might find it fun for enthusiastic gamers playing VR games and apps. So what exactly is virtual reality? There are many delightful examples of virtual reality games. Still, virtual reality has a lot to offer in healthcare, business, and even marketing, whether it's a virtual roller coaster, snooker, or even space exploration.
What if you had a surgeon working on you from another nation, allowing you to experience VR with correct results and a scalpel-wielding partner?
Or what if you could experience your dream wedding in a virtual world before spending a yen on an airplane?
Perhaps you could utilize a virtual reality simulator to practice the most challenging aspects of space exploration, scale structures, and experience things you could only imagine. Virtual reality is a three-dimensional (3D) generated environment in which objects and scenarios feel as if they are immersed in their surroundings based on sensory information and are used by the brain to classify data.
It means an experience that is close to reality. It can be auditory (sound), visual (visual), or both. With VR devices, you can experience another reality with a device called a headset or virtual reality helmet. The brain recognizes the environment as a kind of being, even when presented with a form of reality that is not the present reality.
What is the distinction between Virtual reality and augmented reality?
Immersive technology is a technology that seeks to create a physical environment through a simulated digital world. Immersive technologies include augmented reality, mixed reality, and virtual reality.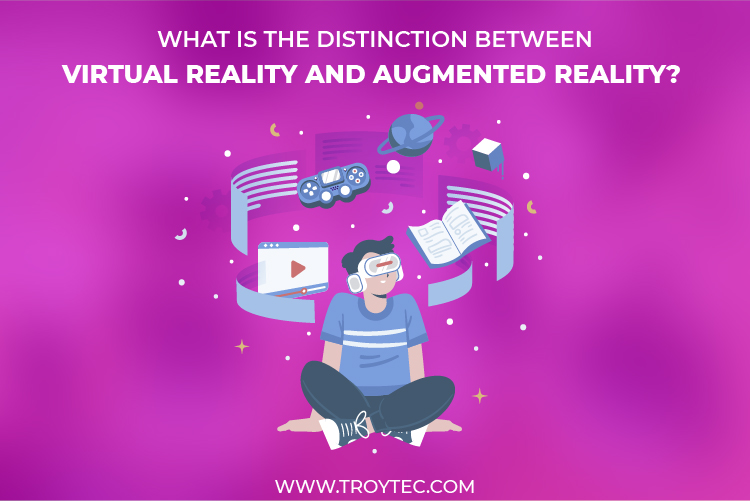 Augmented Reality (AR) uses live video or the user's current environment with the help of digital information to create semi-altered reality virtual objects that overlay the real-world environment. It is seen in some popular mobile games, such as Pokémon Go, which allows users to interact with smartphone characters in the real world.
To experience AR, you need a mobile phone or an AR headset. Mixed Reality (MR) integrates virtual and real worlds to build new environments, visualizations, and other digital objects that allow users to coexist and interact with objects in these worlds in real-time. Unlike AR overlays, virtual things are fixed in the real world. Virtual Reality (VR) is a seemingly realistic digital environment that can be operated using special equipment such as virtual reality helmets and headsets.
VR software
VR technology creates an entirely 3D environment to imagine the amount of software involved. VR software works with VR hardware to immerse users in a virtual world.
Developers also need to create interactive components in an environment that looks and feels natural. You can use virtual reality software to build experiences for consumers to virtually test their products, learn new things, or build something on their own. Believe it or not, there is also a VR social platform! Find out more about the types of software you need to create user experiences, such as VR content management systems and SDKs.
VR hardware
VR hardware is combined with software to give the illusion of being in a 3D environment. Standard hardware includes VR glasses, gloves, and other accessories that simulate other sensations such as touch.
What are the kinds of virtual reality?
There are three major types of virtual reality utilized today to transform the world around us, including non-immersive, semi-immersive, and fully immersive simulations. To better understand how the technology is used, let's categorize different types of VR and look at examples of each.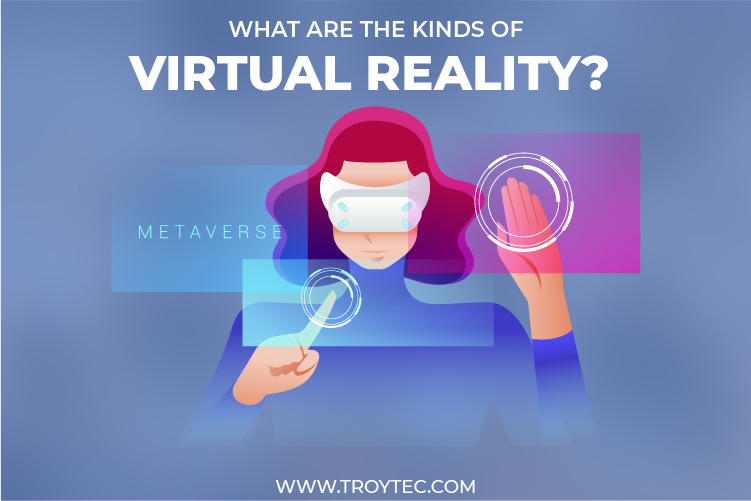 Fully immersive simulation
You might imagine a completely immersive experience with a head-mounted display, headphones, gloves, and perhaps a treadmill or suspension device when you think VR. This type of Virtual reality is commonly used for gaming and other entertainment purposes, even in VR arcades and at home (empty, fragile rooms are recommended). Fully immersive simulation gives users the most realistic experience with sight and sound. VR headsets deliver high-resolution content with a broad field of view. Whether flying or fighting the bad guys, you feel there.
Semi-immersive simulation
The semi-immersive experience provides a partially virtual environment for users to interact. This type of VR is primarily used for educational and training purposes and can be experienced with graphical computing and large projector systems.
For example, the instrument in front of the pilot is accurate, and the window is the screen that displays the virtual content. It is important to remember that users can feel like they are in another reality, even in semi-immersive VR simulations. This type of VR is not always available everywhere. Instead, a physical environment is created to complement virtual reality.
Non-immersive simulation
Non-immersive simulations are so common in our daily lives that, to be honest, they are often forgotten as an actual type of VR. The average video game is technically regarded as a non-immersive virtual reality experience. Think about it, and you are sitting in a physical space and interacting with a virtual space. These experiences have become more advanced with video games like Wii Sports, where the system detects your motion and translates it on screen.
How Does Virtual Reality Work?
To experience VR, you need to immerse yourself in a virtual world. Therefore, you need VR goggles or a virtual reality headset (sometimes called virtual reality glasses) and a compatible phone or specific virtual reality device. You need an amount to get these to your face. You may have seen this in VR's "cardboard" set (and thought about how to advance a new era with cardboard boxes digitally).
A VR headset (also known as an HMD or head-mounted display) creates a "screen" around the face. Unlike watching TV or a phone, your eyes need to stay in the virtual scene when you turn your head and move it up and down. They do not have to be expensive and do not have to provide 360-degree coverage. Unless it is an owl, 100-degree visibility keeps costs down and provides the same experience. The price is in the lens placed between your eyes and the pixels. Therefore, the device is often called goggles.
These lenses focus and reshape each eye's image, angle the two 2D images, and mimic how each eye sees the world slightly differently in 3D. The content is comparable to what you're currently seeing on your console when it comes to distribution. The graphics are either taken directly from the console or are already integrated into the headset.
Virtual reality (VR) is a current technology marketing trend, with many global companies spending time, money, and effort creating virtual reality content. Virtual reality headsets are becoming more affordable day by day, and we are reaching the limits of major VR waves.
What are the elements of Virtual Reality (VR)?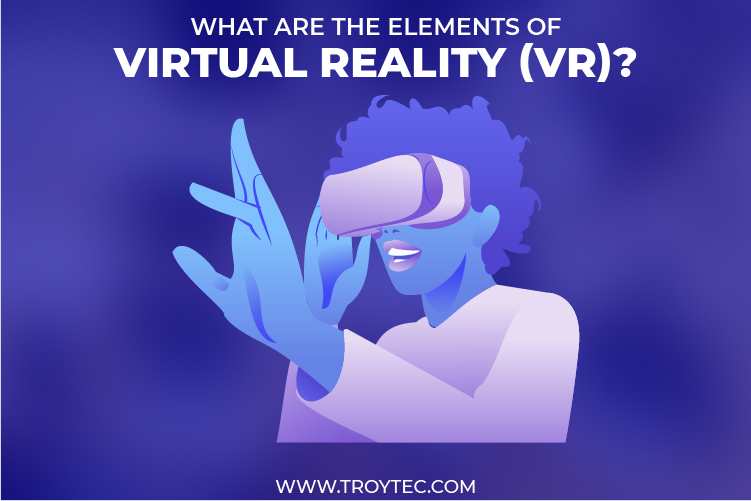 There are certain essential elements that a virtual reality system should have.
1: Viewing system
The most promising virtual reality experience is possible only when running on a sound viewing system. Regardless of the number of users, the viewing system connects the last miles.
2: Tracking system
Virtual reality headsets require a sensor camera to identify movement and provide the best 3D world experience. Most high-end headsets now have this.
3: Bidirectional element
One of the main attractions of virtual reality experiences is manipulating content as if it were real. Technology was not enough to build a realistic experience in the past, but everything has changed. The elements of interaction depend on the range, velocity, and mapping. The ability to move from one place to another in a virtual world and the ability to change the environment are the best interaction elements VR can offer.
4. Artistic inclination
The virtual environment should provide the user with a background in which they can be completely immersed. VR artists need to focus on atmosphere, fascinating and entertaining elements so that the experience is immersive and the user feels part of the game or environment in which they are.
5: Sensory management system
Users should be able to feel any slight changes in the virtual environment, such as vibrations, movements, or directions. It is currently available on the most sophisticated virtual reality headsets.
How are companies planning the future of VR and AR?
We know where the augmented and virtual reality markets are heading, but product companies generally seem crazy to plan. According to a Jabil survey, 51% have not started developing an initial plan. Of those with an AR / VR plan or investment, 99% say they can flexibly change the program to suit the market. With the volatility of the AR / VR market to date, some companies may be waiting for action.
To successfully overcome the challenges of building augmented reality and virtual reality technologies while meeting market expectations and time-to-market, companies are developing end-to-end products with comprehensive engineering capabilities.
You can consider partnering with an experienced vendor who can provide. Almost 90% of companies expect vendors to help them meet their AR / VR requirements, from planning to full manufacturing capabilities. By leveraging external talent and virtual and augmented reality technologies, enterprises can focus on their core strengths while providing an immersive experience.