The Pros and Cons of Building a Software as Service (SaaS) Offering:
SaaS (Software as a Service) or on-demand Software is a technique of distributing software programs to end-users via the internet. Most firms may benefit from SaaS (Software as a Service), mainly flexibility and cost. Nevertheless, there are substantial weaknesses to software as a Service (such as a loss of control) that should not overlook.
Software as a service (SaaS) is the numerous popular alternative for organizations in the technological market. What is the explanation for this? It's simple to use – all we need is an online service and a web application – and it's completely automated.
Customers don't have to rely on their fundamental IT skills because the SaaS methodology compels providers to handle all technical difficulties.
Software as a Service (SaaS) solutions is getting progressively popular as organizations become more comfortable operating in the cloud environment. While many Customers can self-provision SaaS technologies, others require the assistance of a third party for integration, customization, and security.
SaaS offers an appealing alternative to traditional business software installation (traditional model), which requires you to construct the infrastructure, install the program, and configure it. Instead, the apps are hosted on a distant cloud network that can access via the internet or an Interface, and it functions similarly to a rental. You and your organization have permission to use it for a limited time and must pay for the program you use.
What is Software as Service (SaaS)?
A software deployment strategy in which a third-party supplier creates applications on cloud computing and makes them available to consumers via the internet is known as SaaS. Unlike traditional software, it can access software from any device having an internet service and a web browser, rather than just the user's computer where it's installed.
The software as a Service (SaaS) model is a software distribution and delivery strategy in which software is:
Subscription-based software that is primarily hosted in the cloud
Accessed via a website over an internet service
Licensed on subscription essential usually monthly or annual basis
SaaS replaces traditional on-premise software installs. It's become a popular way to deliver a variety of corporate applications, including:
Software for the office and communication
Accounting and payroll software
Relationship management software for customers
Software for human resource management
Programs for enterprise resource planning
Suites for corporate performance management
Applications for mobile devices
About SaaS (Software as a Service):
SaaS (Software as a Service) has some advantages. If implemented correctly, it can help your company save cash, effort, and human resource management. SaaS (Software as a Service) can give streamlined focus and increase productivity by removing maintainability and incompatibility concerns. SaaS, like other software solutions, has some disadvantages.
Before implementing any answers, it is critical to conduct an extensive study on each possibility. To help you navigate the perplexing SaaS landscape, we'll outline critical disadvantages and drawbacks soon to help you make fair and outstanding judgments.
Pros of SaaS (Software as a Service):
As a result, many firms consider the advantages of SaaS vs. on-premise software a conventional choice. Is this kind of outsourced technology a good fit for your company? Here seem to be the most significant advantages of software-as-a-service.
Cost
Subscription-based software permissions make it easier for companies to identify the expenditures to different business units or departments. Plus, a consistent spend is more accessible to explain than a significant one-time expense every few years.
Publishers who use SaaS as a service model may offer several pricing tiers, allowing enterprises to spend less to access fewer program capabilities.
Mobility
People who are working today are looking for more flexibility at their workplace. As a result, organizations make rules that allow workers to work from home. This trend implies that the technology your employees rely on must be accessible from anywhere, which is one of the reasons SaaS is becoming more popular.
Software as a Service or SaaS-based programs can be exploited anywhere as there is a network connection because they don't require installation on a disc. It Is turning the mobile workstation more accessible.
Maintenance
The immediate access to updates and patches is maybe the best feature of SaaS. Organizations used one iteration of software until it was required to be upgraded to the newest release — either for security considerations or to access new features — with a perpetual software license.
A subscription-based system implies that your licenses will be automatically updated as the publisher issues new versions. Your staff won't be developing out-of-date software, and your firm won't have to invest in a updatentirely new program.
It Can Assist You in Every Phase of Your Business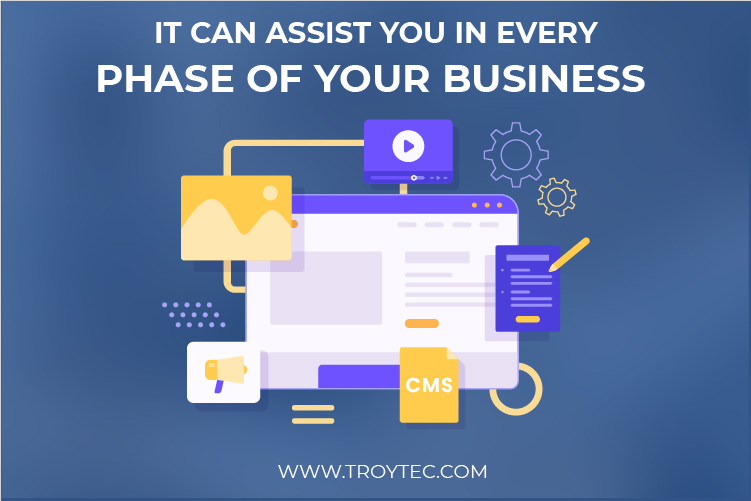 Although many organizations only use SaaS for finance, accountancy, and sales. SaaS solutions may assist practically every aspect of your company, such as marketing, HR, program management, and customer care, making this one of the most valuable SaaS benefits for customers. Don't overlook how SaaS transforms corporate operations and gives customers a wide range of benefits.
It's Simple to Scale Up
Scalability is one of the most critical SaaS benefits for clients. In contrast to traditional software models, SaaS can expand up and down to meet rapidly changing business needs while integrating other SaaS solutions. So, if you have a sudden surge of new users, SaaS gives you the flexibility you have to scale up quickly.
It's All Set to Go
One of the most essential and operational advantages of SaaS is that it provides the out-of-the-box capability. Simply put, you can get started nearly immediately because the app is deployed and configured in the cloud ahead of time. You won't need to go through a prolonged deployment procedure like you would with on-premises software.
Time to Benefit Is Shorter
Because the program (application) is already correctly configured, software (SaaS) varies from the traditional model. You may easily configure the server for a cloud instance, and the application will be ready to use in hours. It cuts down on time spent on configuring and obstacles that obstruct software distribution.
Compatibility
SaaS new updates can take a long time and cost a lot of money when consuming the traditional software installation procedure. More inferior, distinctions in version amongst team members might cause compatibility concerns and may drive lost effort. On the other hand, subscribers to SaaS (Software as a Service) can log on to services that have been upgraded.
Cons of Software as a Service (SaaS):
Besides having advantages, SaaS also has many pitfalls which cannot be neglected.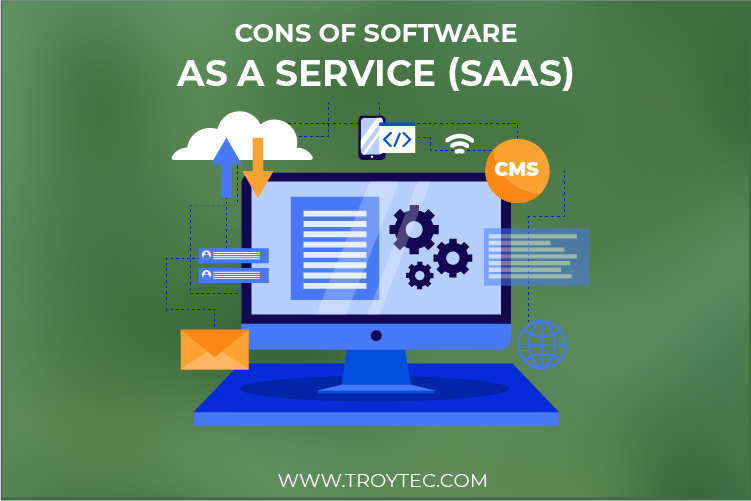 Customers benefit from a wide range of SaaS features, but they are not without downsides. Here are the most significant drawbacks of software as a service or SaaS to be aware of:
It Entrusts the Management of Crucial Company Tasks to A Third Party
Finally, keep in mind that you never really own the service you're utilizing when using a SaaS model. Thus you're handing over management of critical business operations to a third party. It can result in a diversity of complications. For example, you may not be allowed to opt-out of unwanted software upgrades and have minimal control over feature modifications.
It does, however, imply that publishers maintain a careful eye on their customers' behavior. They will not refuse to examine a company if they feel it is not adhering to its contract. The publisher has a lot of control over the process, and if firms aren't prepared, they may have a hard time navigating it.
It Necessitates Operating System and Browser Compatibility
SaaS tools may behave differently based on your browsing or operating system. Because many SaaS suppliers optimize their devices for Windows, this may be a more common problem for macros users.
There's A Chance That Your Service Will Be Terminated
Although it's unlikely that you'll ever lose service due to no fault of your own, if a SaaS business goes bust or stops selling their service, you won't be able to use it any longer. While you'll usually be notified ahead of time, allowing you time to back up your papers and transfer them to another provider, this isn't an issue that affects on-premises software.
The Can Only retrieve it Via the Internet.
You'll need a fast internet connection to get the most out of SaaS; otherwise, you'll have problems with long load times and data that isn't synchronized. If you do not have good and fast internet in your network, you'll undoubtedly face more difficulties utilizing SaaS. Without the internet, you cannot execute the SaaS service, which can be dangerous for such businesses that don't have an alternative if the internet connection goes offline.
Contractual Responsibilities
Acquiescence is a significant challenge for firms that utilize SaaS (Software as a Service) services. Contracts for software as a service (SaaS) can be complicated, and the consequences for abusing licensing are sometimes severe.
Companies determined to be out of conformance by the publication may be forced to pay a substantial, upfront fee to bring themselves up to speed.
As a result, Software Asset Management (SAM) is becoming a critical aspect of the IT department's responsibilities. To avoid over-and under-use, the company must know how many permits each business entity or department uses and how many the company is allowed.
Performance
Because SaaS (Software as a Service) applications aren't hosted on a local workstation, they may run at reduced speeds than on-premise user or server applications. It's essential to keep this point in your mind when considering performance.
Metrics Are Everything in SaaS
To track your firm's progress, you can use a variety of measures. However, only a few KPIs are essential for SaaS organizations. These figures have to do with revenue and customer retention.
No matter how fantastic the other KPIs are, if revenues are flat and attrition grows, the economy will fail. Keep track of your recurring payment, reduce churn, and lessen the cost of customer acquisition.
Check client involvement with your product in addition to churn. There may be a connection between your business and your clients' needs if they aren't using your application to its full potential. They should educate consumers about your product and how you can develop it to help to improve the quality of their concerns.
Conclusion
With having so many benefits, there are also some pitfalls of SaaS (Software as a Service). The future of business in SaaS is very bright. Many companies are now utilizing SaaS in their network, which gives them a lot of benefits to run the network system efficiently. Write below if you have any related queries about software as a Service (SaaS). Our professional team would be happy to assist you accordingly!