What Is Ransomware? Describe the Ransomware Attacks:
Due to the increasing number of hackers, every business or organization fears losing its critical data. Companies are well aware of the risk factors for their valuable data. Data is vital for any business as it contains essential information about their customers, i.e., full name, address, phone number, blood group, gender, and many more confidential details.
There are plenty of cyber-attacks available, which "Black Hat Hackers" utilize and attack any organization's network. It's one of the oldest and most popular cyber-attacks present in this world or 2022. Ransomware has become one of the biggest cyber threats and vulnerability to local and state governments or other private sector in just a few years. Every business fears losing their critical data as ransomware can be hazardous for any organization, government, or the private sector. 
Over the previous years, the world has witnessed record ransomware attacks. According to the latest research, about 1,886% increase in ransomware attacks has been recorded globally. For instance, in 2017, the world witnessed one of the most potent ransomware attacks named "WannaCry Ransomware Attack." Where hackers targeted almost 230,000 computers running on Microsoft Windows OS (Operating System), they encrypted all confidential information. They demanded ransom payment from all the governments in the form of Bitcoin cryptocurrency. It has been called the most significant ransomware attack of the century, damaging over 300 organizations ranging across 150 countries. 
We will intensely discuss what ransomware attacks are and what essential things you must know in 2022. Keep reading the article to acknowledge why ransomware attack is also dangerous for you in 2022.
What Is Ransomware?
A ransomware attack can be explained as malicious software that can infect a computer system, encrypts all the critical data, and keeps it encrypted until a ransom amount is paid in return for a decryption key. In today's world, we see ransomware attacks in the headlines. According to research, 83% of the United States organizations faced ransomware and phishing threats from 2020 to 2021. 
Ransomware can start an attack from a single PC and end up on the whole computer network concluding with servers. It is meant to be one of the dangerous attacks as it limits or denies the user access to any file on the computer. Paying the ransom amount is only the cheapest and easiest solution to retain or decrypt all the computer files.
Most of the time, hackers demand from $250 to $1000 to provide the decryption key. However, most attackers require over $50,000 depending on the organization and its critical encrypted information. However, from 2021 to 2022, the average recorded ransom payment was about $500,000. Bitcoin is the only way to pay the ransom as you cannot detect the receiver while paying through cryptocurrency. The world has witnessed such ransomware attacks, and it is an expensive way to hire an ethical hacker or cybersecurity expert to decrypt the files.
How Does Ransomware Work?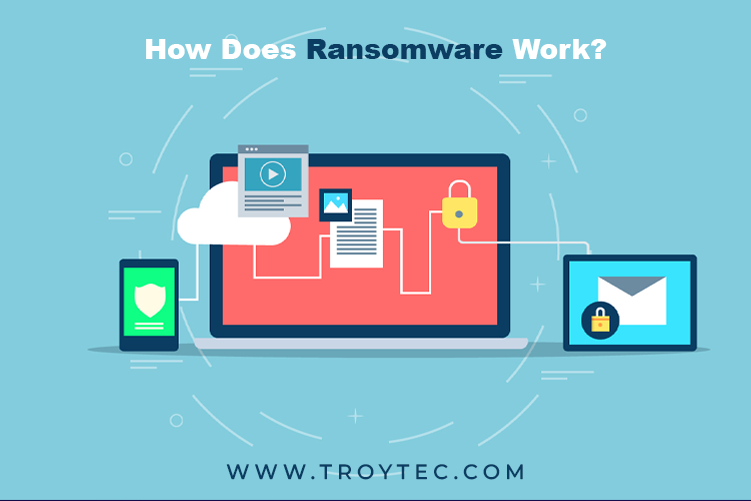 Ransomware works by encrypting the critical files on the computer system, intimidating to delete files permanently, or blocking the computer system access for the victim. Typically, a hacker first starts the ransomware attack by sending malicious links through mail or any other source on the computer system. The preys or targets commonly infect themselves by clicking on a negative or phishing message or spam mail. 
Ransomware attacks happen when you download unauthorized or cracked software from unsecured websites. In the greed of getting free software, victims fall into the trap of hackers. Then these hackers gain access to your organization's computer network using the hidden virus file on the software you downloaded. Afterward, these hackers encrypt all of your important files and data. When the user wants to access the file, it shows the message window saying that your files are encrypted and that to decrypt, you have to pay the ransom amount. 
In that message window, hackers leave their contact details and ask you to send a message and discuss the amount. There is no other way for the victims to pay the ransom amount to the attackers. It is one of the secure and easiest ways to re access your organization's files. The hackers or attackers only give 24 or 48 hours to pay the ransom amount, or they threaten the organization by erasing all the crucial files permanently. Only hackers have the decryption key, which can save the important files of any organization. 
Moreover, criminals only demand the victims pay in the form of Bitcoin as it is the only way for the attacker to hide their identity. Sometimes, victims need to understand what bitcoin is because most of them are unaware of Bitcoin or don't know how to use it. In 2015, attackers hacked the police data and demanded a lot of ransom amounts.
The amazing fact is that there was no option for the police department except to pay the ransom amount to the criminals. Now you can imagine how dangerous ransomware attacks could be for your organization.  
Common Variants of Ransomware Attacks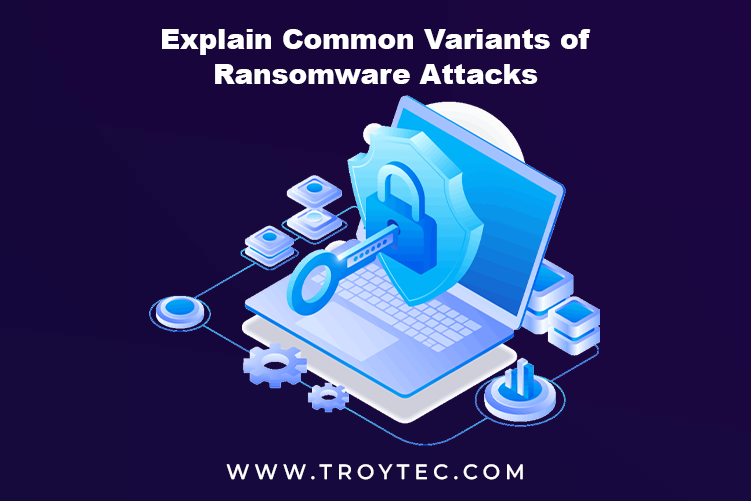 There are plenty of variants of ransomware attacks that exist, and each type has its unique characteristics. Attackers use different types of ransom variants to attack the computer system. Here are the common types of ransomware attacks with their particular characteristics:
Ryuk
Ryuk is the first targeted variant of ransomware. It is usually spread using compromised user credentials or spam e-mails to access the organization's systems utilizing RDP (Remote Desktop Protocol). Once a computer system is infected with ransomware, Ryuk encrypts confident types of files and media, and then attackers demand a ransom amount.
Ryuk is the oldest and most expensive type of ransomware globally. According to research, the attackers demand an average ransom amount of $1 million. Due to this fact, attackers especially look for such enterprises that can meet their ransom demands.
CryptoLocker
Ransomware has been around in some structure or more for twenty years. However, it indeed came to unmistakable quality in 2013 with CryptoLocker. The first CryptoLocker botnet was closed down in May 2014; however, not before the programmers behind it blackmailed almost 3 million USD from casualties.
From that point forward, programmers have generally duplicated the CryptoLocker approach, albeit the variations in activity today are not straightforwardly connected to the first. The word CryptoLocker, similar to Xerox and Kleenex in their particular universes, has become practically inseparable from ransomware.
Maze
It is well-known for being the first-ever ransomware to combine data theft and data encryption. When the victims started denying to pay ransom amounts, the Maze ransom attack began collecting critical and sensitive data from the victim's computer system before encrypting the files. If the victims refuse to pay or the attacker's demand is not met, they can publicly expose that critical data or sell it to one of the highest competitors. 
The prospective for a costly data breach was extra encouragement to pay up the ransom amount. The group behind the Maze ransomware has formally finished its activities. In any case, this doesn't imply that the danger of ransomware has decreased. Some Maze members have changed to utilizing the Egregor ransomware, and the Egregor, Maze, and Sekhmet variations are accepted to have a typical source.
Crysis
It is also a popular variant of ransomware. It encrypts files on fixed, network, and removable drives with a complicated and robust encryption algorithm, making it complex to crack in a sensible amount of time. Crysis ransomware usually spreads via spam e-mails that contain attachments having double file extensions. It can make the essential files look like non-executable files. Additionally, to the e-mails, it can also be hidden as a genuine or authentic installer for applications.
DearCry
In March 2021, Microsoft delivered (released) patches for four weaknesses inside MSE (Microsoft Exchange) servers. DearCry is a new ransomware variation intended to exploit four late uncovered flaws in Microsoft Exchange.
The DearCry ransomware encodes specific sorts of records. When the encryption is done, DearCry will show a payoff message educating clients to send an e-mail to the ransomware administrators to figure out how to unscramble their records.
GoldenEye
GoldenEye is like the productive Petya ransomware. Programmers spread GoldenEye ransomware through a gigantic mission focusing on HR divisions. After the document is downloaded, a large scale is sent off, which encodes records on the PC. GoldenEye adds an arbitrary 8-character expansion for the paper. It scrambles toward the end. The ransomware then alters the client's hard drive MBR (Master Boot Record) with a custom boot loader.
REvil or Sodinokibi 
The REvil or Sodinokibi group is another dangerous ransom variant that targets only large organizations and businesses. REvil is one of the most widespread ransomware families on the internet. ransomware bunch, which has been worked by the Russian-speaking REvil bunch starting around 2019, has been answerable for some significant breaks, for example, 'Kaseya' and 'JBS.'
It has rivaled Ryuk in the course of the most recent quite a while for the title of the costliest ransomware variation. REvil is known to have requested $900,000 delivery installments. While REvil started as a conventional ransomware variation, it has advanced after some time.
They utilize the Double Extortion strategy to take information from organizations while likewise scrambling the records. That's what this intends, and requesting a payoff to unscramble information, assailants could take steps to deliver the data if a subsequent installment isn't made.
How to Protect Systems from Ransomware Attacks?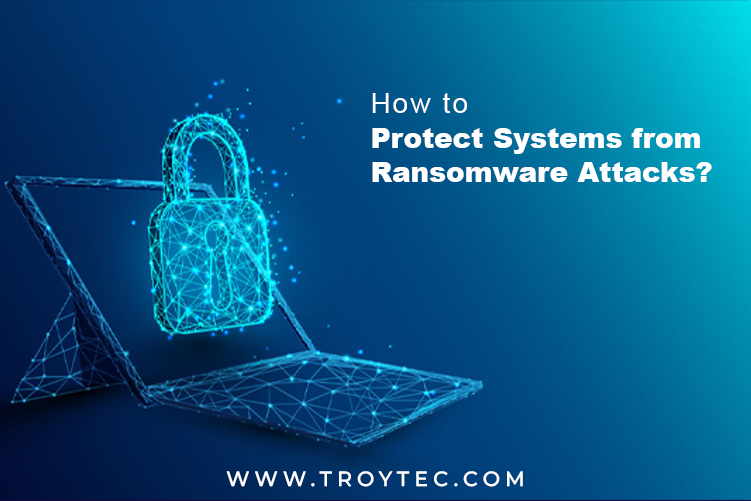 After a ransomware attack, you don't have any choice except to pay for the demanded ransom amount. However, some preventive measures are available that you can adapt to your organization to reduce the potential risk of ransomware attacks. You can easily protect your organization's computer network from any ransomware variant by applying safety measures. 
Here are the steps and guides you can follow to protect your computer system from ransomware:
Ensure your computer updates with the latest version of Windows, including all the patches.

Make sure to turn on the Windows Security option to defend your system from ransomware attacks.

If you have Windows 10 or 11, turn on Controlled Folder Access to defend and protect your critical folders, files, and data from any illegal programs like ransomware.

Always remember to use a secure and modern browser.

Map your attack surface

Upgrade and patch your confidential devices

Segment your computer network

Protect your extended network

Run recovery drills

Educate your employees about possible ransomware attacks and threats

Install and configure recovery plan or data backup for all complex information 

Install the updated version of licensed anti-virus

Never open any phishing e-mails.

Never install or extract unauthorized software in your computer system.
Conclusion
It is still a significant concern for the organization. Their employees are not well-aware or educated about the possible threats of ransomware attacks, and they fall prey to ransomware. One of the major ransomware attacks in 2022 is RaaS (Ransomware as a Service), where attackers sell complete ransomware guide kits on the dark web to educate people about crimes. Governments should see and notice what they can do to protect their computer systems from ransomware attacks.
One of the best ways to secure your data from ransomware attacks is to install authorized and upgraded Anti-virus in your computer system. The benefit of installing anti-virus is that it can notify you and warn you about the possible ransomware before clicking any link or installing unlicensed software. Comment below if you've enjoyed reading the article or if you have any queries regarding ransomware attacks. Hotcerts professional team is 24/7 available to assist you accordingly.