Human Resources (HR) is increasingly important and complex in today's fast-paced commercial world. As businesses appreciate their workers' critical role in achieving success, the requirement for skilled HR experts grows. This increase in demand has resulted in a corresponding rise in the importance of Professional in Human Resources Certification, making them vital assets for professionals trying to enhance their HR careers.
Human Resources covers various tasks, from recruiting talent and performance administration to employee engagement and corporate growth. Human resource professionals face new problems, rising technologies, and complex legal and ethical issues daily.
A Professional in Human Resources Certification provides aspiring and seasoned human resources professionals with the information and abilities to confidently traverse this maze of complications.
Aside from giving an in-depth comprehension of HR principles, getting a Professional in Human Resources, Certification indicates one's dedication to excellence and continuing education. Employers are progressively realizing the value of qualified human resource professionals who add a degree of competence and credibility to their organizations. Such certificates are physical evidence of an individual's commitment, demonstrating that they have undertaken extensive education and have the skills to manage the HR landscape's varied needs.
This blog will look at the significant advantages of gaining a Professional in Human Resources Certification and how it may be a game changer in one's HR career. We are leaving no stone unturned in illustrating why a Professional in Human Resources Certification is a vital investment in your employment prospects, from exploring the numerous certification alternatives to comprehending the potential career improvements and income rewards connected with these qualifications. So, let us continue this instructive adventure, which will open the doors to a great HR profession!
What is Human Resources?
Human Resources (HR) is a vital business department responsible for managing the company's most important asset: its people. The primary purpose of human resources is to maximize human capital to drive the company's performance. Recruitment, development and training, salary and benefits, managing implementation, workplace relations, and other activities are all part of this diverse profession.
At its foundation, human resources are about creating a positive work atmosphere that allows workers to fulfill their fullest potential while connecting their personal goals with the business's aims. HR practitioners contribute to greater employee happiness, productivity, and retention by cultivating a culture of diversity, inclusivity, and happier workers.
HR teams perform an essential operational function in addition to ensuring that employees follow labor laws, collecting payroll, and maintaining personnel records. They liaise between executives and staff members, advocating for workers and promoting the company's growth.
Furthermore, with the introduction of technology, HR has grown dramatically, with many firms employing human resources management software to streamline procedures, analyze data, and obtain meaningful insights into their staff.
What is Professional in Human Resources Certification (PHR)?
The Professional in Human Resources certification is a prominent qualification for HR professionals looking to demonstrate their experience and dedication to the subject. The Human Resources Certification Institute (HRCI) certification denotes a high degree of expertise in several HR fields and verifies the holder's capacity to tackle complicated HR difficulties.
Candidates must meet specified eligibility criteria, which often include an assortment of schooling and professional human resources expertise, to acquire the PHR certification. Candidates must pass an in-depth Professional in Human Resources Certification Exam covering themes including HR business management, talent strategy and acquisition, development, and growth, total rewards, worker and workplace relations, and risk management once they are eligible.
The Professional in Human Resources certification has numerous advantages for managers and employers. It boosts credibility and recognition by indicating to employers and coworkers that the employee understands HR principles and procedures. Furthermore, because their credential distinguishes them in a highly competitive job market, credentialed professionals frequently have enhanced career opportunities and compensation potential.
Furthermore, PHR-certified professionals are better prepared to handle the complexity of compliance with human resources laws and strategic choice-making, adding to their organizations' overall performance. They stay current on market developments and best practices by meeting the HRCI's ongoing education prerequisites, ensuring their expertise remains current and relevant.
The Professional in Human Resources certification is an excellent choice for HR professionals wishing to enhance their careers while creating a difference in the fast-paced world of human resources.
Benefits of Getting Professional in Human Resources Certification (PHR)
Here are the significant benefits of getting a Professional in Human Resources Certification (PHR):
• Increased Career Possibilities:
Obtaining a Professional in Human Resources Certification will help you further your career in human resources. Employers frequently choose applicants with recognized credentials because they exhibit a dedication to quality and competency in HR processes.
• Industry Appreciation:
Professional in Human Resources Certification is widely recognized and regarded in HR. It validates your knowledge and competence, allowing you to distinguish yourself from other individuals in HR.
• Knowledge and Skills Expansion:
Preparing for the Professional in Human Resources Certification exam necessitates a thorough understanding of many HR disciplines, such as labor laws, relations with staff members, remuneration, and benefits. This method assists you in expanding your knowledge and developing critical skills that are required for accomplishments in HR roles.
• Increased Self-assurance:
Obtaining the Professional in Human Resources Certification gives you a sense of success and faith in your talents. You will be confident that you have the abilities required to address complex HR concerns effectively.
• Employer Trustworthiness:
Employers prefer trained human resource professionals, given that they can make informed judgments and put best practices into action. Employers will see your qualification as proof that you may contribute to the company's achievement through innovative HR tactics.
• Opportunities for Networking:
Joining the ranks of qualified HR professionals allows you to network with colleagues, mentors, and business experts. Connecting with others in human resources can lead to helpful insights, career guidance, and potential job possibilities.
• Keep up with Industry Trends:
Maintaining a Professional in Human Resources Certification necessitates ongoing study and staying current on the newest advances in the HR profession. This dedication ensures that you stay current on industry changes and standard procedures.
• Professional Development:
Obtaining and upholding your Professional in Human Resources Certification encourages continued professional development. It motivates you to take on novel difficulties, take on leadership positions, and investigate various facets of human resource management.
• Increased Earning Potential:
Certified human resources professionals frequently earn more than their non-certified competitors. Employers appreciate the value that a credentialed human resources professional contributes to their firm and are prepared to reward accordingly.
• Contributions to the Success of the Organization:
You remain an asset to your employer as a trained HR specialist. Staff satisfaction, retention, and overall company performance can all benefit from your skills in recruiting talent, employee growth, and workplace regulation.
Finally, attaining a Professional in Human Resources Certification benefits HR workers. It not only improves your career possibilities but also confirms your knowledge, talents, and dedication to excellence in the fast-paced human resources management sector. Beyond personal development, PHR certification positively impacts the businesses you serve and the field of human resource management.
Who is Certified Professional in Human Resources (PHR) Expert?
A Certified Practitioner in Human Resources (PHR) Expert is a respected and highly skilled human resources management practitioner. Individuals must complete rigorous education and instruction and pass an extensive test offered by the Human Resources Certification Institute (HRCI) to obtain this coveted certification.
The PHR credential denotes a solid foundation of competence and expertise in all areas of human resource management. These experts are skilled in recruiting and finding employees, employee relations, benefits management, salary administration, and compliance with human resources regulations.
Furthermore, a PHR Expert is well-versed in labor laws, rules and regulations, and business best practices. It helps them negotiate complicated HR difficulties, provide solid guidance, and make smart decisions that align with business goals.
Companies highly respect PHR-certified professionals since it demonstrates their dedication to sustaining the most stringent standards of HR operations. Organizations profit from their capacity to recruit and retain top personnel, reduce legal risks, establish a positive workplace atmosphere, and promote a welcoming and diverse culture.
A Certified Professional in Human Resources (PHR) Specialist is critical in driving a company's advancement and achievement, making them a vital resource in today's competitive corporate world.
Skills Required to Become A PHR Expert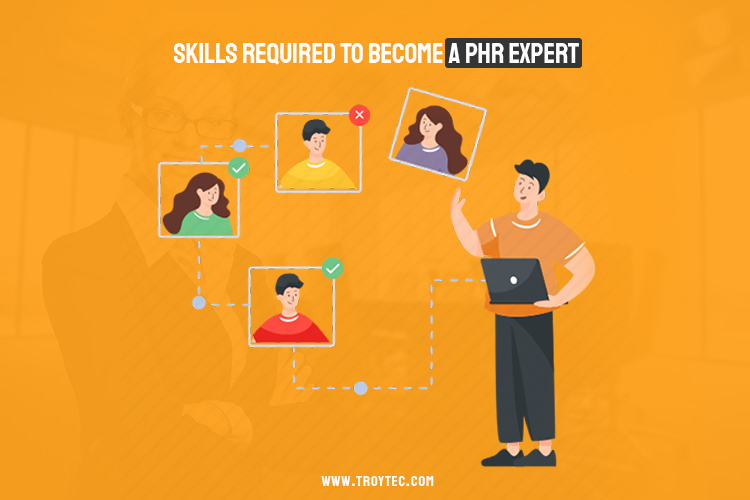 Here are the primary skills you will get after acquiring the Professional in Human Resources Certification:
1. Comprehensive Knowledge of HR Principles
PHR experts must understand human resource principles, policies, and procedures. This core knowledge serves as the framework for performing numerous HR functions precisely.
2. Employment Law Knowledge
A PHR specialist must be knowledgeable about employment rules and regulations. Understanding state and federal labor laws, prohibition of discrimination statutes, and wage and hour rules are required to adhere to all HR procedures.
3. HR Technology Expertise
HR practitioners must be knowledgeable in HR technologies in today's digital world. A PHR practitioner should communicate with HR software, application tracking structures, payroll systems, and other important digital technologies to expedite operations and improve efficiency.
4. Communication Skills that Work
A PHR expert must have outstanding interpersonal abilities because they frequently communicate with staff, executives, and external parties. Clear and straightforward communication supports adequate information flow and problem resolution.
5. Analysis and Reporting of Data
A PHR specialist must be skilled in data analysis to obtain significant insights from HR measurements. They should be able to develop detailed reports to support them in making informed decisions and spot patterns inside the firm.
6. Competence in Conflict Resolution
 HR practitioners frequently deal with employee disagreements and disputes. To create a peaceful workplace, a PHR specialist should have good conflict resolution abilities and be objective, empathic, and diplomatic in addressing disputes.
7. Thinking Strategically
A PHR expert should strategically consider and link human resources efforts with the firm's goals. Understanding the business requirements allows them to create HR tactics contributing to the company's success.
8. Project Management Capabilities
HR projects, such as acquiring talent or policy implementation, necessitate good project management. A PHR expert must be able to plan, manage, and carry out HR activities. 
9. Influence and Leadership
A PHR expert may be required to influence decision-making processes and guide administration as a critical HR figure. Gaining respect and achieving meaningful change within a company needs strong leadership qualities.
It takes time and determination to master these talents. A mix of education, expertise, and a genuine interest in human resources can pave the road for you to become a competent and successful PHR specialist.
What is a Professional in Human Resources Certification Exam?
The Human Resource Certification Institution (HRCI) offers the Professional in Human Resources Certification test as a certification evaluation for HR professionals. This exam assesses their comprehension and understanding of the role's operational duties and responsibilities and their technical expertise. Candidates must be familiar with relevant rules and regulations, knowing the typical responsibilities performed by these experts.
This accreditation is for HR professionals with expertise who wish to develop in their jobs. The PHR is an online examination with 90 scored questions, most of which are multiple-choice and 25 preliminary topics. Applicants must satisfy one of the eligibility criteria that follow and pay a test and application fee to be considered:
• A master's degree (or above) and at least one year of work expertise in a professional-level HR function are required.
• A bachelor's program and at least a few years of work expertise in a professional-level HR function are required.
• At least four years of professional-level human resources expertise is required.
What is the Professional in Human Resources Certification Cost?
To get your PHR® accreditation, you must pay a $100 application cost and a $395 exam fee. After you apply and are accepted, you must pay. Please see the HRCI Certification Guidebook for further information on the Human Resources Certification Institute certification regulations and procedures.
What is a Professional in Human Resources Certification Salary?
As of June 26, 2023, the typical salary for a Professional in Human Resources in the US is between $56,5505 and $118,872. The pay scale can vary meaningfully centered on the position for which you seek a Professional in Human Resources. It helps you establish your exact salary target by providing more real-time online salary information than any other service.
How to Study for the Professional in Human Resources Certification Exam?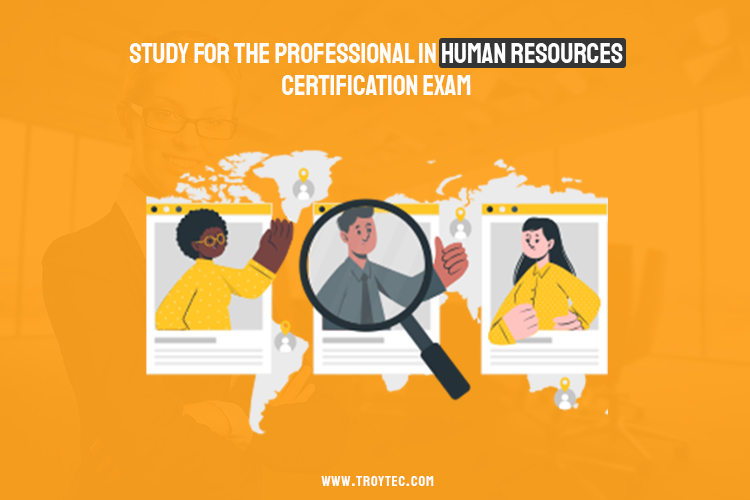 You should discover the best preparation methods to take the PHR exam and obtain certification. You can prepare for the PHR exam by taking the following steps:
1. Consider Your Final Budget
Spend time examining your finances as you plan to take the PHR exam. Aside from the exam and application fees, distinct exam preparation programs and resources frequently have varying costs. Making a budget for your attention helps you navigate these possibilities and determine which ones are ideal.
Look for ways to help with these costs. Some companies, for instance, reimburse individuals for educational expenditures or sponsor individuals and pay all or certain parts of their examination and study material fees. Consider discussing with your employer your alternatives. Whatever your budget, there are sure to be countless low-cost or free possibilities.
2. Examine your Abilities and Knowledge.
Before preparing for the PHR exam, conduct a self-assessment to assess your skills. This step lets you identify your strengths and shortcomings and create a more efficient study strategy. You can do an informal evaluation by examining HRCI's PHR test content overview. This page describes the many functional domains tested and the corresponding weights on the examination, which are as follows:
• HR administration – 9%
• Selection and recruitment – 15% 
• Compensation and perks – 14% 
• The development of human resources and retention – 12% 
• Employee relations – 16% 
• Health, safety, and security – 5% 
HCRI explains the tasks and subjects you must be proficient in for each functional category in this document. Once you've completed this self-assessment and understood your advantages and disadvantages, you may start looking for materials, practice exams, and preparation programs to help you preserve your strengths and improve your deficiencies. Consider evaluating your favorite learning style to assist you in identifying it.
3. Choose your Research Methodologies.
Numerous study tools and approaches are available to help you prepare for the PHR exam. Self-evaluation of your ideal method of learning can assist you in being responsible for what works most successfully for you. At this stage in the planning phase, you can look at structured study methods, including study groups, practice tests, and prep programs or courses. As previously stated, you can evaluate your selections while investigating them to see if they meet your financial capabilities and other requirements. You can also go over other study methods, which include note-taking and flash cards.
4. Make a Study Schedule.
Once you've decided to take the PHR exam, creating a study regimen might help you stay focused and competent. This timeline may change depending on when you want to take the examination, the techniques you use to prepare, and your professional or personal obligations. To stay engaged, attempt to engage with the learning resources at least once daily, no matter your time.
You can review and collect HRCI study materials before identifying the areas where you require the most practice. Consider exploring human resources professional forums or additional resources, such as your employer's contacts, to learn about average study timeframes. Other professional HR groups, in addition to HRCI, may provide study program guides and different work templates for you to use.
5. Take Practice Exams
Practice tests assist you in feeling more at ease and getting ready for the PHR exam. For a price, HRCI provides an official practice PHR test which enables you to take the examination at your leisure. These exams can help you measure your proficiency in the many different departments of the exam, allowing you to prioritize your study efforts. HRCI practice examinations also describe the answers, which might help you comprehend the missed questions.
Numerous additional PHR practice exam tools are available from academic and HR professional associations. Consider taking an exam shortly after your study if you've found a practice exam source that works well for you. You can track your advancement by retaking these examinations regularly to find areas where you need to practice more.
6. Take Preparation Classes
Prep classes offer a thorough study choice for preparing for your Professional in Human Resources Certification exam. Preparation programs are available from various vendors and frequently include review resources. These materials include video and audio information, textbooks, tests, flashcards, and examinations. Fees for prep courses vary; many provide autonomous and instructor-guided options.
Considering prep courses provide access to a wide range of study materials and tools, you might discover it to be a convenient and well-organized solution. A clear timetable or schedule helps you stay focused while learning. You can find prep educational institutions alone, or HRCI provides a list of possibilities in various regions and delivery modes.
Conclusion
Professional in Human Resources Certification can help you advance in your HR career. It boosts knowledge and credibility, giving you a competitive advantage in a crowded job market. Employers prefer qualified human resource professionals for their current knowledge and abilities, which translates into improved work opportunities and higher income potential. Second, such certificates demonstrate a dedication to moral requirements and best practices in human resource management, creating trust among employers and employees alike. Furthermore, accreditation provides access to a varied HR community and fosters professional progress by opening doors to networking possibilities. Individuals can successfully advance their careers while making a good effect in the workplace by acquiring a renowned HR certification.