In today's technological environment, each certification is relevant to its field. However, such credentials are available to obtain and launch a lucrative job quickly. Cybersecurity credentials are one of the top certification paths. Cybersecurity is critical in all organizations, large and small. In 2023, there will be an enormous need for cybersecurity expertise. 
Every organization requires a security manager to oversee their security and assist them in protecting themselves from dangerous intruders. Every piece of information that an organization holds is valuable. There is always the possibility of losing all the data the organization accumulates over many efforts. Businesses do not want their information leaked and shared with the public. In such cases, security specialists step up to save companies or organizations. 
CISM (Certified Information Security Manager) is among the most significant cybersecurity qualifications, with an international reputation in the cybersecurity sector. Certified Information Security Manager is one of the most recognized certifications that can help you advance your profession. 
The Certified Information Security Manager (CISM) credential allows data security experts to deal with and administer the project's Information Safety Program (ISP). The Certified Information Security Manager certification expands your cybersecurity knowledge and concepts in the workplace. 
If you have not yet completed your CISM certification, now is the most significant moment to do so and make your career more accessible to achieve than before. We'll go through every facet of a Certified Information Security Manager (CISM) credential that you should be aware of in 2023. Read more about the CISM Certified Information Security Manager Study Guide. We will also discuss the significant roles and responsibilities of a CISM Certified Information Security Manager.
What is a Certified Information Security Manager Certification?
ISACA's CISM, or Certified Information Security Manager, is a cyber credential that validates your competence, abilities, and understanding in designing initiative information security teams. Obtaining a CISM certification increases your chances of being in popular demand with many employers thrice over other credentials. The CISM certification gives you thorough methodological knowledge and a fundamental comprehension of corporations' or businesses' data security objectives. 
It is not a certification for entry-level safety managers. It is, however, designed specifically for expert information technology specialists who want to explain and demonstrate their ability to manage and construct security measures at the creative level. CISM (Certified Information Security Manager) highlights four primary goals:
Information safety incident management

Information risk management

Information security and risk management

Information security project management and development
A CISM-certified person's principal duty is strengthening the business or firm's information security precautions. CISM certification utilizes numerous technologies to inspect and track all risks to the company's data. Many organizations are now looking for CISM-certified information security manager
to audit their networked computers for weaknesses. These weaknesses can be extremely dangerous to a company's critical data and destroy all network systems. Data recovery is far more expensive than software replacement.
That is why Certified Information Security Manager accreditation is so crucial for businesses. It assists organizations in hiring CISM personnel who can maintain the low data risk factor in their system. 
The following careers are available after earning the Certified Information Security Manager (CISM) certification:
• IT executives
• Analysts of System Security
• Architects of System Security
• Security Officers
• CCO or Chief Compliance Officer.
• Security Examiners
• ISO Professionals
• Information Technology Security Consultants
• Managers of Information Security
Primary Benefits of CISM Certification You Must Know: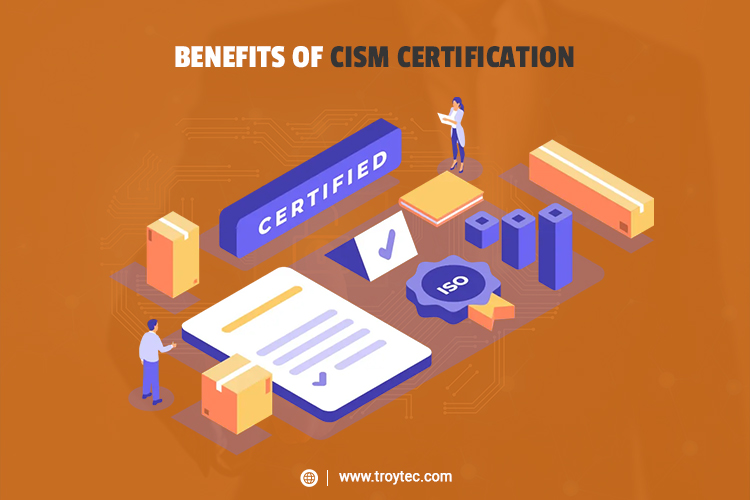 Here are the primary benefits of Certified Information Security Manager Certification:
Flexibility and abilities 
CISM-certified individuals can get a wide range of expertise in important information security sectors. They are generally adaptable and may assist businesses with various challenges, including data analysis, efficiency, and the installation of various security programs. Certified personnel have a wide range of skills covering all information security aspects.
They are quite adaptive. They can help managers with multiple concerns, such as designing security plans, examining harmful papers, and tracking the effects of different safety actions. These employees additionally disclose the use of numerous devices to management. Managers can then determine which apparatus benefits their company. Each of these factors contributes to these exceptional employees becoming resources for the company. The staff supports them in maintaining their client confidence factor. They can also aid businesses in the event of a tragic tragedy.
Salary and Job Availability
A CISM or Certified Information Security Manager generally uses access control circumstances) practitioners. Regardless, they are unafraid to make more decisions, such as head of employees, threat evaluator jobs, and security professions. Their responsibilities include overseeing the association's security and arranging practical preparations. They should also report them to the organizations. They are highly compensated, given that their duties encompass various operations or tasks.
When it comes to a certified information security manager's salary, it starts at $115,000 per year, and they receive additional incentives to help develop the company. CISM professionals are compensated more generously. 
Reliable policies 
One of the most significant aspects of a company's work approach is determining how trustworthy or reputable its employees are. Employees from a good neighborhood can be confident in their moral standards. CISM accompanies a handful of these situations. The victorious must follow them to be recognized individuals. Any lapse on their part will result in them surrendering their title. Bosses can be confident that individuals with the CISM certification will always provide the best procedures to firms. Workers do not violate their contractual obligations.
Character and skill growth
The CISM (Certified Information Security Manager) certification allows professionals to alter adaptive abilities and features as part of their ongoing certification journey. It also assists them and the corporation in dealing with the global market by calming essential choices and approaches. The skills in security, the board, and risk-connected administration are sharpened, transforming those professionals into specialists who can reverse the organization's position without help. The CISM certification increases your chances of improving your security skills and developing your individuality. It is one of the most valuable advantages of obtaining a CISM certification.
Management of Incidents
Once upon a time, information security specialists couldn't predict a calamity. Implementing safety precautions or making efforts during such difficult times is difficult. Restoration and damage management were the primary areas where they failed to mitigate the tragedy. The Certified Information Security Manager certification course equips personnel with disaster management skills. However, as is to be expected, these abilities can significantly reduce disaster or tragedy. It reduces recovery costs, which are extremely valuable to the company. Firms utilize this approach when things are bad. It enables them to keep working without stopping. Something different, the difficulties will be difficult to overcome at any time. 
Knowledge of System Administration
You can improve your system management abilities after obtaining a CISM certification, as every organization needs them. While regulating an issue, any exceptional delegate requires the assistance of a sidekick gathering. The representatives with ISACA cooperation are acknowledged by CISM affirmation. The social class is packed with subject matter specialists who make essential contributions to their professions. When specialists are placed in a dangerous situation, they can, by and large, request assistance from their superiors. They also provide essential aspects for the meetings to profit from. The most significant gain comes from a minor effort, and it is fantastic.
Management of Risk
Risk management enables a company to address challenges typically avoided if appropriate inspections are performed regularly. People with CISM certificates will be able to become competent risk inspectors. They, too, store problematic recordings in their heads. They keep track of how these records collaborate and which employees approach them. These exams serve as the final custodian for organizations to resolve their security problems. Without them, all constructions would be an embarrassment to any power.
Criteria for Eligibility for the CISM Certification Exam: 
Candidates seeking CISM certification must demonstrate at least five years of professional expertise in information security following ISACA's Code of Professional Responsibility. Work experience must be obtained within the ten years preceding the anticipated date for confirmation or within a lengthy period from the date of first passing the test.
ISACA's certified information security manager course is a renowned certificate. Candidates must complete specific requirements to be qualified for the CISM-certified exam.
Candidates require at least five years of work experience in information security management, including at least three years as a data security manager. Alternatively, a five-year mixture of management and information safety experience can be considered.

All applicants must agree to follow ISACA's Code of Professional Conduct and adhere to its requirements.

Before enrolling for the CISM exam, candidates must submit an application to ISACA demonstrating their professional experience and academic achievement for assessment and approval.

Certified employees must maintain accreditation after passing the CISM exam by obtaining CPE hours yearly and adhering to ISACA's CPE policy.
Meeting these eligibility requirements guarantees that CISM-certified professionals have the knowledge and experience needed to flourish in managing information security duties, providing firms with qualified personnel capable of solving modern cybersecurity problems.
Exam Details:
The CISM test, or Certified Information Security Manager, is given twice a year. Each year, one exam is held in the mid of June, while the additional exam is held in December. The exam contains 200 multiple-choice questions (MCQs); applicants will have four hours to complete it. Candidates are tested in four critical areas of information security.
Exam Objectives:
Candidates are tested in four critical areas of information security. These are some examples:
Governance of Information Security (24%)

Information Security and Risk Management (33%).

Management and development of information security programs (25%)

Management of Information Security Incidents (18%)
Who is CISM Certified Expert?
A CISM (Certified Information Security Manager) credentialed expert is a highly qualified information security administration specialist. ISACA's (Information Systems Auditing and Control Alliance) CISM certification is meant for those responsible for directing, creating, and overseeing an organization's data safety program.
A mix of knowledge and expertise in information security management is required to become a CISM-certified expert. The CISM test, which assesses candidates' expertise in important topics such as information risk administration, governance, security incident administration, and security program creation and management, is necessary.
CISM-certified experts are critical in protecting a company's data assets and guaranteeing they correspond with business objectives. They are skilled in recognizing and controlling information security risks, developing and enforcing security protocols, and putting in protective measures to protect from cyber-attacks and data breaches.
Professionals who obtain this certification exhibit their dedication to continual learning and remaining current on the newest trends and standards in data safety. CISM certification expands job prospects and earnings potential, putting individuals in high demand by companies in various industries.
Finally, a CISM-certified expert is a trained and educated professional in charge of a company's information security strategy. Their knowledge of information security administration, risk assessment, and handling incidents makes them valuable assets in the ever-changing cybersecurity landscape.
How to Fill CISM Exam Form?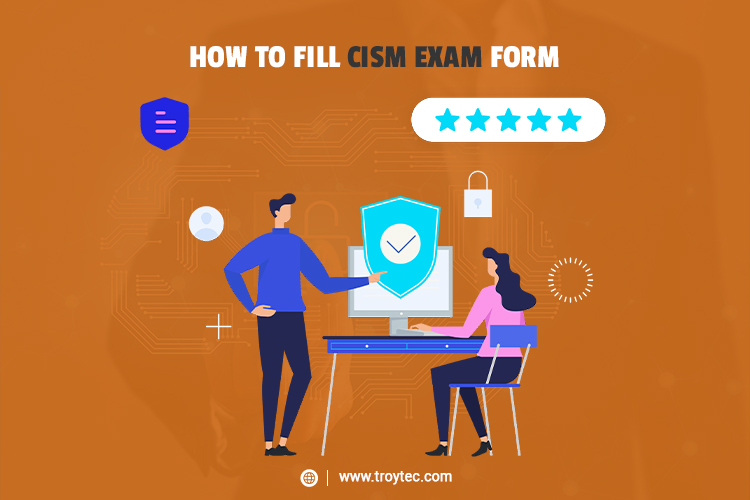 Fill in the application questionnaire on pages A-1 with your information. Make a point of reading and reviewing the acknowledgment of receipt. You must print, sign, and stamp the form at the bottom of pages A-1.

Fill out the fields on page A-2, which include your Information Security Management Expertise, General Information Protection Experience, Substitution for Professional Information Security Learning, and Work Experience Description. 

Enter the years and months for areas A, B, and C in the corresponding boxes. Box A needs to have a minimum of three digits. It is vital to remember that the sum in box C is limited to two years, which is the maximum quantity of general security-related experience that can replace the CISM program.

To be eligible for the CISM certification, an individual must have at least five years of employment experience or more, as defined by the "Total Work Learning Experience" line. The months and years specified after the line must equal or exceed five years.

Fill out the top half of the form (on pages V-1 and V-) and tick the fields on page V-2 that reflect the tasks you accomplished that each verifier confirms. Everyone certifying your job experience should give an authorization form and an electronic copy of your submitted application.

Your point of contact must be someone of higher status within the company or your immediate boss. The individual that verifies the applicants' employment history must be a standalone verifier with no ties to the applicants. The applicants need help to demonstrate their work.

If you fail to confirm all of your qualifications for becoming a CISM with a single individual, you must request that former employers complete this form.

You can use a CISM-certified individual or a knowledgeable client if you work as a third-party advisor. There is a duplicate application included. In addition to your application, your validator must sign and provide the Verification of Professional Experience forms, sections V-1 and V-2. Your application's time to process will reduce as a result.
How to Pass the Certified Information Security Manager Exam?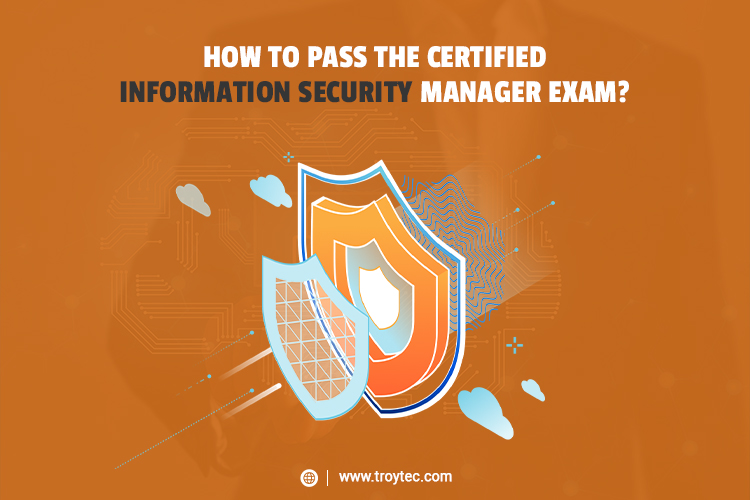 Pass The Test
Surprisingly, completing the CISM exam is the lowest of your concerns when obtaining your Certified Information Security Manager certification, even though the exam is no easy task in and of itself. You must demonstrate expertise and knowledge in a variety of proficiency domains. These are, as of 2023:
Governance of information security (17%)

Mitigation of information risk (20%)

Initiative for information security (33%)

Management of incidents (30%)
Follow The Professional Ethics Code.
ISACA participants and Certified Information Security Manager holders must decide on the Code of Professional Conduct governing their personal and professional behavior. The seven values of the Code of Professional Conduct are as follows: Encourage adherence with and support the enactment of appropriate standards and processes for efficient oversight and leadership of enterprise computer systems and technological advances, including audit, management, security, and risk administration.
They must carry out their responsibilities with objectivity, thoroughness, and professional care in keeping with professional norms.

Serve in the best interests of stakeholders legally and ethically while maintaining rigorous requirements of conduct and integrity and without bringing dishonor to their industry or the association.

Maintain confidentiality and privacy of data gathered during their duties unless mandated by law. This data shall not utilize for personal gain or disclosed to unsuitable parties.

Maintain proficiency in their particular disciplines and commit to participating in only those duties they may reasonably anticipate performing with the required skills, expertise, and competence.

Inform appropriate individuals of the results of work completed, including disclosure of all critical facts available to them that, if not revealed, may distort the presentation of the results.

Support stakeholders' professional training to improve their awareness of corporate information systems and technological governance and management, covering audit, oversight, security, and risk mitigation.
Participate in The Continuing Education Program
The CPE (continued personal education) policy is based on the premise that trained Certified Information Security Manager applicants should keep their expertise as up-to-date as feasible. It ensures emerging patterns and potential risks are discovered and included in new security measures. The following are the primary objectives of the CPE program:
A method of ensuring that the CISM expert remains informed and competent in IT safety measures and management. By doing so, CISMs are significantly more likely to properly manage, design, and monitor the company's data safety measures while identifying possible dangers to IT system security.

Allowing for the recognition of qualified CISMs compared to individuals who aren't participating in the CPE program
You must also pay yearly maintenance fees and maintain an annual minimum of 20 hours of direct contact with CPE. In addition, to meet ISACA criteria, you must finish at least 120 interaction hours over three years.
Working Knowledge
You must also provide confirmed evidence that you were employed in the field of information safety for at least five years, with a minimum of three years in managing information security in at least three job activity analysis areas. This job expertise must be obtained ten years before the certification request or within the first five years of the exam date. 
SANS global information assures certification (GIAC), Microsoft licensed systems engineer-MCSE, CompTIA Security +, catastrophe recovery Association certified business resilience Professional (CBCP), and ESL IT safety manager are examples of skill-based security credentials.
Please remember that the experience mentioned above substitutes are only accepted as an alternative for some components of the 3-year information security administration work experience. The only exemption is two years of full-time university-level instruction in managing information security, which can be substituted for one year for every two years worked in such a position.
ISACA Should Receive Your CISM Application
The final phase is to provide a CISM certification registration. It is only possible after passing the Certified Information Security Manager examination and gaining relevant job experience.
Conclusion:
CISM candidates must complete several tasks before being certified. Still, the time and effort are well worth it because Certified Information Security Manager certificates are in great demand and relatively rare. High-level leadership positions requiring CISM certification demand experience and sophisticated managerial and technical abilities.
The CISM role combines roles like IT auditor and data security management to form a cohesive function within the firm. The Certified Information Security Management credential is widely regarded as an international norm for IT security specialists involved in security, audits, and system management.
With abilities and managerial procedures that organizations greatly respect, CISM experts are nearly sure to acquire a dream career in IT management. Obtaining this credential is a career-changing accomplishment that will boost your professional reputation within the firm and open up opportunities for better salaries, more significant incentives, better perks, and a deeper comprehension of security systems administration.