Learn how AWS Certifications can Guide you in Building your Resume:
Over the last two years, the cloud has invaded every area of IT systems. It has also advanced significantly, making cloud computing the lifeblood of businesses. Amazon Web Services (AWS) currently controls most of the cloud services market.
When we think about cloud computing, the first supplier that springs to mind is AWS. AWS earns more revenue than the following three cloud providers in the industry, Google, Microsoft Azure, and IBM combined.
AWS is a cloud-based platform that offers organizations worldwide cost-effective, scalable, and simple-to-use cloud computing solutions. The highly sophisticated and scalable apps provide storage, analytics, app services, content delivery management, mobile networking, and other business functions.
Businesses have effectively lowered costs and boosted productivity as they progressively move from traditional in-house services to the cloud. As a result, skilled AWS-certified employees have a significant market opportunity.
AWS created its certification program to authenticate professionals' knowledge and provide them with a venue to hone their abilities and improve their resumes.
Let's explore some of the advantages of AWS certification that you may obtain as an AWS-certified professional now that you know how huge AWS is and what credentials it offers.
Your first positive influence on the employer you are applying for a job will be having an AWS certification on your resume. Even if it does not guarantee a job, it will undoubtedly assist your CV in overcoming many obstacles on its way to the interview table.
Because practically all firms that provide AWS solutions require qualified AWS architects, developers, and system administrators for various professions, having AWS certification is essential for AWS-related positions.
Numerous market assessments have been made on the scope of advancement for professionals aspiring to become AWS architects or developers. Professionals obtaining AWS certification have a bright future, and the sky is the limit.
These people can reach key career milestones by combining their experience with an AWS certification.
Because it was introduced in 2006, AWS benefits from being the first to market. Microsoft Azure was released in 2009 and has gradually developed since then.
However, it barely controls 18% of the whole market. AWS has now collaborated and partnered with Bharti Airtel, putting other participants in the market to the test.
The two have formed a 10-year strategic collaboration that has dramatically aided AWS's success. AWS is everywhere and can even be regarded as a separate industry. As a result, holding a certification will set you apart from the competition and provide you with many prospects.
Appreciation and validation of your abilities
AWS certification aids in the recognition of qualified professionals' potential and talent. A digital badge is the main benefit of this recognition. A digital badge that indicates your certificate achievement is given to certified professionals.
These badges give you quick access to AWS Summit events and certification lounges, which you can display on social networking sites and email signatures.
Obtaining an AWS certification is the most effective approach to demonstrate your dedication to the sector. It does not replace experience but gives you an advantage over the competition.
If an employer must choose between two talented and skilled candidates, an AWS certification will offer the individual the upper hand. A potential employer can assess the candidate's technical skills and critical competencies based on the certification.
In other words, obtaining an AWS certification is analogous to getting a driver's license. It gives you the legal right to drive, but your driving experience and skills make you a competent driver.
Similarly, an AWS certification serves as a stepping stone, but it aids a company in weeding out the qualified and technically talented candidates.
Because AWS services are widely used across businesses throughout the world, recruiters and headhunters are continuously looking for qualified AWS specialists. AWS holds a third of the Infrastructure-as-a-Service (IaaS) market and the majority market share.
It includes the opportunity to join the AWS Partner Network if they have AWS-certified employees (APN). Membership in this exclusive group comes with several perks, like training discounts and AWS support.
APN provides the organization with a significant competitive advantage in front of customers. In the end, it aids firms in obtaining AWS projects. Furthermore, firms that work on AWS projects daily might profit significantly from having AWS-certified personnel.
More freelancing projects
It allows them to manage a more significant number of initiatives. As previously said, AWS certification grants access to digital badges, enhancing their legitimacy in clients' eyes.
When used correctly, these digital badges may be a powerful marketing tool. It's a fantastic opportunity to work from home while also earning money by demonstrating your technical expertise and talents to potential clients.
AWS certification grants you access to an exclusive group of AWS specialists. AWS Certified LinkedIn community and network are also available to certified professionals. Earning this certification allows you to broaden your network and open doors to new opportunities.
One of the most evident benefits of being the industry leader in cloud computing is the number of learning resources available to applicants pursuing certification qualifications. There are numerous resources available for individuals who are eager to study AWS.
There are also several AWS communities for professionals seeking career assistance and expert comments. The ideal approach to learning is to take an AWS course from a reputable training provider, which will provide candidates with an in-depth understanding.
The cloud professionals who took our survey ranked expertise in the IT sector (85 percent) and years of experience with AWS (84 percent) as much more crucial than a degree to a successful career in AWS.
Certifications were recognized as a critical contributor to success in the AWS area by more than half of the AWS professionals we spoke with, far ahead of formal schooling.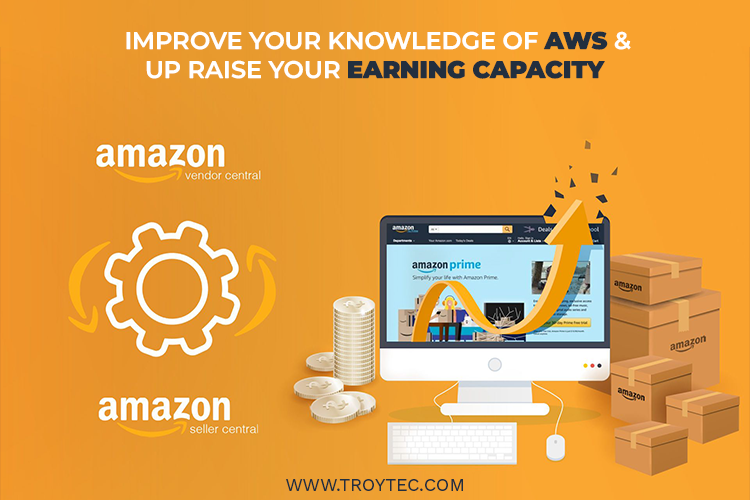 Even though most of our respondents cited years of experience in the IT business, specifically with AWS, as the essential components of a prosperous and long-lasting career in cloud computing, the community values these qualifications, AWS certification delivers both immediate and long-term benefits.
You improve your knowledge of AWS, make yourself more appealing to potential employers, and raise your earning capacity if you maintain up-to-date certifications.

The industry needs talented cloud professionals. Having your skills certified by the world's most popular cloud vendor will only put you ahead of the pack for the best positions available.

Companies working on AWS projects require AWS-certified professionals, as this is the most accurate way to assess someone's competence in handling complicated industry-related cloud issues.
Benefits of Becoming AWS Certified
These are a handful of the benefits of becoming AWS certified. AWS is a full-fledged industry in and of itself, with no clear end in sight.
AWS certification is unquestionably worthwhile in terms of both money and time. These credentials provide numerous benefits to both individuals and employers. They are being certified shows that you've invested time and money into AWS and are serious about the technology.
Ignoring this exciting industry will render you largely irrelevant in today's fast-paced world.
The increasing demand for competent AWS experts has made AWS certification a must-have for individuals and businesses embarking on their cloud computing journey.
It aids in increasing the bar and providing you with a competitive advantage over other experienced professionals. The certification allows you to stay relevant in an ever-changing, dynamic sector.
Why should you promote your AWS Certification?
You might begin by celebrating with your network. Whether you're just getting started with cloud fluency or have spent years perfecting technical competence in a subject like databases or cloud security, developing cloud skills can be time-consuming.
Share your badge—and the good news—with the people who have helped you along the journey.
Second, you may develop your cloud expertise's trustworthiness. Earning an AWS Certification demonstrates that you've met the AWS experts' standards in a particular position or technical topic.
Colleagues, employers, and clients can see the abilities you validated with AWS by verifying your certification with a digital badge.
Third, bragging about your AWS Certified accomplishments motivates others to develop and certify their cloud skills. Sharing digital badges is a terrific approach to start setting an example for your team or inspiring coworkers to take on a cloud endeavor. Groups have even printed badges for some friendly competition and hung them on the office wall.
How long does AWS certification take?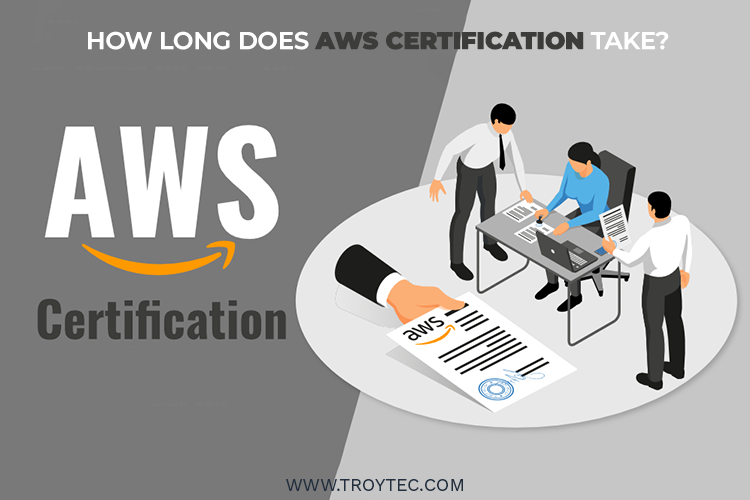 AWS certification is mainly determined by the candidate's prior AWS experience and knowledge and the certification level sought: Practitioner, Associate, Professional, or Specialty. AWS specifies a recommended level of expertise before taking the exam in their exam guides for each certification.
For example, the AWS Solutions Architect – Associate (SAA-C02) certification requires one year of hands-on experience developing available, cost-effective, fault-tolerant, and scalable distributed systems on AWS.
You can pass your certifications without achieving these criteria if you devote yourself to your studies and obtain hands-on experience using your free-tier account to familiarize yourself with the console and services.
Maintaining a study schedule is critical. We recommend at least 1 hour of study per day for the Practitioner and Associate levels, with the Professional and Specialty levels requiring additional daily immersion.
Are Amazon Web Services certifications worthwhile?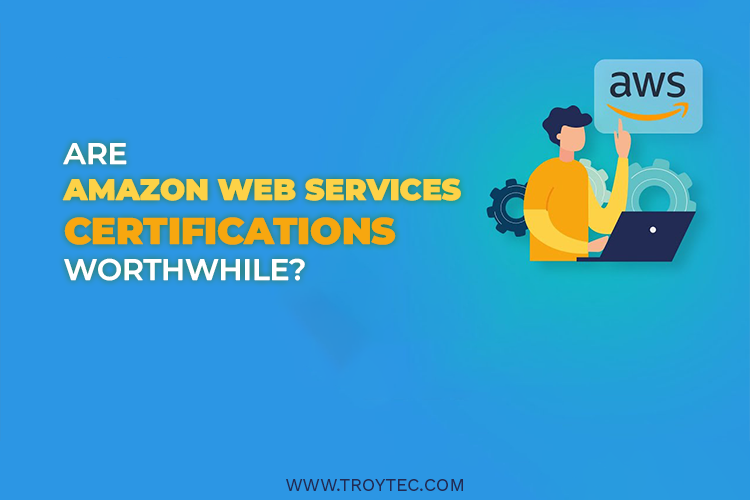 Any certification that displays your knowledge and skill in information technology is well worth pursuing. In a crowded market, being able to stand out from the crowd can help you get noticed and start along the path to achieving your professional goals.
Suppose several individuals are applying for a job and have the same credentials and experience, but one has several recognized AWS credentials to back up their knowledge. In that case, this will help you stand out.
It reveals a lot about you and not simply about verifying your expertise. It demonstrates commitment, perseverance, a readiness to learn, and a desire to succeed.
Summing it up
As technology advances, the necessity for employees with specialized abilities shifts. It means that those who want to keep up with technological advancement must actively choose the right talents to polish, ensuring they have a robust platform to advance their careers.
If you want to advance your skills, Amazon Web Services (AWS) Certification could be the way to