Five Best Cloud Services That Keep Your Business More Secure:
As per a survey by Logic Monitor, 85 percent of enterprise workloads will be in the cloud by 2022. According to the same study, today's fundamental cause of greater cloud adoption is digitally changing organizations.
At the same time, AI and machine learning are expected to be the leading cause of cloud integration by the end of next year.
Considering the cloud's growing popularity among businesses and its usefulness in cloud services and storage, 66 % of IT professionals say security is their top concern for using enterprise cloud computing platforms.
Among these issues the potential of hostile wrongdoers from within the business hijacked accounts and full-scale data breaches.
This concern is understandable, as cloud integration presents security issues and considerations. Data is gathered by a third-party provider and accessed via the internet with cloud services. It eliminates the need for IT infrastructure for a company to digitize its operations and services efficiently, but it also eliminates some of the company's control over stored data.
Security is a shared responsibility, according to enterprise cloud computing platforms. In general, the cloud platform will manage cloud security. At the same time, the business must maintain security on its end by safeguarding data and credentials against security risks and controlling access to that data.
Earlier, most people connecting to the corporate network did so from their place of employment, giving them access to their accounts, files, and company servers from within the four walls of the office building.
The IT industry is expanding at incredible speeds with no signs of slowing down. New waves of innovation continue to strike the market, with IT and Software Development positions rising at twice the national average.
Benefits and Opportunities of Cloud Computing:
There are benefits and opportunities that these business/company owners are getting from the so-called "cloud computing" that you are not aware of. Let's continue reading to know those benefits.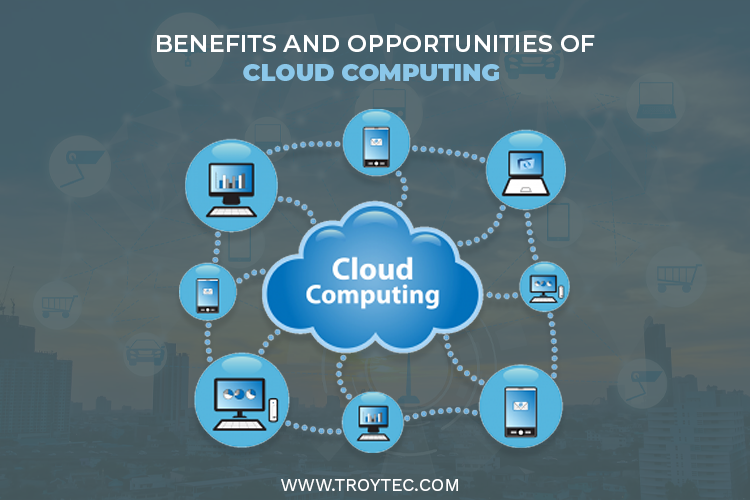 Make Use of Encryption.
One of the main advantages of adopting cloud apps is the ease of storing or transferring data. However, organizations that wish to secure their data security should not just upload data to the cloud and forget about it. Businesses can take an extra step to protect data uploaded to cloud services by encrypting it.
Encrypting data is unreadable to unauthorized or malevolent users, just as it is stored on conventional PCs and servers. Some cloud providers provide this service automatically, encrypting data in and out of the cloud to protect it from tampering or theft.
Cloud Computing Security Threats
Remote working has a lot of advantages for employees; it also creates an opportunity for malicious hackers, who have taken advantage of the shift, to try to sneak into the networks of companies with inadequate cloud protection.
It's more challenging to identify unauthorized access because the attacker uses valid login credentials of someone already working remotely, especially given how the advent of hybrid working has resulted. Since cybercriminals may be on the network for weeks or months, attacks on cloud apps can be immensely devastating to victims.
They can steal sensitive corporate data on a large scale or use cloud services as the first point of access to launch a ransomware attack, leading to data theft and ransomware deployment. What is? That's why it's critical for businesses adopting cloud apps to have the right tools and processes to ensure that users can utilize cloud services safely and efficiently, regardless of where they're working.
1.Controlling the Quality
A company's output is of poor quality harms the company. All papers are stored in one place and in one format with a cloud-based solution. Quality control ensures that your material remains consistent and error-free no matter how many people view it.
2.Automatic Software Updates
Instead of waiting for computer technicians to get on-site and continually refresh every minute, all cloud-based applications have been engineered to restore and update themselves automatically.
That will be a form of human torture. These apps update themselves, so you won't have to wait, which can be inconvenient if you don't have the time or energy.
These updates may also include security patches, as just because a cloud provider hosts an application doesn't mean it is immune to security flaws and cyberattacks.
3.Easy Management
You created this service provider-managed cloud-based system with such in mind. As a result, minor professional maintenance is required. The service provider agreement ensures that your company infrastructure is delivered quickly and is reliable.
Another thing businesses can do to ensure cloud security is to provide the right tools to their staff in the first place. This issue could result in data being stored in personal accounts, increasing the risk of theft, mainly if users don't utilize two-factor authentication or other safeguards to protect their accounts.
To ensure a secure cloud security strategy, a company should use tools offline backups to protect data as much as possible. Still, it should also ensure that all of these tools are easy to use so that employees will use them correctly and follow best practices for cloud security.
Cloud Computing in the Banking Industry:



Cloud computing is an on-demand service that enables Internet access to shared resources, applications, and storage. It allows financial firms to store and analyze data on remote servers rather than their computers.
Increased security, better processing speeds, and lower costs are just a few advantages cloud computing provides to banks. The banking and financial services industry is still catching up when meeting consumer needs.
 And financial institutions' reluctance to adapt to the digital world can have a real-world influence on how they service their consumers. Consumers have higher customer service expectations than they did a year ago, and 90 percent believe the experience a company gives is just as necessary as its products and services.
So, what does this mean? Financial institutions must use modern technology to provide better client experiences in real-time and at a reduced cost now more than ever. This critical requirement is challenging for many organizations as it requires gathering and processing diverse data sources and upgrading outdated operational models and legacy technologies.
One thing is sure: financial institutions will be unable to keep up with more responsive and innovative competition until they upgrade their infrastructure. Currently, most financial institutions rely on third-party service providers to maintain their clouds, such as cloud management services or outsourcing goods.
Banks Use Cloud Computing For a Variety of Reasons, Including:
CRM



To handle customer data and interactions, banks utilize cloud-based CRM solutions. It enables financial firms to track all consumer contacts, regardless of where or when they occur. Banks may also deliver tailored services based on consumer demands and preferences with the correct cloud strategy.
By analyzing enormous amounts of data from numerous sources. These aid financial institutions in detecting suspicious activity before it negatively impacts them.
Banks are increasingly turning to the cloud for advanced analytics to get insights into client behavior patterns and trends. Banks can build new solutions that better fulfill clients' demands by analyzing how they engage with financial goods.
Financial institutions can use the cloud to mitigate various hazards, but they must first recognize the risks unique to their industry and sector. They must also have strong risk management practices to detect and respond to possible hazards swiftly.
The best method for financial institutions to deal with these concerns is to ensure that their IT infrastructure complies with all applicable data privacy and security standards. Strong internal policies to ensure compliance with financial industry laws and regulations are also beneficial.
Conclusion:
There is always a success story to tell in a business or organization. Cloud computing has been considered a solution to several firms' problems, resulting in their current success. It is beneficial in our daily lives.
Using the internet, Skyping, watching YouTube videos, and even storing papers without using an external disc are all possibilities (like a hard disc or flash drive). Despite its drawbacks, cloud computing has proven to be beneficial.
Although the financial sector has historically been sluggish in accepting new technology, several financial institutions are beginning to embrace cloud computing to become more efficient and successful at servicing their clients' demands. Banks and other financial services organizations may also install apps fast using public clouds without worrying about hardware upkeep or software upgrades (which can take weeks or months).
In summary, cloud computing contributes to developing a victorious and standard business. In a nutshell, cloud computing is rapidly becoming the new normal. It may seem challenging to ensure that you and your team understand how to use cloud computing to benefit your business, but it is well worth the time and effort to learn and apply. The future is changing, and if you want to ensure that your business changes with it, you should consider moving to the cloud.