How Can Blockchain Technology Be Used in IoT?  You Should Know About It.
We all know how blockchain technology is changing the technological world. It is one of the securest and best technologies in the world so fat. The future predicts that Blockchain will be the only technology we can use with any other technology. A group of developers firstly developed Blockchain in 2008. Blockchain was firstly named "Satoshi Nakamoto." It is not only that blockchain technology was present earlier, but it was not fully developed.
If you are aware of Bitcoin technology or other cryptocurrencies, you must've heard the name of blockchain technology. Still, have you ever thought about how to use blockchain technology in IoT devices or what benefits you will get after implementing Blockchain in IoT?
Undoubtedly, the IoT or Internet of Things is a fast-developing industry intended to transform factories, businesses, farms, cities, and everything else by converting them into more intelligent and efficient ones. According to the latest research, there will be more than 25 billion connected things globally, and the market will go up to $3 trillion.
Though, as more devices are connected through Internet, there is a huge challenge to secure, manage, connect, and identify numerous devices. It can be complex for the present architecture and infrastructure underlying the online services and Internet to help the IoT (Internet of Things) ecosystem.
We can effortlessly solve this challenge through blockchain technology. It will empower IoT devices to break from the out-of-date broker-based networking system, where the electronic devices rely only on a central cloud server.
This article will discuss how we can use Blockchain in IoT. Keep reading the blog to know more amazing facts about utilizing Blockchain in IoT.
What is Blockchain?
Before we get into the topic of using Blockchain with IoT devices, you must know what blockchain technology is. It can be simple or complex at the same time.
Blockchain technology is most frequently related to cryptocurrencies such as Bitcoin. However, now it is not only bound to cryptocurrencies only. We can see that Blockchain can be used in many things, from politics to healthcare to the Internet of Things (IoT).
In simple words, Blockchain is like a digital register of massive database records or transactions dispersed through numerous nodes in a network system. It is undeniable and configured by many types of nodes over a computer network. In the most fundamental structure, Blockchain is a data set that is an assortment of different records that huge masses control and keep up with, as opposed to a solitary organization, government, or individual.
In Blockchain, each block addresses a record, and the chain connects each block. When a blockchain is created, it is kept on an organization of PCs, and many people can access it. It implies that no single individual can return to the chain and change or adjust data. It makes it more challenging for the chain to be messed with, successfully making it safer than a data set constrained by one single element.
How Does Blockchain Work with IoT?
IoT (Internet of Things) permits devices across the Internet to send critical data to non-public blockchain computer networks to make tinker-resistant records of shared transactions. IoT with blockchain technology may take the fundamental dependence on captured data.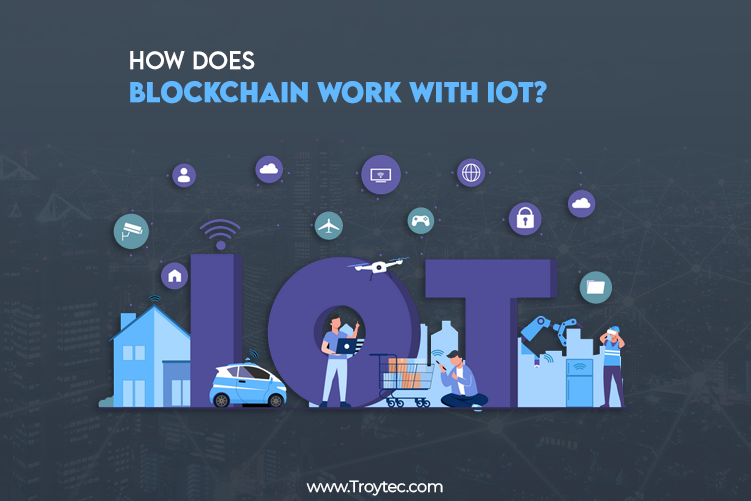 There is no such thing as blockchain Allow Devices Independence IoT gadgets in the present organizations as free elements beyond their midway overseen networks because of the rest of the world's considerations. They are maintaining a large server sitting inside the cloud with little information, without thinking about the origin of the data or any means of communicating directly with the gadgets collecting the info inside the core space. On a blockchain network, every hub — any member associated with the organization — has a particular public and private key pair that interestingly distinguishes it as a free member of the organization. Precisely, these characters are authorized, generally utilizing cryptographic marks or computerized messages that unquestionably indicate the shipper.
Having extraordinary personalities is the establishment for accomplishing autonomy, enabling every gadget to follow up for its benefit. It allows decentralized cross-section geography rather than concentrated server-client geography, with every hub prepared to pursue its own choices and, all the more significantly, to freely shape the utilization of its assets of the contrary corners.
This kind of organization is far more secure because programmers can't oversee numerous gadgets by hacking one server. Instead, the programmer must think twice about devices individually, with each compromised gadget liable to be dismissed by the organization for rowdiness, prompting the programmer to take up a futile, detached widget.
How does IoT Fit into Blockchain?

We all know that the Internet of Things, or IoT, is changing our lives continuously. Notwithstanding, with colossal headway in the IoT circle come issues with information and data security. Besides improving our innovations, programmers and cybercriminals are tracking down new, cutting-edge ways of breaking secure and confidential information. For example, an associated medical care gadget that gathers patient data and is sent back to specialists for examination goes through the Internet, making this information a practical objective for cybercriminals. It makes a section point for programmers generally excessively anxious to get sufficiently close to such data.
Even though associated devices and IoT have unfavorable advantages, they frequently come up short on security and confirmation necessities we want to keep client data secure and hidden. Better security should be created, kept up with, and become the norm for IoT and associated gadgets to guard clients.
It is the time when blockchain technology comes into play. It can track all the data collected by sensors and block cyber-attackers capability of cyber-attackers to replicas that data with other malevolent data. The Internet of Things (IoT) also allows the interchange of data and information using a specific blockchain system rather than any third-party system. A third-party system can open more doors for information and data from breaches.
Blockchain and IoT Use Cases

Here are the following Blockchain and IoT use cases:
Innovative Contracts/Supply Chain
Transient merchandise, like wine or intriguing food varieties, are commonly exposed to shifting temperatures and light openings through transportation and warehousing organizations. By joining IoT and Blockchain, we can catch the excursion of the short-lived products from the maker to the retailer.
IoT and Blockchain can be merged for quality affirmation in the store network. Area and temperature information can be aggregated into the Blockchain at the case or bed level, empowering the ability to check the historical background of an item as it moves through the inventory network and the item is tracked. Forbearance rejects and advances it if the conditions are neglected to deal with the contract.
Other than putting away information, some blockchain models permit associations to store and run changeless calculations in a disseminated and decentralized style, Carballo said. Frequently called brilliant agreements, these calculations empower organizations to encode business and space controls.
IOTA
Particle is a promising framework for IoT gadgets that need to deal with a lot of miniature information. Particle is a convention for quick exchange settlement and information uprightness, with a Tangle record that disposes of the requirement for costly mining (approval of exchanges).
Highlights of the Tangle record, which is the dispersed record that upholds IOTA, are machine-to-machine correspondence, expense-less micropayments, and quantum-safe information. Particle has constructed a sensor information commercial center and is entering the market for information-driven bits of knowledge, upheld by more than 20 worldwide enterprises.
Modium.io
Modum.io joins IoT sensors with blockchain innovation, giving information trustworthiness to exchanges, including actual items. The modium.io sensors record ecological circumstances, for example, temperature, that products are likely to while on the way.
Whenever the products appear at the following travel point or end client, the sensor information is checked against foreordained conditions in a smart contract on the Blockchain. The agreement approves that the circumstances meet the prerequisites set out by the source, their clients, or a controller. It triggers different activities like warnings to the shipper and collector, installment, or the arrival of merchandise.
Riddle and Code
Riddle and Code give cryptographic labeling answers for blockchains in shrewd coordinated operations and store network the executives. Moving away from the entanglement between IoT gadgets and sprawling record organizations, Riddle and Code offer comprehensive, secure equipment and programming arrangements that empower secure and trusted communication with machines in the IoT (Internet of Things) era. And by giving any absolute gadget. Confidence in computerized personality.
This innovation gets through the physical/automated split to find harmony between the interest for paper documentation and blockchain innovation's benefits.
Sharing Economy
The sharing economy has become an extensively adopted technology worldwide. Blockchain can help develop decentralized, shared economy apps with IoT to earn massive revenue by transforming and sharing the goods flawlessly.
They have wanted to foster a USN (Universal Sharing Network) to make a solid web-based market of associated things. With USN, any item can be leased, sold, or shared safely without requiring middle people.
It may be feasible for outsiders like makers to locally available items to the USN without looking for authorization. Shrewd agreements guarantee information protection and straightforwardness by controlling admittance to information brought to the table.
Conclusion
Indeed, IoT and Blockchain can be an excellent combination in the future. You must note that IoT and Blockchain are not growing at the same speed. You must not deny the importance and impact of Blockchain on the Internet of Things. As blockchain technology is extensive to apply, there will be more career opportunities you can get.
Always staying one step ahead of others is the best plan for any professional in the same field. We must know Blockchain is ready to impact and take over our daily lives. It will empower a verifiable and consistent means of transferring data. Blockchain technology has the power to alter our lifestyles. You cannot deny the importance of Blockchain with IoT. Write below if you have any queries regarding Blockchain and IoT. Our professional will assist you accordingly!