What is the Internet of Things or IoT?
The IoT is a collective term for billions of physical objects or "things" connected to the Internet, compiling and trading data with other devices and systems. IoT devices are part of hardware such as sensors, actuators, gadgets, appliances, machines, etc., programmed for specific applications and can send data over the Internet and other networks. You can incorporate these into other mobile devices, industrial equipment, environmental sensors, medical devices, etc. IoT devices range from small ordinary household cookware to advanced industrial tools. Each IoT feature has a UID or unique identifier that authorizes it to send data without human help. The IoT has existed since the 90s, but recent advances in various technologies have made the following IoT more practical.
Affordable and reliable access to sensors
Increased availability of cloud computing platforms
Advances in machine learning and AI technology.
What are the four layers of IoT?
There are four layers: the sensing layer, the network layer, the data processing layer, and the application layer. These are explained as follows:
Sensing layer:
Sensors, actuators, and devices reside in this sensing layer. These sensors or actuators accept data (physical/environmental parameters), process the data, and send it over the network.
Network layer:
The Internet / Network Gateway, Data Acquisition System (DAS) resides in this layer. DAS performs data aggregation and conversion functions, such as collecting and aggregating data and converting sensor analog data to digital data. Advanced gateways, which primarily open connections between sensor networks and the Internet, also perform essential gateway functions such as malware protection and filter decisions based on incoming data, data management services, etc. I have.
Data processing layer:
It is the processing unit of the IoT ecosystem. Here, the data is analyzed and preprocessed before being sent to the data center. Data is accessed from the data center by software applications, often referred to as business applications, where the data is monitored and managed, and further actions are prepared. That's where edge IT or edge analysis comes to mind.
Application layer:
It is the final layer of the four stages of the IoT architecture. A data center or cloud is the data management stage where data is managed and used by end-user applications such as agriculture, medical, aerospace, agriculture, and defense.
What are the five sorts of Internet of Things?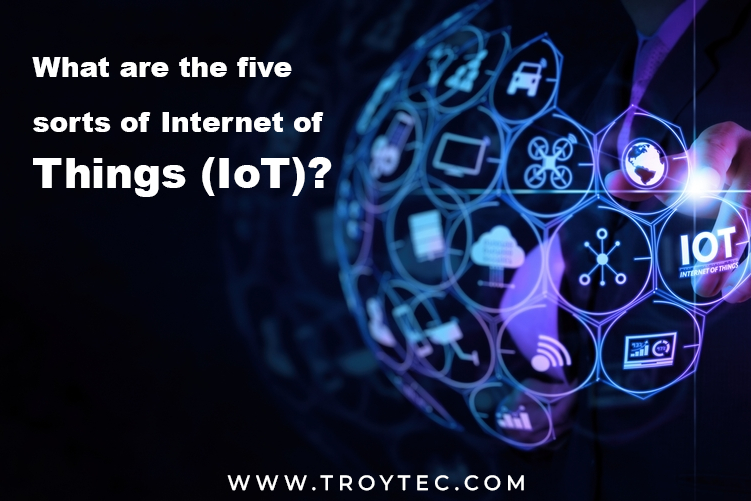 Consumer Internet of Things (cIoT):
Consumer IoT (CIoT) mentions the use of IoT for consumer applications and devices. Standard CIoT products include smartphones, wearables, intelligent assistants, and home appliances. cIoT solutions typically leverage Wi-Fi, Bluetooth, and ZigBee to facilitate connectivity. These technologies provide short-range communications suitable for deployment in remote locations such as homes and offices.
The Internet of Things for commercial use:
While CIoT focuses on enhancing personal and home environments, commercial IoT brings IoT benefits to more fabulous locations. Think about it: commercial office buildings, supermarkets, stores, hotels, medical facilities, recreational facilities. There are many commercial IoT use cases, such as monitoring environmental conditions, managing access to corporate facilities, and saving utilities and consumption in hotels and other large venues. Many commercial IoT solutions aim to improve the customer experience and business conditions.
Industrial Internet of Things (IIoT):
Industrial IoT (IIoT) is probably the most dynamic sector of the IoT industry. Its focus is on enhancing existing industrial systems and making them more productive and efficient. IIoT deployments are typically found in large factories and manufacturing plants and are often associated with industries such as healthcare, agriculture, automotive, and logistics. The Industrial Internet is probably the best-known example of IIoT.
Infrastructure Internet of Things (IoT):
Infrastructure Internet of things is involved in developing smart infrastructure that incorporates IoT technologies that improve efficiency, cost savings, maintenance, and more. It includes monitoring and controlling the operation of urban and rural infrastructure such as bridges, railroad tracks, and offshore wind farms. One can say that infrastructure IoT is a subset of industrial IoT. However, it is often a different entity due to its importance.
Military Internet of Things (IoMT):
The last type of IoT is the Internet of Things (IoMT), often referred to as Battlefield IoT or simply IoBT. IoMT sounds exactly like that — the use of IoT in military settings and battlefield situations. It is primarily aimed at improving situational awareness, strengthening risk assessment, and improving response time. Typical IoMT applications include connecting ships, planes, tanks, soldiers, drones, and even forward operating bases through interconnected systems. In addition, it produces data that can leverage to improve military practices, procedures, equipment, and strategies.
Why is the Internet of Things so important?
The IoT has enabled the physical world to meet the digital world and collaborate. It benefits an organization by allowing it to automate and simplify day-to-day operations. As the IoT grows exponentially year after year, companies are leveraging the tremendous business value that the IoT can offer. Below are some of the Valuable benefits of the IoT:
Improve business decision making through data-driven acuities from IoT data
To increase the productivity and efficiency of business operations
To develop new business models and income streams
To improve the customer experience.
Global spending on internet of things is heavily impacted by the economic impact of the COVID-19 pandemic, but IDC research shows that it will reach a CAGR of 11.3% over the 2020-2024 forecast period.
What are the benefits of IoT for organizations?
The Internet of Things offers organizations several benefits. Some benefits are industry-specific, and some apply to multiple industries. Some of the expected benefits of the internet of things allow businesses to:
Monitor the overall business process.
Improve customer experience (CX).
Save time and money.
Improve employee productivity.
Integrate and adapt your business model.
Make better business decisions.
When Generate more income.
The IoT encourages companies to rethink how they approach their business and provides tools to improve their business strategy.
Internet of things is abundant in manufacturing, transportation, and utility organizations, leveraging sensors and other internet of things devices. However, use cases for organizations in the agriculture, infrastructure, and home automation industries have also been found, and some are moving towards digital transformation. The IoT can benefit farmers in agriculture by making their jobs easier. Sensors can compile data on rainfall, temperature, soil content, humidity, and other factors that assist automate agricultural technology.
The capability to survey operations surrounding infrastructure is also a worthwhile element of the internet of things. For example, you can use sensors to monitor events and changes in structures such as buildings, bridges, and other infrastructure. It offers cost savings, time savings, quality of life workflow changes, and paperless workflows.
Home automation businesses can leverage the IoT to monitor and operate mechanical and electrical systems within buildings. On a larger scale, smart cities can help citizens reduce waste and energy consumption. The internet of things impacts all industries, including healthcare, finance, retail, and manufacturing.
Top 5 most popular IoT devices:
1. Google Home Voice Controller
It is among the most prevalent internet of things devices today. It provides voice-enabled alarms, lights, thermostats, and volume control services. It is a smart IoT device that allows users to enjoy features such as media, alarms, lights, thermostats, control volume with voice alone, and more. Main functions:
At Google Nest, users can listen to the media.
Let's be the user who operates the TV and speakers.
You can manage timers and alarms.
You can also process volume lights and home lights remotely.
It helps users plan their day and get things done automatically.
2. Amazon EchoPlus voice controller
The Amazon Echo Plus voice controller is another popular and reliable Internet of things device. It provides voice-enabled services such as answering calls, setting timers and alarms, and checking the weather. The Amazon Echo Plus voice controller is a popular and reliable IoT device. Play songs, make phone calls, set timers and alarms, ask questions, provide information, check the weather, manage things to do and shopping lists, manage home instruments/ The main functions include:
Amazon Echo can play songs and connect to external speakers or headphones.
You can make calls and send messages with voice commands.
Amazon Echo has about 6-7 microphones, excellent technical specifications, and sound-canceling capabilities. You can hear your voice from all directions, even when playing a song.
Control compatible smart home devices such as lights and plugs.
3. August doorbell cam
August Doorbell Cam is an IoT device that can respond to doors from a distance. It always captures changes in movement and suspicious activity at your doorstep. August Doorbell Cam is a practical IoT innovation. With the August Doorbell Cam, you can answer the door anywhere, even from a distance. It constantly checks your door and captures changes in movement at your front door. Its primary functions are:
The Doorbell Cam can be paired with all August Smart Locks to take guests home easily.
The integrated floodlights provide full-color and clear full-color HD video.
It constantly monitors your doorstep and clicks on the moment leading to a motion alert.
24-hour free video recording.
It comes with a quick and hassle-free installation process.
4. August Smart Lock
August Smart Lock is a proven and reliable security IoT device that helps users manage their doors from a distance. It helps keep thieves away and provides an additional layer of security to your home. August Smart Lock has been confirmed to be a dependable security IoT device. It allows users to manage their doors from anywhere without hassle. It helps users keep thieves and families away from their homes. Its main functions include:
You can find out about everyone who goes in and out of your home.
We provide unlimited digital keys, so you do not worry about crucial theft.
The door status is updated regardless of whether the door is closed correctly.
It has an outstanding auto-unlock feature that automatically opens when the user arrives near the entrance.
Effortless to install and consistent with most standard single cylinder deadbolts.
5. Foobot
Foobot is an IoT device that can calculate indoor pollution accurately. that Helps improve air quality in homes, cafes, workplaces, and other indoor public spaces. Foobot is a reliable internet of things device that helps measure indoor pollution and improves air quality in homes, workplaces, and public spaces. In many cases, you will get accurate results. Its main functions are:
The Cleans air pollution.
Check humidity and temperature levels.
Breathing fresh air helps to develop more concentration and energy.
Support to extend the life of the user.
There is a speedy and straightforward installation process.
What are some of the Internet of Things applications?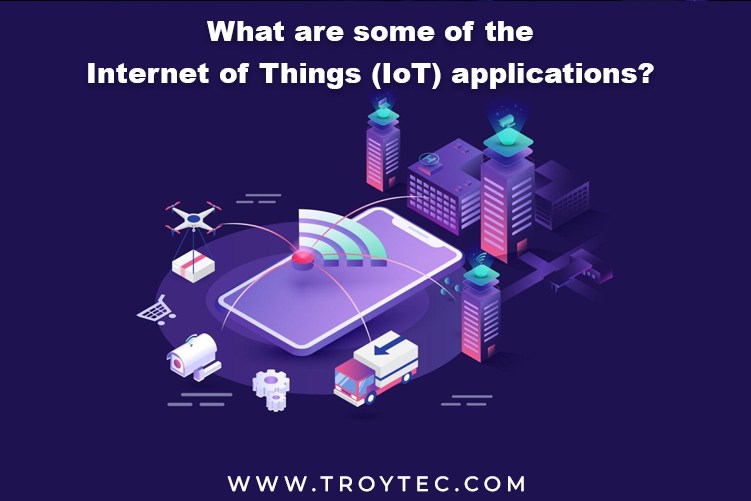 IoT applications pledge to acquire tremendous value in our lives. With new wireless networks, superior sensors, and innovative computing capabilities, the Internet of Things has the prospect of becoming the next frontier in the competition for wallet share. IoT applications will equip billions of mundane objects with connectivity and brilliance.
Wearables
This technology is a hallmark of all the applications and is probably one of the earliest industries to deploy IoT with their services. Fit Bits, heart rate monitors, and smartwatches are everywhere these days. One of the lesser-known wearables is the Guardian Glucose Monitoring Device. You developed this device to help people suffering from diabetes. A small electrode, called a glucose sensor, is placed under the skin to detect glucose levels in the body and relay information to surveillance devices over radio frequencies.
Smart home application
When talking about internet of things applications, perhaps the first thing to think about is a smart home. The best example is Jarvis, the AI ​​home automation adopted by Mark Zuckerberg. There is also Allenpan's home automation system, where features in the house operate using a series of notes.
Health care
IoT applications can transform reactive medical-based systems into proactive wellness-based strategies. The resources used by current medical research lack important real-world information that mainly uses the rest of the data, the controlled environment, and volunteers for health examinations. The Internet of Things also improves today's devices' power, accuracy, and availability. The internet of things focuses on creating systems, not just machines.
Smart city
Most people are aware of the term smart city now. The optimized transportation system hypothesis mentioned above is one aspect that makes up a smart city. The concept of smart cities is that they are precise to the city. The problems we face in Mumbai are very different from those in Delhi. The situation in Hong Kong is different from that in New York. Even global issues such as finite clean drinking water, poor air quality, and increased urban density occur at varying intensities. Therefore, they have different impacts on each city. Governments and engineers can use the internet of things to analyze the complex elements of city planning that are unique to each city.
The use of internet of things applications is helpful in water management, waste management, and emergencies. San Francisco's Palo Alto was the first city of its kind and took a whole new approach to transportation. They noticed that most cars on the street were circling the same block looking for a parking lot. That is the primary reason for the traffic jam in the city. Therefore, we installed sensors in all parking lots in the town. These sensors pass the occupancy of every spot to the cloud. Any number of applications can eradicate that data. You can guide the driver to the open area by the shortest route.
Agriculture
Statistics show that the ever-growing world population will reach nearly 10 billion by 2050. Agriculture and technology need to be combined for the best results to feed such a large population. There are many possibilities in this area. One of them is an intelligent greenhouse. Greenhouse agricultural technology increases crop yields by controlling environmental parameters. However, manual processing incurs production losses, energy losses, and labor costs, making the process less efficient. The greenhouse with the built-in device facilitates monitoring and controls the internal climate. Sensors measure various parameters depending on the plant's requirements and send them to the cloud. Then process the data and apply control actions.