The Significance of Data Backup and Security: Could Your Data Be At Risk?
Data is one of the most priceless assets a company has. Companies accumulate more and more data and store it throughout their enterprise, from on-premises data centers to hybrid cloud architectures; it is more important than ever to protect and make consistently available information. The threat to that data is increasing. Phishing, ransomware, and other malicious attacks can significantly impact operational capabilities and financially catastrophic data loss.
Attacks are not the only hazard to data. Simple user errors can cause significant data loss. A natural tragedies such as floods, hurricanes, and fires can disrupt power and damage data. Every organization needs a robust data backup and system recovery solution to help them survive and even prosper in unexpected events. Backing up your data involves making and storing copies of your business information. It includes application and product data, customer files, employee and supplier records, and competitive research.
Recovery means copying the original report and restoring the data if the original information is lost or corrupted. You can make partial or complete backups to various media, including magnetic tape cartridges, CDs, hard drives or arrays, and solid-state or flash drives. Today, the cloud is becoming more and more popular as an archive destination for enterprise data backups and database backups.
Why use backup software?
Whether your data is personal or business-related, you should consider backing up your data. If you want an additional level of data loss prevention, you should consider using backup software to prevent loss rather than dealing with backups that are not available. Backing up information to a cloud storage area is the most common method, but on-premises servers and hard drives work. It is also important to note that you can save multiple backup copies.
This can be done by keeping multiple points at once or storing the same backup on numerous drives or in the cloud. In addition, backup software can restore data if the original storage location is deleted. Some software tools may warn you when a file is lost or corrupted, while others may update the data when information is lost. Even if no information is lost, users can trigger backup recovery to provide all leads to the new device, even if the data needs to be transferred to the new network or device.
What are the three classifications of data backups?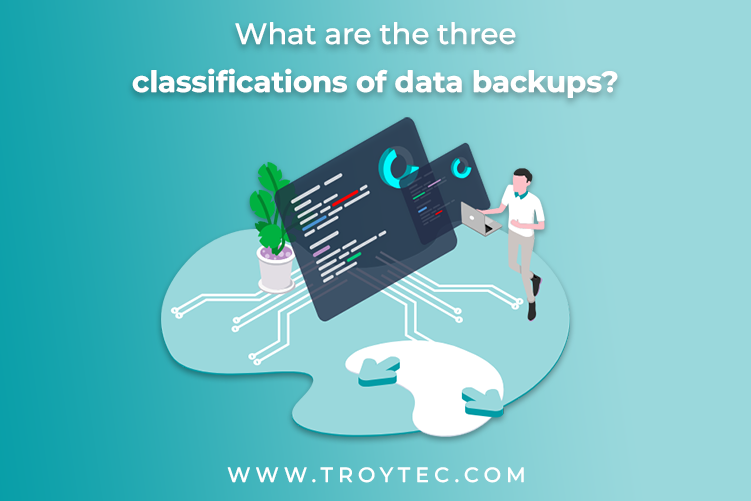 Full Backup: A full backup is what it looks like. We are getting a copy of all the data in the environment or subsections of the domain. Full backups are the fastest to recover, but they are the most expensive and require the most storage space.
Differential backups: These backups make a copy of all files that have been created or modified since the previous full backup. Differential backups save money and time as they do not back up the files saved in the full backup. The disadvantage is that it takes time to recover from a differential backup because you need to access a full backup followed by a differential backup.
Incremental backups: Incremental backups are similar to differential backups, but only for data that has changed since the last backup of any type. In other words, it does not count if it is a full backup, a differential backup, or an incremental backup. This contrasts with differential backups, which capture all files that have changed since the last full backup.
Data backup best practices and common mistakes to avoid
Do not back up: Backups are a precautionary measure, so it is not easy to get started, assuming you do not need a backup or specific information is unimportant. It is essential to make regular backups. The frequency with which you perform backups depends on the importance of the information, but you should determine how long you can run without knowledge and create backups based on that timeline.
Save the backup on the same hardware: The purpose of the backup is to make a secure copy available in an emergency. For an adequate backup, you should store your data in a different location than it was initially. That way, if something goes wrong with that system, you will not compromise both the backup and the original design at the same time. Ideally, it would help if you stored offsite backups in the cloud to retain and recover a copy of your data in a catastrophic disaster that affects your entire office space. Here you can find articles outlining various backup strategies that you can use to ensure resilience in data loss.
Do not test the backup: Testing the backup is as important as creating the backup itself. Backups are only helpful if you can use them to recover files when needed. Therefore, you should test your backups to ensure they work correctly and know how to restore information on demand if you need extra time to fix information and additional downtime for your business.
3-2-1 rule: For decades, IT professionals have had a 3-2-1 backup power that keeps three copies of data in two different storage types and keeps at least one of those copies in an offsite location. The concept was to have at least one manuscript for system recovery, regardless of whether the data loss resulted from malicious activity, user error, or natural disaster.
As cloud or online backups become more common, the 3-2-1 rules evolve. For example, many experts recommend that you make two geographically separated cloud copies when backing up your data in the cloud. Today's enterprises combine local and cloud-based backup strategies to create the system that best fits their needs. Cloud storage is required to store backups in the cloud, and many online backup vendors offer unlimited cloud storage when using backup services.
Do not perform backups often enough: It is essential to make regular backups based on the amount of information you are willing to lose. Some people make monthly backups. It means that the work you did that month can be lost. Match your backup schedule to the amount of data you are willing to lose.
Label backups: You need to keep track of which archives are from which hardware. It is not the case for tiny businesses, but for large companies, you need to organize your backups properly to find them when you need them quickly.
What to look for in a solution: When choosing an enterprise data backup solution, key considerations include ease of use, simple scalability, fast recovery times, system security, vendor reliability, and vendor support quality.
Plan and test: Your intelligent data backup and recovery plan define what data needs to be backed up and how often. For example, some temporary data may not need to be backed up at all, but business-critical data may need to be backed up multiple times a day. Regularly test your recovery plan to ensure that your backup process has not corrupted or lost your data. Two important metrics to consider and measure are:
Recovery Point Objective (RPO), or the amount of downtime that is deemed to be acceptable in an emergency
Recovery Time Objective (RTO), or the time it takes to recover and run after a loss.
What is the importance of data backup?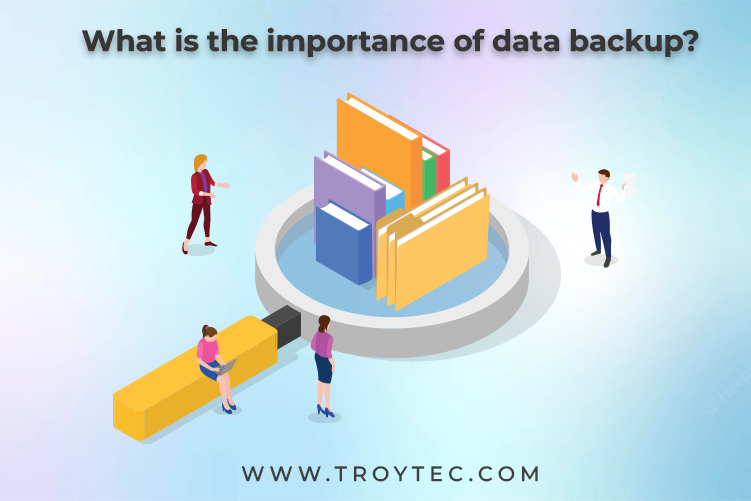 Data backup is one of the utmost essential infrastructure components in any organization because it helps prevent data loss. Backup provides a way to restore deleted files or recover files if they are accidentally wiped. In addition, backups are mostly the best option for your organization to recover from a ransomware attack or a significant data loss event such as a fire in a data center. The majority of the population uses computers and mobile devices to search for data and run and store data processes, but do most people know the importance of data backup?
1. Data loss prevention
Have you heard or experienced tragic data loss? The primary reason for data backup is to save essential files in a system crash or hard drive failure.
2. Operation plan B
If the original backup corrupts your data or causes your hard drive to fail, you need an additional data backup. This option is best run over the cloud or offsite storage. In a natural or artificial disaster, another backup is required. Storms and wars can lead to the destruction of servers and computers due to fires and floods. Fortunately, we are in the age of cloud technology, making data backup more accessible and more secure than ever.
3. Tax reporting and auditing
Tax authorities are famous for auditing. Laws vary from country to country, but businesses need to store financial and accounting data for tax reporting purposes. Data backups allow businesses to save faces during audits.
4. Relationship with the client
The stored information improves customer relationship management and leads to increased marketing and sales. In addition, the stored client information builds trust and value for the enterprise.
5. Relationship with investors
Data backup saves you the hassle of preparing an annual report to shareholders for each investor's public relations activity. The stored information symbolizes the due diligence and organization of the company. Without data backup, shareholders cannot make informed decisions or judge the value of a company.
6. Archive
The backed-up information streamlines the development of the archive. Digital information makes the history of the company.
7. Competitive profits
Stored corporate data can be a competitive advantage, as many companies fail to back up important information.
8. Increased productivity
Existing backup files can help businesses increase their productivity by reducing wasted time. Archived files lead to comparative studies of the past and present, devising more effective plans.
9. No wasted time
Data backup reduces "wasted time" by preventing repetition. Therefore, employees do not have to rewrite the report.
10. Peace of mind
Regular data backups give you peace of mind. In a cybercrime, system crash, or disaster, backups are available to resume company archiving. It is never too late to begin storing critical corporate data. After all, you need a backup of your data to save your business from losing and closing investors and customers.
What data do you need to back up, and how often?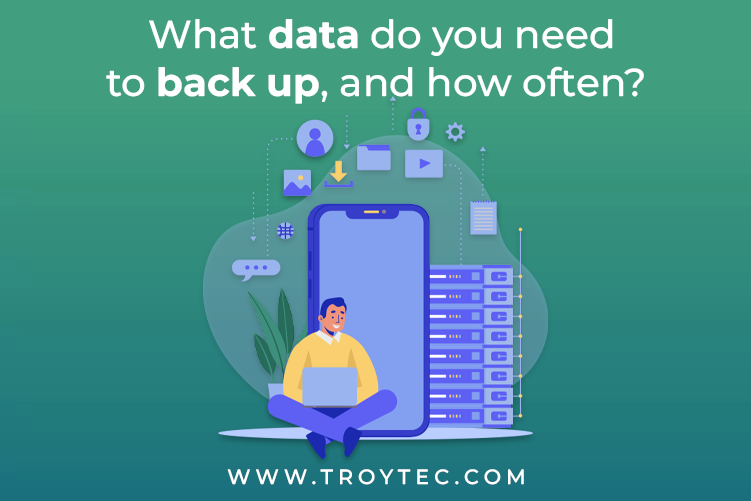 The backup process applies to critical databases or related line-of-business applications. This process is governed by a predefined backup policy that specifies how often the data is backed up and the number of duplicate copies required (called replicas), and a service level agreement (SLA) that regulates the speed of the data. You should schedule a complete data backup at least once a week, often on weekends or after business hours, as a best practice. To supplement weekly full backups, companies generally schedule a sequence of differential or incremental data backup assignments that back up only the data altered since the last full backup.