How to Become a Successful Big Data Engineer in 2023? Let's Find Out!
Among the most talked-about job profiles presently is that of a data engineer. As a common phrase says, this role is in high demand. A Big Data engineer is unquestionably an excellent choice for anyone looking to begin a job in Big Data. But have you ever wanted to know how to get this job?
In the data science environment, the role of a data engineer is speedily gaining traction. As per the 2020 DICE Tech Job Survey, data engineering was the fastest-growing tech-related profession in 2019. The job was also named one of the 15 most exceptional emerging job positions in the last five years in the 2020 LinkedIn U.S. Evolving Jobs Report, with an employment growth rate of 35% since 2015.
Keep reading the article to learn how to become a data engineer in 2023.
Formal Introduction to Big Data
Before we get into how to become a big data engineer, let's first define the term.
In the early 2000s, data generation was limited. However, with the emergence of numerous social media platforms and transnational corporations worldwide, data generation has exploded in recent years. According to IDC, the total quantity of global data in 2025 is projected to reach 175 zettabytes. That is a lot of information.
Who is a Big Data Engineer?
A big data engineer is an expert who develops, maintains, tests, analyses, and evaluates a company's data. Big data is a tenure used to refer to enormous amounts of data. Companies must gather large amounts of data in today's economy while conducting business operations.
When used correctly, big data can greatly benefit organizations in terms of improving performance, profitability, and scalability. However, businesses' big data is only useful if a big data engineer is in place to build systems to collect, retain, and extract data. As a result, they are ultimately responsible for assisting businesses in managing their big data.
A big data engineer has one of the best jobs in this field. Data engineers create, maintain, analyze, and assess a company's Big Data infrastructure. They experiment with big data to benefit and grow the organization.
Primary Responsibilities of a Big Data Engineer
Big Data engineers are responsible for various tasks, from designing software systems to cooperating and coordinating with data analysts. Some of the major responsibilities are: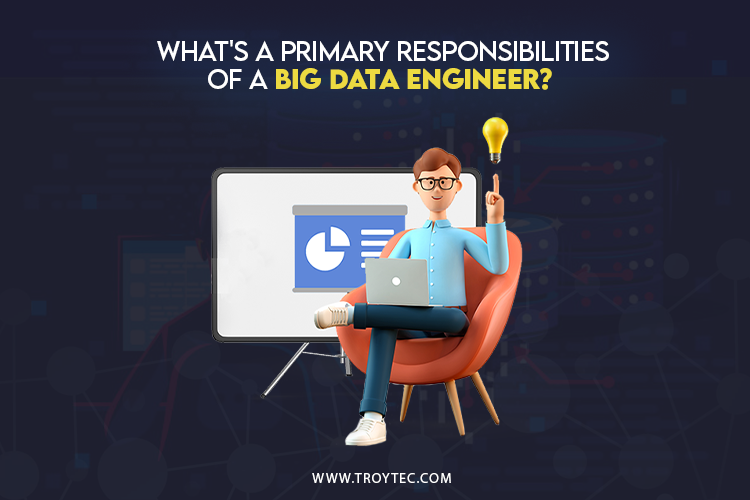 They are primarily in charge of formulating and executing software systems. These systems are also verified and maintained by them.
A data engineer also creates solid systems for data consumption and processing.
Big Data engineers perform extract, transform, and load operations, also known as the ETL process.
They also investigate new methods for gathering data and improving its quality.
Big Data engineers are also in charge of developing data structures that meet business requirements.
They are in charge of creating a structured solution by combining various programming languages and techniques.
Their primary responsibility is to mine information from various sources to create efficient business models.
Eventually, big data engineers collaborate with other teams, data analysts, and scientists.
Required Big Data Engineer Skills
A prominent data engineer must be highly skilled in a variety of areas. The following are the top seven big data engineer skills set you will require: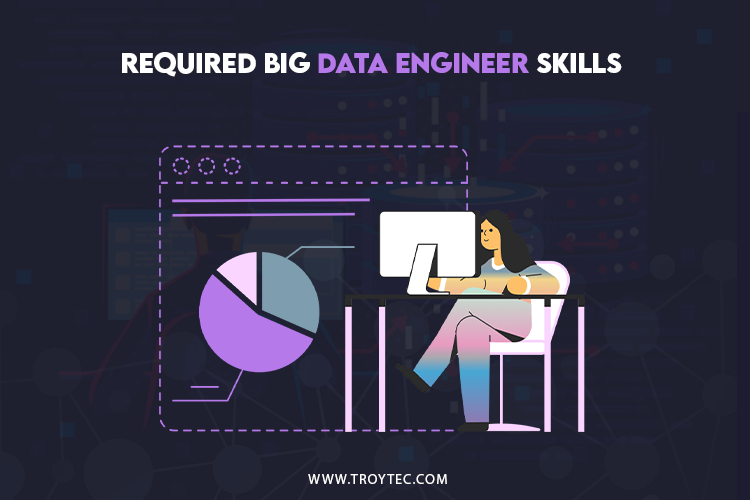 Programming: As with most other innovation job roles, coding is at the top of a list of big data engineer skills. A big data engineer should have prior experience with any popular programming language, such as Java, C++, or Python.
Database and SQL: The following programming is in-depth expertise in DBMS and SQL. This will help you understand how data is handled and stored in a database. SQL queries are required for any RDMS (relational database management system). MySQL, Oracle, and Microsoft SQL Server are some of the most popular database management systems used for big data engineering.
ETL and Data Warehousing: As previously stated, one of the primary duties of a big data engineer is to carry out ETL operations. You will need to know how to build and use a data warehouse.
You will retrieve data from various sources, transform it into important data, and load it into other information storage as a big data engineer. Talend, IBM Datastage, Good feeling, and Information Assurance are some of the tools used for this purpose.
Operating System Knowledge: The fourth skill required is expertise with operating systems. Working tools serve as the foundation for managing big data tools. As a result, a framework for analyzing Unix, Ubuntu, Windows, and Solaris is required.
Hadoop tools and frameworks: Prior experience with Hadoop-based analytics is required. Hadoop is one of the most widely used big data engineering tools. You should be familiar with Apache Hadoop-based technologies such as HDFS, Redis, Apache Pig, Hive, and Apache HBase.
Apache Spark: The sixth required skill is experience with real-time, amended software such as Apache Spark.
Data mining and modeling: You must have expertise in data mining, data manipulation, and data modeling techniques. Data analysis and wrangling include preprocessing and cleaning the data using multiple methods, discovering previously unseen trends and patterns across the data, and preparing it for study.
Big Data Engineer Vs. Data Scientist
Here is clear information about big data engineer vs. data scientist careers.
Data scientists are responsible for the following:
Visualization of data
Model construction
Teamwork and communication
Statistical instruments
Learning by machine
Mathematics
On the other hand, big data engineers cover the following:
Languages for programming
Database Administration
Pipelines for data
Software-related problems
Assisting in the enhancement of an organization's efficiency
Enhancing data accessibility
Each career has a distinct business role, though there is some overlap between the two. Depending on the organization, the company, and the unique situations, there may be irregular shifts in responsibilities.
Roadmap on How to Become Big Data Engineer
As organizations rely on big data for critical decision-making, job options in big data are limitless.
The average salary for this position in the United States is around $90,000, ranging from $66,000 to $130,000. The average wage in India is around Rs. 7,00,000, with salaries ranging from Rs. 400,000 to Rs. 14,00,000.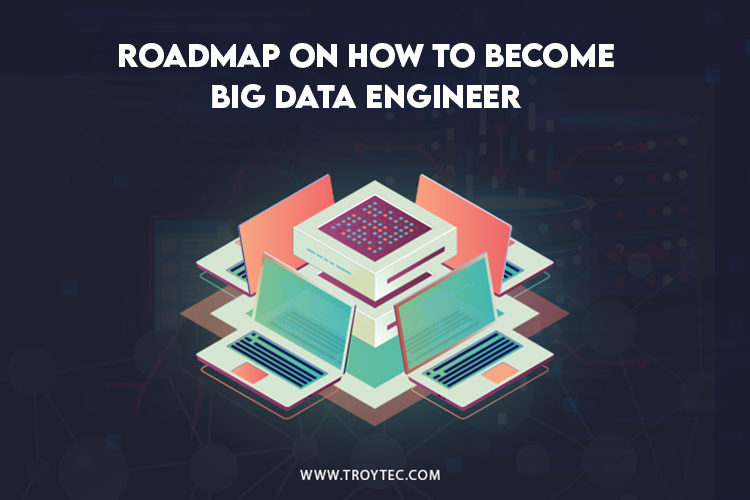 Aside from that, there are a few other job profiles in this field, including Data Architect, BI Interior Designer, and Executive Big Data Engineer.
Step 1: Graduation in Computer Science/IT
Step 2: Learn operating systems and programming
Step 3: Learn DBMS and SQL
Step 4: Gain knowledge about ETL and Warehousing tools.
Step 5: Have a Strong Grip on Hadoop and Spar Frameworks
Step 6: Data Mining and Modeling
Step 7: Earn Big Data Engineer Certifications
Here are some big data engineer certifications you must enroll in:
CCP Data Engineer
Certified Data Architect by IBM – Big Data
Google Cloud Certified Data Engineer
Big Data Master's Program
Conclusion
A big data engineer career might be ideal if you are interested in computer science, data, figures, and programming. To enter this career path, you must work hard to acquire all the necessary skills and credentials. There is a becoming a data engineer behind every interesting thing we hear about in the remote and not-so-distant coming years. Self-driving cars are becoming less of an outlier and may soon become the norm, with more research & development focusing on these advancing technologies.
The need for information engineers will only increase as this technology becomes more common. Comment below to learn how to become a big data engineer.