5 Major Benefits and Drawbacks of Cloud Computing Education to Explore in 2023!
Cloud-based platforms are more important than ever with the latest move for online courses, digital formative assessments, and remote acquiring of knowledge. After transitioning to an Azure-based cloud environment, one Canadian school system reported an annual IT potential savings of $12,000 per annum. It also permitted their IT departments to concentrate on more critical tasks.
In another case, a Canadian institution saved $500,000 while enhancing the service levels of its IT help desk. Cloud computing has significant educational benefits, from K-12 school systems to university students. That is why learning cloud computing in higher education is necessary for this modern era.
Keep exploring the article to learn more about the significant benefits and drawbacks of education cloud computing services.
What is Cloud Computing in Education?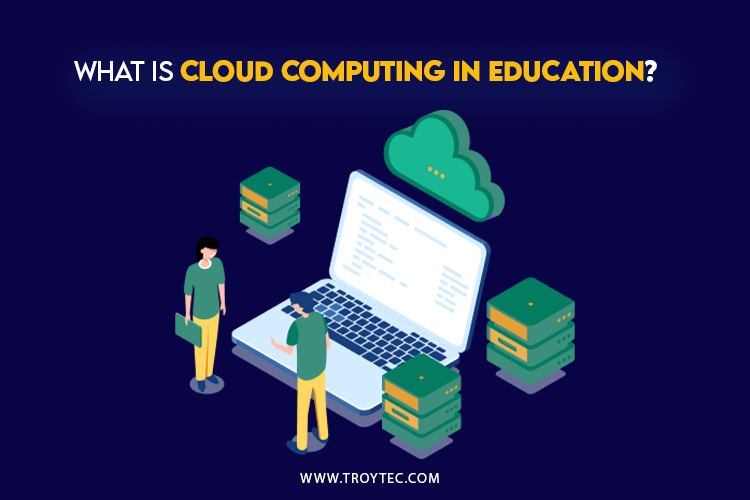 In education, cloud computing entails school systems transmitting their data to an offshore cloud server handled by a third-party supplier. This method allows administrators to save money and resources on data storage while providing virtual components and learning environments for students to teachers and students.
Cloud computing in higher education involves transferring data and IT resources from a school system to an offsite cloud server. A third-party provider manages this server, which allows authorized staff to access information from everywhere at any time.
The decision to store student data in the cloud has demonstrated great potential, and this trend shows no signs of subsiding. Cloud computing in education is expected to grow to an $8.7 billion industry by 2027, providing various benefits educators have come to appreciate. Now you must have a formal idea of cloud computing in education.
5 Major Benefits of Cloud Computing Education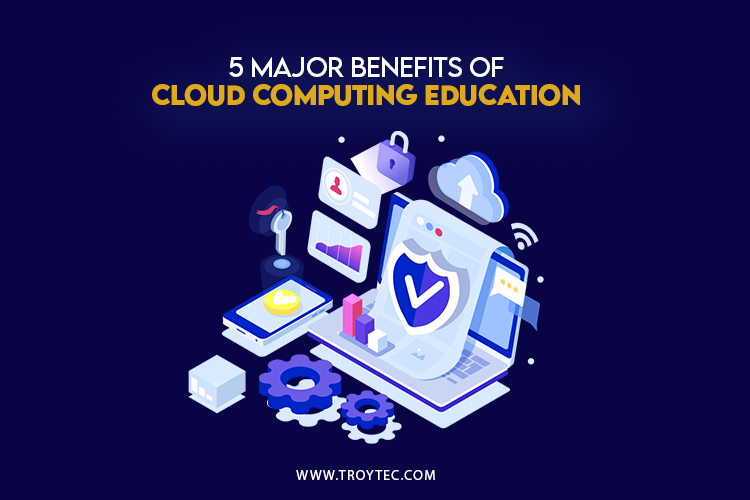 Here's a brief breakdown of the five key benefits and factors of cloud computing in higher education to assist you in determining if it's suitable for your institution.
Great Virtual Class Environment
With cloud-based software, educational organizations can create virtual classrooms for their students. The concept significantly reduces the cost of infrastructure. They can even save money by provisioning regular teachers to their faculty. Instead, they can work with skilled lecturers who work remotely and can provide cost-effective resources. Teachers can design and deliver courses online to students from anywhere simultaneously. Students can even take virtual exams, which saves them time and money.
Long Term Cost Saving
One of the most significant advantages of education cloud computing services is cost savings. Cloud migration benefits an IT ecosystem more than maintaining an on-premise data center. It accomplishes this by assisting businesses in shifting from capital expenses to understandable monthly operating expenses. These observable monthly expenses provide institutions with several advantages, including:
Lower data storage costs
Minimal data center upkeep
Spending less money on replacing aging physical IT hardware
3. Ease of Accessibility
When it comes to availability, the cloud's potential is unrivaled. Users can easily access course material, software, and data anytime and anywhere. They can take classes and work cooperatively. The cloud eliminates the barriers of place and time, ensuring continuous delivery of information at all times. Furthermore, it sends material to mobile devices, allowing students to understand even on the go. Cloud computing in higher education provides ease of accessibility to study materials online.
4. Secure Data Storage
Aside from availability and cost reductions, cloud computing provides secure data storage. Organizations that provide learning via the cloud can use a VPN to ensure data security. VPN procedures such as IKEv2 are in charge of automatically encrypting departing data and traffic. That means cloud computing education must go on in the field of education. This means that the educational content can be quickly transferred to users while maintaining its integrity. Learners can also protect their privacy while using VPN for cloud-based learning techniques. It is one of the best education cloud computing services.
5. Minimal Hardware Requirements
The hardware prerequisites for cloud-based applications are negligible. These applications can run in web browsers on both mobile and desktop devices. Students can learn using the smartphone that they own. There is no need to purchase an expensive machine to take the course. They also do not need external storage devices since they have access to complimentary cloud-based storage. It is the simplest way to learn!
5 Major Draw Backs of Cloud Computing Education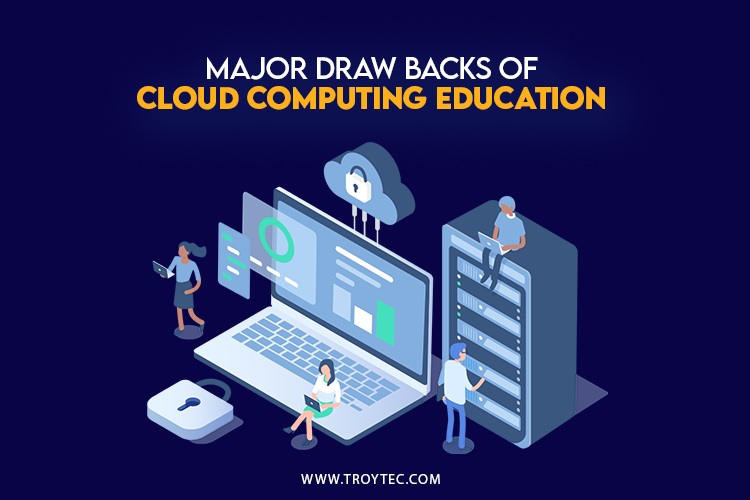 Despite having immense benefits, cloud computing in higher education also has some drawbacks which you must pay attention to.
Here are some of the major drawbacks of education cloud computing services:
1. Dependence of ISP (Internet Service Providers)
The dependence on internet access is an unfortunate truth of cloud computing in education. Compared to traditional education, internet service provider disconnections or low bandwidth can distract attention from online learning.
Operating with a managed service provider can help determine whether the problem is with the end customer or the cloud provider. It can then implement an alternative to improve your reach and connectivity.
2. Less Control
Although access to services and platforms in the education industry (such as Blackboard) is an advantage of the cloud, the concern is that you will need more control over upgrades, retraining, or other features.
Because the solution is provided "as a service," the architecture is handled by the cloud provider and removed from your internal team. Cloud computing education has this significant drawback.
3. Vendor Commitment
Higher education cloud solutions rely on the services of a single supplier. Typically, you must keep service providers the same.
Collaborating with an MSP can assist you in selecting the best vendor for your necessities. Moving academic workloads to the cloud is critical when selecting a provider.
4. Security
When properly configured, cloud-based technology in education is secure; however, there are inherent security risks when all assets are featured online. Improperly secured cloud systems could be vulnerable to hackers, increasing the importance of data security.
When users access reserves across devices, this concern grows. An unauthorized user gains access to the system platform if an instrument with saved credentials is stolen.
5. Up-Front Costs
While one of the principal advantages of using cloud computing in higher education is cost reduction, there are a few upfront costs.
Contingent on how many applications and services you migrate to the cloud, the migration may be costly. There is also an opportunity cost associated with the time spent training staff on the new framework and security best procedures.
8 Best Cloud Computing Courses for Beginners
Here are the 8 best cloud computing courses for beginners you must know about in 2023:
Cloud Computing with AWS
Google Cloud Platform Concepts – GCP
Introduction to Cloud Computing – Coursera
Fundamentals of Cloud Computing – Pluralsight
Cloud Computing 101 – Master the Fundamentals (Educative)
Cloud Security Alliance by Coursera– Certification of Cloud Security Knowledge (CCSK)
Google Associate Cloud Engineer – GACE (Coursera)
Microsoft Certified in Azure Fundamentals
Conclusion
The advantages of cloud computing education are enormous. It is not surprising that big industry providers are quickly adopting cloud technology to improve their services. At the same time, the cloud is evolving as the best option for students. Nothing beats the convenience of having learning at your fingertips, and cloud technology makes it possible whether a large university, a small school, or an educator. Everyone in the industry benefits from the cloud; things will only get larger and better.
Although it has many benefits, Cloud computing in higher education also has some significant drawbacks which you must pay attention to in the education field. Comment below if you need clarification regarding education cloud computing services. Our experts will contact you and answer you accordingly!