How Cyber Security Certifications Can Help You Start a Career in Cybersecurity!
In the fast-evolving world of technology, the threat of cyber-attacks is a persistent concern for individuals and organizations. As technology advances, so do the methods and tactics of cybercriminals, making it increasingly difficult to keep data safe and secure. Cybersecurity certifications have become essential for individuals and organizations to gain expertise and skills to protect against such threats. These certifications not only validate your knowledge and skills in cybersecurity but also help you stay up-to-date with the latest trends and practices in the industry.
Choosing the top cyber security certifications can be daunting as several options are available. Each certificate has its own set of requirements, skill sets, and specializations. However, obtaining the proper certification can significantly enhance your career opportunities and open doors to new roles and responsibilities.
In this article, we'll look closely at some of the best cybersecurity certifications to help advance your career in this ever-growing field. Keep reading the article to explore various cyber security certifications in 2023.
What is a Cyber Security Certification?
A cybersecurity certification is a credential given to someone who has demonstrated mastery of specific cybersecurity knowledge and skills. These certifications are available from several organizations, including CompTIA (ISC)2 and Cisco.
Certifications can range from beginner to advanced, providing varying levels of expertise and knowledge. For example, the CompTIA Security+ certification is for beginners, whereas the (ISC)2 Certified Information Systems Security Professional (CISSP) is for experienced cybersecurity professionals.
Obtaining one of the top cybersecurity certifications can help individuals advance their careers in cybersecurity. It can increase a person's marketability and potentially lead to higher-paying job opportunities by showcasing their knowledge and skills. Different cyber security certifications can boost your career.
5 Best Cyber Security Certifications in 2023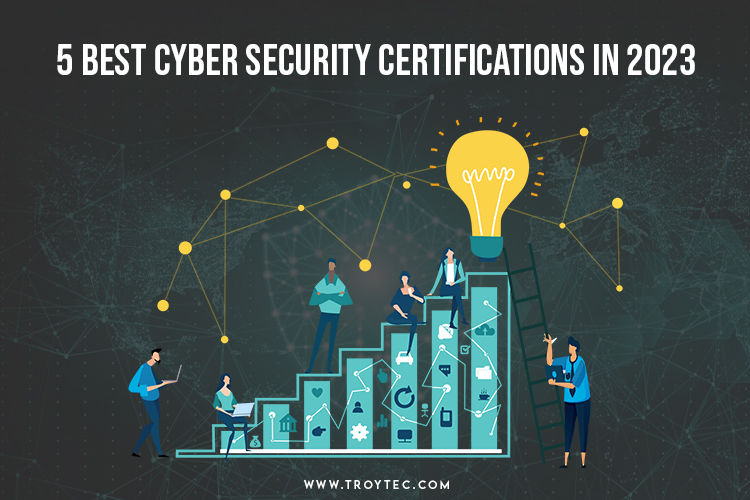 The length of training and exams for certification programs varies. Some certification organizations offer multi-day or multi-part components that can be accomplished in person, online, or in a blended format. Many cyber security certifications do not require training or classwork, but candidates are incentivized to study independently.
CompTIA Security+
CompTIA Security+ is a vital credential that validates skill sets for cybersecurity experts. It is considered a top global certification. This classification is necessary for mid-level positions and satisfies DoD 8570 adherence.
Students will gain technical knowledge in design and architecture, execution, operations and incident management, governance, concession, and other areas as they navigate issues using real-world examples.
The exam lasts 90 minutes and is available in person or online through Pearson Integrated development environment. CompTIA Security+ is indeed one of the best cyber security certifications globally.
CompTIA Security+ is a globally recognized certification that validates a professional's knowledge and skills in the field of cybersecurity. It assesses core security concepts and covers various topics such as risk management, cryptography, network security, etc. With this certification, individuals can demonstrate their expertise in the field and improve their career prospects.
CISSP – Certified Information Systems Security Professional
The Certified Information Systems Security Professional or CISSP certification is a globally recognized credential that validates an individual's expertise in the field of information security. CISSP is designed to assess an individual's knowledge and skills in various domains of information security, including security and risk management, asset security, security engineering, communication and network security, identity, and access management, security assessment and testing, security operations, and software development security.
The certification is ideal for security professionals who want to enhance their knowledge and credibility in the industry and for organizations that require qualified professionals to manage and secure their information assets. CISSP certification is a mark of excellence in the field of information security, and it is highly valued by employers worldwide. This certification is one of the best cybersecurity certifications for professionals.
(ISC)2 offers this intermediate-level credential, which highly regards in the field of cybersecurity. The credential intends for professionals who want to learn about security architecture, execution, and management. Potential CISSPs must have at least five years of experience to be eligible for the exam. Participants with less experience may be interested in pursuing the Associate of (ISC)2 credential. CISSP is one of the top cyber security certifications for experts. The exam for CISSP costs around $749 to take.
CISM – Certified Information Security Manager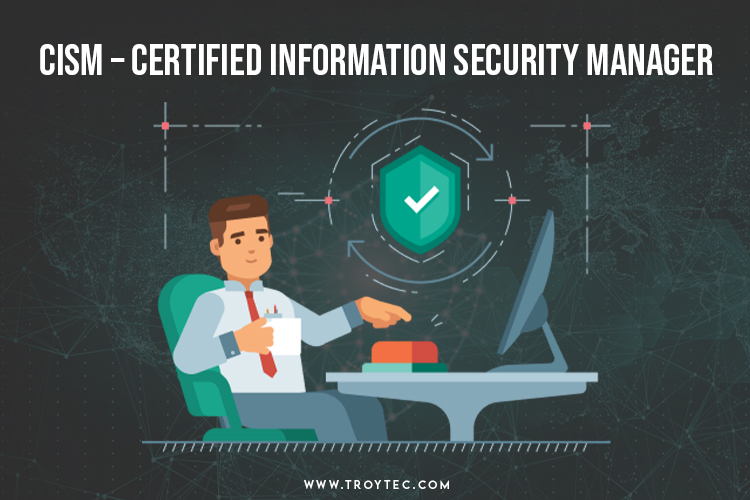 This ISACA certification, ideal for security experts looking to expand into management jobs, provides tactical awareness concerning information governance, threat and incident management, and program development. CISM applicants must illustrate full-time industry experience and complete an application in addition to passing the exam.
It is one of the perfect and top-notch cybersecurity certificate programs. It is also one of the best cyber security certifications for beginners.
The CISM certification verifies a professional's knowledge of information security program management, risk management, issue resolution, and security governance. An extensive certification illustrates an expert's ability to assess, design, and implement appropriate organizational safety controls.
Accomplishing the CISM certification can open up opportunities for security experts, including higher salaries, more job opportunities, and recognition. It also provides a basis for professionals to upskill their respective fields consistently.
GIAC – Security Essentials Certification (GSEC)
This entry-level certification is ideal for those who are new to cybersecurity. The certificate goes beyond basic knowledge, providing professionals with the tactical skills needed to work in IT system design roles that involve active defense, cryptography, credible network design, defense policy, and internet security.
The exam, which must be proctored through Proctor or Regression analysis VUE, lasts 4 to 5 hours and consists of 106 to 180 questions. The time required for preparation varies. Acquiring different cyber security certifications can provide you with many new opportunities.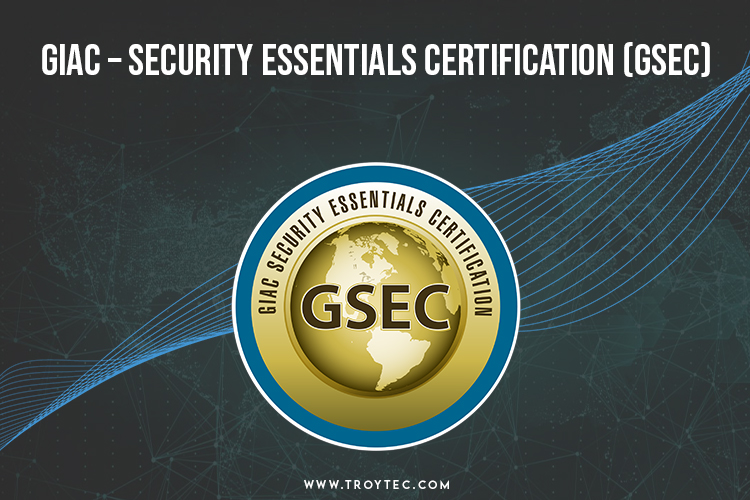 The GSEC is an entry-level certification that verifies a person's fundamental knowledge of information security. It addresses various issues like network security, cryptography, and risk assessment. The GSEC certification validates a person's ability to recognize and prevent common cyber threats. It is one of the top-notch cyber security certifications for beginners.
CEH – Certified Ethical Hacker
A CEH course gives security experts cutting-edge coaching on the most recent hacking trends. The CEH v12 curriculum is presented in a gamification format. It contains 20 modules that cover everything from the fundamentals of ethical hacking to resolving various hacking difficulties across platforms, structures, and networks. Potential CEHs may bypass instruction and apply for certification qualifications instead.
The CEH exam is four hours long. The EC-Council cost of training is $850 and lasts five days. Only after undergoing classes can encounter candidates with at minimum two years of work experience can implement to take the test. CEH is another one of the perfect cyber security certifications in the town.
Conclusion
In conclusion, obtaining a cyber security certification is a valuable step in a professional's career path. The cyber security certifications provide an objective measure of an individual's knowledge and skills in specific areas of cyber security, from entry-level to advanced. They also offer a structured path for continuous learning and professional development, which is crucial in an ever-changing cybersecurity field. Different cyber security certificate programs can make you a valuable employee in an organization.
By obtaining a certification, professionals can increase their employability, demonstrate their commitment to their craft, and earn higher salaries. Overall, cyber security certifications are an excellent investment for professionals passionate about protecting digital assets and staying ahead of evolving cyber threats. Comment below with your questions or queries about different cybersecurity certifications.