Mastering Essential Data Analyst Skills: A Comprehensive Guide in 2023!
A data analyst's role is becoming highly relevant in today's developed society. As businesses gather more data, the demand for specialists who can evaluate, analyze, and derive insights grows. However, becoming a successful data analyst necessitates more than technical abilities. Good communication data analyst skills, the capacity to think carefully, and the ability to cooperate with others are also required.
This detailed guide is intended to assist aspiring data scientists in mastering the data analyst skills required to excel in their professions in 2023 and beyond. Visualization, data analysis, simulation models, and database management will all be covered in the guide.
It will also offer advice and tips on improving soft abilities such as interaction, problem-solving, and cooperation.
Whether you're just considering starting as a data analyst or spreading your career, this guide will prepare you with the proficiency and possessions you need to flourish in the exciting and ever-changing field of data analysis.
Keep exploring the blog to learn the necessary data analyst skills in 2023 to excel in data analysis. We will also discuss the top skills required to become a competent data analyst.
Who is a Data Analyst?
A Data Analyst is an expert who collects, evaluates, and perceives large amounts of data to uncover trends, patterns, and deep insight. They use a variety of databases, including sales data, customer info, and web analytics, to deliver determined insights that can support businesses in making decisions.
Data analysts are experts at extracting, cleaning, and transforming data analyzed using statistical computer programs and programming languages. They also employ graphical representations to display their findings understandably and concisely. He used the best data analyst skills in 2023 to remain competitive.
A Data Analyst's role is essential in assisting organizations in making data-driven decisions. They collaborate closely with business group partners to find critical metrics and data sets, and according to what they discover, they make suggestions for enhancing performance.
Strong data analyst skills, precision, and excellent communication skills are necessary for a professional life as a Data Analyst. A career as a Data Analyst may be an excellent alternative for you if you have an enthusiasm for data and solving potential complex problems.
Top 5 Data Analyst Skills You Must Know in 2023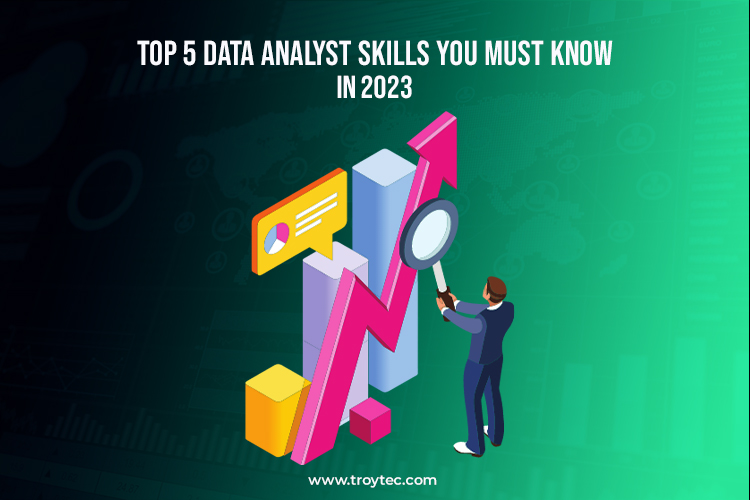 Now we will discuss the considerable skills required to become a data analyst. We will also talk about the best data analyst skills needed in 2023. Every year, there is more need for data analysts and researchers than there are qualified individuals to fill those positions. Indeed, according to The BLS., the amount of analyst job posts is projected to upsurge by 23% between 2021 and 2031, considerably higher than the 6% average job growth projected for all employees in the state.
But which data analyst skills are most in demand in the data world?
These five currently popular data analyst skills are among the most popular among Coursera's millions of trainees. Begin by honing these skills to prepare for a new professional life in the elevated field of data analysis.
Here is the list of the best skills required to become a data analyst:
SQL Skills
It is one of the top data analyst skills required to become a professional and successful data analyst. It is also one of the best data analyst skills in 2023. SQL, or Structured Query Language, is the specific language for database communication. Understanding SQL allows you to update, organize, and query data in database systems and modify data structures (schema).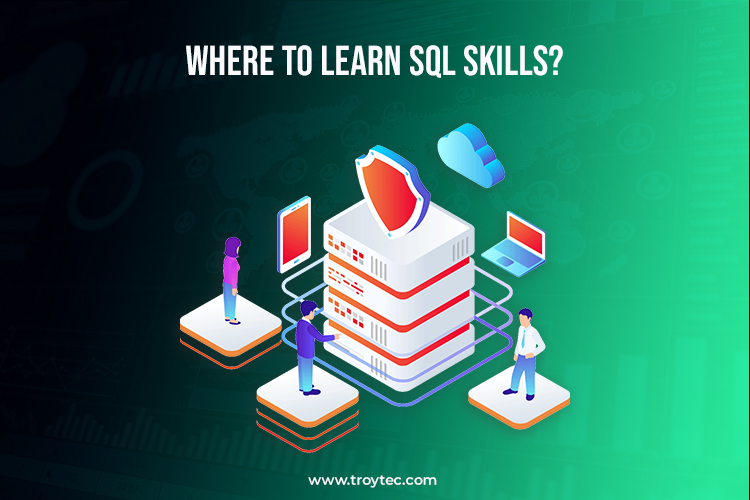 While almost all data analysts will use SQL to access the data from a firm's financial statements, it is undoubtedly the most significant skill to learn. Technical testing with SQL is standard in data analyst interviews. Fortunately, SQL is among the simpler languages to learn.
Where to Learn SQL Skills?
Learning SQL Fundamentals for Data Science Specialty from UC Davis will help you develop SQL fluidity even without programming skills. Learn to analyze and examine data by working across four progressive SQL initiatives. It has the best data analyst skills.
Statistical Programming Skills
Statistical scripting languages, such as R or Python, allow you to conduct focus to determine what Excel cannot. Being capable of writing programs in these language families will enable you to clean, analyze, and envision large data sets. This skill is 2nd in our list of top 5 data analyst skills.
Both cultures are free software, and learning at least one is recommended. There is some divergence about which language is superlative for data analysis. Both languages are capable of performing similar data science tasks. While R was created explicitly for analytics, Python has become more prevalent of the two and is generally easier to learn (mainly if it's your first language).
Where to Learn This Skill?
For everyone at Michigan State University, Python is a great place to begin, even if you've never written code. After you've written your 1st simple program, you can progress to more complex programs that collect, clean, evaluate, and visualize data.
Machine Learning Skills
Machine learning (ML), a subdivision of AI technology (Artificial Intelligence), has appeared as one of the most substantial advances in data science. This skill focuses on creating methodologies that find patterns in large data sets and improve their precision over time.
A machine learning model becomes "smarter" as it practices more data, increasing accurate predictions.
Data analysts are not typically expected to be experts in machine learning. However, honing your machine learning (ML) skills can provide a modest edge and set you on a career path as a data scientist.
Where to Learn This Skill?
Andrew Ng's Stanford Machine Learning Expertise is among the most popular courses on Coursera. In this instructional strategy, you will learn about the most effective methods for machine learning and how to implement them to problems.
Statistical Visualization Skills
Accepting data is only one feature of the method of data analysis. Another critical component is telling stories with those insights to inform more intelligent business decisions. This is when data visualization comes into play. As a data analyst, you can understandably introduce your findings using charts, graphs, maps, and other visual data representations.
Boosting your visualization skills frequently requires learning visualization software such as Tableau. This industry-standard software lets you turn your assessment into dashboards, statistical models, visualizations, and business analytics reports. It is one of the best skills required to become a data analyst.
Where to Learn This Skill?
Once you're comfortable dealing with data and data sets, use the Data Visualization with Tableau Specialty from UC Davis to practice constructing powerful visualizations of your data.
Data Management Skills
Data management refers to the procedure of collecting, arranging, and stashing data in an efficient, ensure security, and cost-effective manner. While some groups have data management positions, such as data engineers and architects, data engineers, and data security analysts, data analysts frequently manage data in some capacity. It is one of the indispensable data analyst skills to become a fruitful data analyst.
Different companies have different information systems. As you develop your skills base, it can help you gain a broad understanding of how datasets work, both in physiological and cloud environments.
Where to Learn This Skill?
Introduction to Data Engineering from IBM summarizes the advanced data ecosystem. Learn more about data analysts, researchers, and technicians and their roles in managing data.
What is Data Analyst Job Salary in 2023?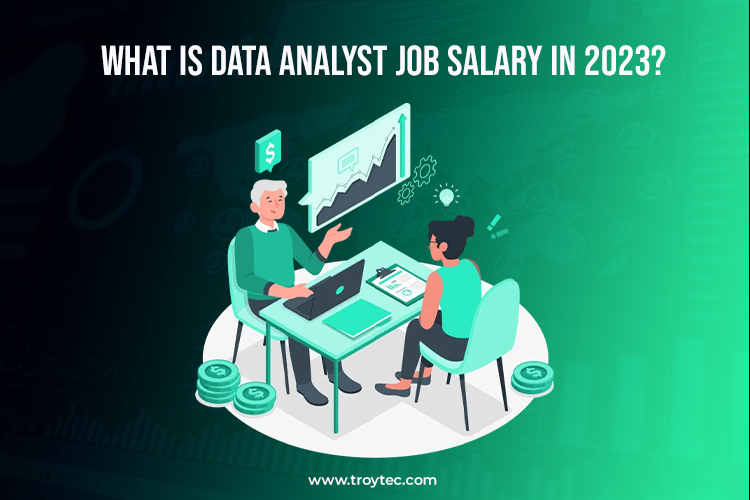 After finding a data analyst's average salary, you will develop data analyst skills and become a professional data analyst. There are numerous reasons, including pay grade, to consider a career in data analytics. As per Glassdoor, the normal wage for a data analyst is $69,618 per year. After all, we all need to be rewarded for our efforts. People often make career choices for reasons other than money. For example, someone may already have the necessary data analyst credentials and want to advance to a more exciting and challenging position.
Troytec provides numerous data analytics coursework, such as our Data Analytics Certificate Program, to help you improve your skillset or begin a new career. This amazing course, created in corporation with IBM and partnership with Duke University, will teach you everything you need to know to take off a position as a data analyst through real-world development and business case analysis. The only requirements for the course are a basic understanding of math and a determination to excel in one of today's hottest careers.
Conclusion
Becoming a successful data analyst in 2023 will necessitate a mix of technical abilities, analytic skills, and business skills. Companies require skilled analysts who can transform raw data into actionable information as the information generated grows.
To master critical data analyst skills, staying current on tools and technologies and continually improving soft abilities like interaction, cooperation, and problem-solving are necessary.
Aspiring data analysts can build a solid foundation in critical data analysts skills such as visual analytics, data analysis, and deep learning by following the detailed guide provided in this article. Data analysts' skills with the perfect mix of soft skills can contribute to any institution and prosper their careers.