Future of E-Commerce: Upcoming Trends in 2022
During the COVID-19, many physical businesses faced severe losses and were bankrupted. Most companies become in debt because they cannot refund the amount. Due to COVID-19, none of the physical companies was able to run because there were lockdowns across many countries. Trades weren't able to run their shops physically. In that way, the E-commerce business surged, and it never looked back. About 90% of the world's companies are based on online shopping, where people can buy their stuff and get it delivered within a few days at their doorstep.
E-commerce has changed all the business perspectives and generated a lot of jobs. Also, many people seeking to open a business are now opening themselves with online support. It has made many people millionaires or even billionaires. E-commerce is one of the leading business platforms in this new era. Many big business tycoons said that the future of E-commerce will be brighter than ever in 2022.
We will see a new era of innovation. However, it will be a complex challenge for businesses to develop new strategies and provide the best customer experience. The past year was an excellent year for E-commerce business due to COVID-19, and the global revenue was about $3.53 trillion, and it is predicted to grow up to grow $6.54 trillion by 2023.
People are earn a lot of money by doing different types of E-commerce businesses like Amazon, Shopify, Influence marketing, Affiliate marketing, and many more. US market is one of the highest E-commerce markets because only in the US is it valued that from January 2022, this market has made about $1 trillion of E-commerce revenue.
We're going to discuss major points about how E-commerce will look alike in the future and discuss major upcoming trends in 2022. Continue to reading the article to find out about E-commerce.
What is an E-Commerce?
E-commerce sells and buys different goods and services over the online platform. The first started with buying and selling computers, smartphones, tablets, and other electronic devices. And now, almost you can buy and sell anything through different E-commerce platforms.
There are about four types of E-commerce present today, which are as follows:
Business-to-Business E-commerce – B2B (Like Shopify)
Business-to-Consumers E-commerce – B2C (Like Amazon)
Consumer-to-Consumer E-commerce – C2C (Like eBay)
Consumer-to-Business E-commerce – C2B
Amazon has become one of the biggest E-trade platforms across the globe. It is also one of the most potent brands worldwide. You can see that Amazon "Jeff Bezos" owner is the richest man on earth.
Customers come to the different E-commerce websites and look for the required product, and you will get delivered within no time. You can use other payment platforms like COD (Cash on Delivery), online payment, and credit card.
It is not that established e-commerce during COVID-19. It has been since 1990s when Amazon just sold some books. But today, it has become a multi-billion industry. You can even buy groceries over the internet. The medicines industry has also surged during the COVID-19; you can now buy prescribed medicines easily by sitting in one place.
Top 10 Upcoming E-commerce Trends in 2022
Let's look at the top upcoming E-commerce trends in 2022 and the future. These trends will blow your mind as you'd never thought E-commerce could be that advanced.
E-commerce After COVID-19
The world is changing, and the E-commerce business is predicted to get better and more significant over the years. During the COVID-19, this business has surged at another level. Every company that adapted to E-commerce has become successful due to this pandemic. Many new technologies will assist E-commerce in achieving this bigger goal. COVID-19 changed the world's perspective, where every person faced difficulties during the lockdown. The buying behavior is expected to boom over the years. The reason behind the success of E-commerce because people are not willing to come out of their houses and risk their lives.
During the COVID-19, the E-commerce market surged $4.9 trillion globally, and it is estimated to reach about $7.4 trillion by the end of 2025. The quarantine had revealed the significance of having an internet business last year, and presently, it's not difficult to say that you will pass up genuine income on the off chance that you don't have a web-based business.
Drones and Robots Used for Faster Delivery
One of the tremendous E-commerce trends in 2022 is delivering products through drones and robots. Amazon, Alibaba, and FedEx are already utilizing this trend in their businesses, and we can predict that many other brands will adopt this trend into their delivery systems. The suppleness of the drones and robots empowers the enterprises to travel quicker and deliver the goods and medicines within no time to those customers who want ultra-fast delivery. It is one of the most remarkable trends that will change the whole world. Delivering goods and medicines with the help of drones & robots will make the customers a favorable delivery option.
Besides, independent conveyance robots will likewise become more well known. This inventive and trend-setting innovation is a decent option compared to drones, which can complete bundle conveyances over brief distances. Many individuals may currently be acquainted with Starship, which changed food and bundle conveyances in 2014. Presently, the Amazon Scout is exploring neighborhoods and conveying bundles to your doorstep.
Voice Commerce
Voice Commerce is not a new concept; the first voice commerce Amazon Echo was established in 2014. The main idea behind making this trend is to connect a device with a voice-controlled assistant to empower people to buy or purchase goods and services efficiently. Every online business has started to adopt this unique technology as many people are not educated enough to search for a specific product and order it manually. Voice commerce made such people buy such products over some voice commands.
It is predicted that the transaction and purchasing of goods and services will grow up to 400%. It is estimated to produce a USD 4.6 trillion by 2021, and the Voice Commerce technology market is predicted to reach about $ 19.4 billion by the end of 2023.
Business-to-Business or B2B E-commerce is a Bigger Giant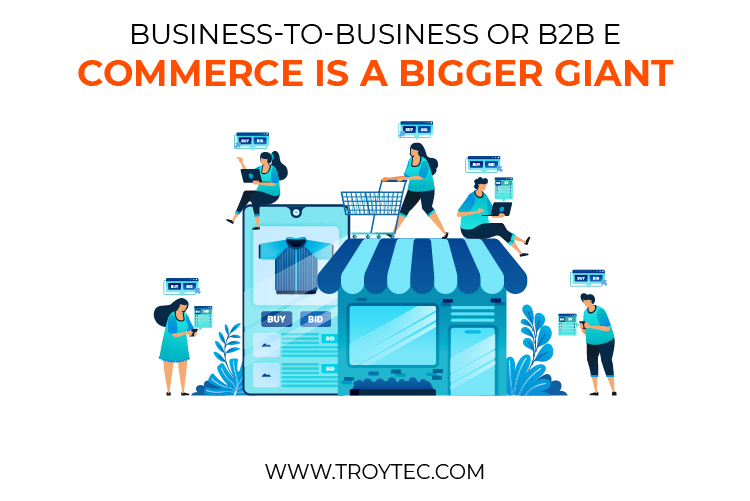 B2B businesses and markets the products online from one company to another. It is two times higher than the Business-to-Consumer (B2C) e-commerce industry. Only in the US market, Business-to-Business sales hit about $1.185 trillion by the end of 2022. And it is now predicted to grow more because of its higher potential.
B2B online business prevalence implies that B2B organizations should improve and work on their shopping venture, directing the B2C requesting experience. The B2B shopping experience is significantly more confounded than a B2C purchaser. As a result of the exchange idea, B2B purchasers typically need to undergo different advances, including agent cooperation, dealings, and endorsements, before making a fruitful buy.
To put it plainly, B2B (Business-to-Business) E-commerce organizations should adjust to a more consistent exchange building progressed usefulness quote the board, cost arrangement, simple requesting, request and stock administration for the B2B (Business-to-Business) market.
Virtual and Augmented Reality
Many brands like IKEA and Adidas have already integrated Augmented Reality (AR) and Virtual Reality (VR) to speed up their promotions of the products. They provide a real-time virtual experience to guide buyers to make a purchase interestingly and exciting from customer and brand perspectives.
AR (Augmented Reality) and VR (Virtual Reality) innovations are impressive by their own doing, yet it's much more intriguing to give an intuitive shopping experience. Also, this sort of innovation can provide clients with more data about a brand's items and, this way, decline the gamble of profits from misdirecting deals. Many brands and E-commerce stores are utilizing these technologies to provide a deep understanding of how the product will look.
Snap & Shop
Snap and shop is a brand new E-commerce trend developing in 2022. Through this trend, image shopping of products will emerge. Consumers will only have to point their cameras towards the specified product they want to order from any online store. There are numerous snap and shop applications accessible like CamFinder, and more will pop up this year. This pattern will likewise lead to selling subsidiary items through photograph shopping.
For instance, Pinterest has sent off its photograph camera. It perceives the pictures to give an exact item portrayal. It has, as of now, banded together with numerous internet business stores and top web indexes. It gives them essential information for grouping and deciphering pictures.
AI-Powered Chatbot
Many businesses and firms are now utilizing chatbots as their chat assistance. However, due to the use of cortical networks, these AI-powered chatbots will rise again in 2022. These AI-powered chatbots assist in developing customer engagement by giving more related options to them. Their gross growth is expected to reach 1.25 billion USD by 2025. In 2022, we'll see these AI-powered chatbots getting cheaper, more widespread, and more intelligent.
For instance, KFC "drives through" empowers the customers to place their orders through different voice commands with ease. These chatbots also tell them the total amount of the order and the lasting time of their order.
More Payment Options Will Available
We currently have numerous installment choices accessible, including computerized installment strategies and cryptographic forms of money. A more incredible amount of the last option will pop up to cook each portion—for example, a musician for performers and a Kodak coin for picture takers.
Online business stores are presently permits cryptographic forms of money. However, Smartphone makers are thinking of advanced wallets. It makes installment processes straightforward for web-based businesses.
similarly, multiples companies is taking flood. We will see an climb in the reception of such substitute installment strategies for versatile-based installments.
Growth in Subscription Prototypes
At the point when you sell a membership, it's much more probable the client will return over and over. Membership models have demonstrated effectiveness on the web, and many clever organizations are tracking down better approaches to transform items and administrations into memberships that keep clients faithful for a long time to come. Note that membership achievement requires a drawn-out attitude and a nearby eye on unit financial matters, innovation use, and the change from "client service" to "client achievement."
Influencer Marketing Will be a Play card in Businesses.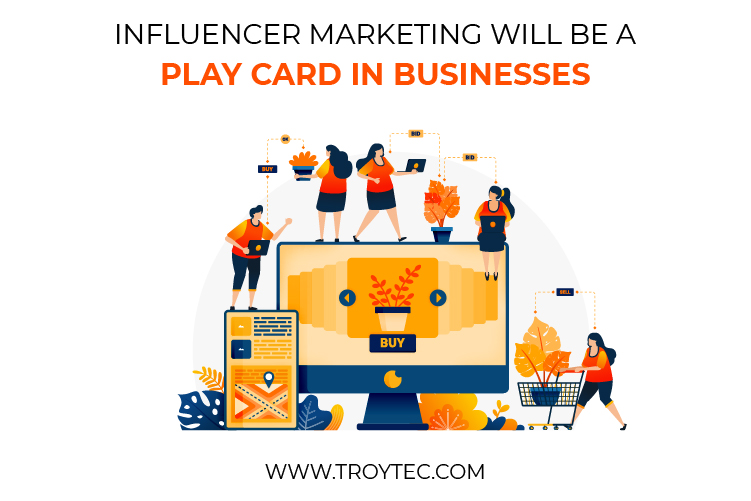 Influencer marketing is one of the leading sales boosters in this world. Famous influencers are not just social media celebrities; they have real audiences who help businesses to bring more sales. You must believe that the renowned influencer's recommendations influence approximately 75% of the customers.
Most of the decision-making of orders strappingly relies on these D-list celebrities. It is also calculated that non-D-list celebrity influencers recommend 35% of the customers who buy products. Hence, if you want to market your company, you can do it through their relevant D-list influencers in 2022.
Powerhouse influencing is as yet undervalued. Track down important forces to be reckoned with in your specialty on various online media stages. This way, you can build your web-based business deals pointedly. Be perception to the point of contributing mindfully.
Conclusion
Indeed, E-commerce is one of the most extensive forms of online shopping globally. Every business is getting online sales through different E-commerce platforms. Undoubtedly, the future of E-commerce is very bright and shiny. Above mentioned trends will bring a new revolution for new generations. Comment below if you find these trends relevant or any queries regarding the E-commerce business.