What is SaaS Cloud Security, and What is the Best SaaS Provider? Learn about it in detail 
In 2022, almost every business moved its important data from physical devices to cloud platforms. A cloud platform or storage is a virtual space from which a company can keep its data online and access it anytime. However, security is the primary concern in maintaining the data online. One of the best cloud service providers is Software-as-a-Service or SaaS cloud security. 
But, many companies faced major security concerns while applying SaaS security in the cloud computing platform. When using SaaS, organizations have less control and visibility over their data. As an outcome, there is a higher risk of data deletion or leakage by accident. If this is set to increase, it can permanently lose sensitive information, which can have severe financial, legitimate, and reputational consequences.
Keep reading the article because we'll also address major SaaS cloud computing security issues and other information.
What is SaaS?
Software-as-a-service or SaaS is a process of providing applications as a service over the internet. Rather than maintaining and installing software, you quickly access it through the internet, freeing yourself from software and hardware management complexities.
Internet, on-demand and hosted software are all terms used to explain SaaS applications. Whichever the name, SaaS applications are on the servers of a SaaS provider. The managers the tools application access, including security, accessibility, and performance.
What is SaaS Security in cloud computing?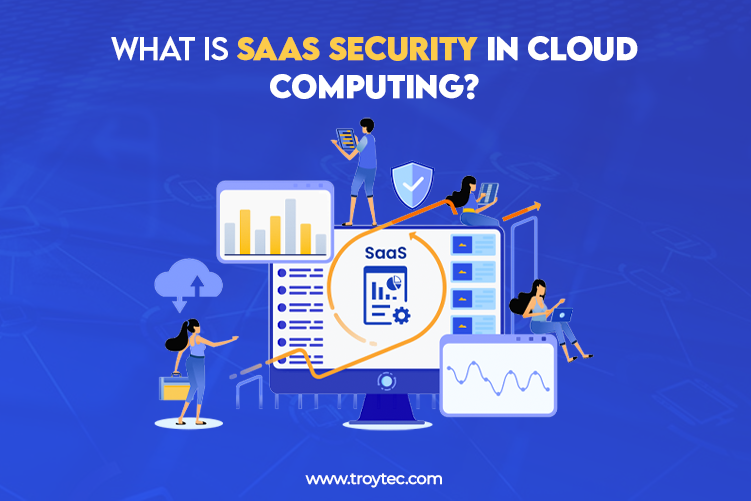 Securing user privacy and business data in premium service cloud applications refers to SaaS cloud security. SaaS applications contain a large amount of sensitive information and may be accessed by many users from almost any device, putting a risk to the confidentiality and sensitive info. SaaS cloud security provides security to a user's data and confidential information which is present online.
Much of the protection for a cloud application is held by SaaS providers. The framework, network, applications, system software, and physical infrastructure must all be secured by the SaaS provider. On the other hand, providers are not responsible for the security of customer information and access. Some providers provide the minimum necessary protection, while others offer a comprehensive set of SaaS security options.
What is The Relationship Between Cloud & SaaS Security?
SaaS applications and infrastructure providers such as Aws (Amazon web services) and Azure have become the standard for businesses of all sizes. The prevalence of cloud workloads and a persistent shortage of cloud expertise make improving cloud security maturity even more critical. Organizations that ignore cloud information security gaps or overinvest can do more damage than good in digital conversion and cloud optimization. As trusted advisors to business decision-makers, service providers are well-positioned to capitalize on cloud computing and cybersecurity growth.
The significant difference or relation between cloud & SaaS security is that a user can change and maintain any software application on a domain controller hosted from anywhere by a third party, such as Amazon web services, using cloud computing. You have internet access to your data on those servers.
You pay a subscription fee to access an already advanced, cloud-based software application via the Internet with SaaS. You are not in charge of managing the software. One disadvantage of SaaS software is that you may lose more authority over the app's administration and customization.
Which Cloud Service Gives Best Security SaaS?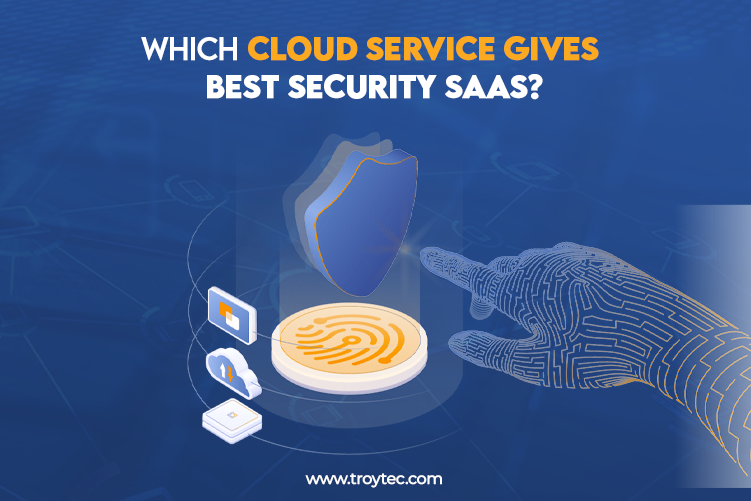 You must've asked yourself which cloud service gives the best security SaaS. Here is a detailed answer; you can choose the best one for you to select in SaaS Cloud Security. 
Below are the five cloud services which give the best SaaS services:
Astra Security
Astra Security provides a pen test suite for SaaS applications that combines a vulnerability detection scanner and manual vulnerability scanning solutions. It includes an easy-to-use vulnerability management dashboard for monitoring and assigning vulnerabilities. Astra security gives the best SaaS cloud security.
You can incorporate the penetration testing device with your CI/CD pipeline to ensure that all application updates are automatically scanned. The vulnerability scans are performed in the cloud, putting no strain on your servers. It is a comprehensive cloud security solution and gives the best solution for SaaS cloud computing security issues.
Cipher
Cipher, a SaaS cloud security company, is now a subsidiary of Poseur, a publicly traded private security firm with operations in 26 countries. Cipher provides experienced security consultants to assist you in strengthening your organization's security posture. They provide controlled incident response, evaluations, data governance, and compliance services. Cipher is a well-known name in SaaS security services and cloud security firms.
Cipher provides red teaming services such as pen testing, ethical hacking, and vulnerability analysis. It gives the best SaaS security in cloud computing. 
Tenable
Tenable is a significant player in cybersecurity, and while they are not solely focused on software as a service security, they make an essential contribution.
Enable's security vulnerabilities tool is called Nessus, which is extensively used for inspecting applications for security flaws. When an update is available or a new plugin is added, Nessus performs vulnerability scans.
Intruder
An intruder is an online security feature designed to test digital systems for security flaws. It enables you to observe and evaluate potential risks across endpoint devices, the cloud, and web servers, among other things.
Intruder provides solutions such as:
Internal vulnerability assessment

External vulnerability assessment

Persistence of penetration testing
They also assist you in achieving SOC2 and ISO 27001 compliance.
Symantec
Symantec focuses on combating emerging threats, assisting businesses in implementation uses, and mitigating the risks associated with digital transformation. They contextualize threat data with artificial intelligence to provide their users better security and additional insight.
It easily integrates with other third-party products and assists you in coordinating security for various asset types. It is, without uncertainty, one of the best cloud security companies. It addresses SaaS cloud computing security issues.
Conclusion
SaaS cloud security allows you to secure an organization's critical data online. As mentioned above, SaaS service providers can solve many SaaS cloud computing security issues. It is always preferable to work with a SaaS security firm that is aware of emerging SaaS security problems and new vulnerabilities. Comment if you have any questions about SaaS cloud security and its issues.